We sat down with Dr. Constance Iloh, Associate Professor at Azusa Pacific University, to talk about the higher education experience that so many institutions aren't talking about. Dr. Iloh shared her thinking behind the Iloh Model of College-Going Decisions and Trajectories, an innovative lens providing important answers and insights about contemporary college-going. It is also a critical perspective for us to consider as the pandemic continues to reshape the college landscape for everyone.

Deflecting From the Bigger Picture
Professor Iloh describes her work as the exploration of the culture and business of higher education and what consequences they present historically excluded communities. "I think that those aspects have a lot to say and really shape the who, the what, the where of college access and opportunity," she explained.

She talked about deflection, which she considers a key operating principle of higher ed. "Deflection is what comes up immediately as we talk about this culture and business model," she told us. "If an institution can get you to focus on how exclusive they are, maybe you're not thinking about how it is really elitist and harmful to non-white communities. With deflection, the goal is to make sure you are not really paying attention to deep-seated issues. You're not really focusing on racism embedded in recruitment and retention of students and faculty, or the fact that peoples' work and study trajectories are ongoing horror movies.

"We're talking about a space where there are so many different narratives happening at one time," Professor Iloh continued, "and really I think higher education often picks the optimal one, the one that shows it in its best light in order to negate and not pay attention to what else is happening."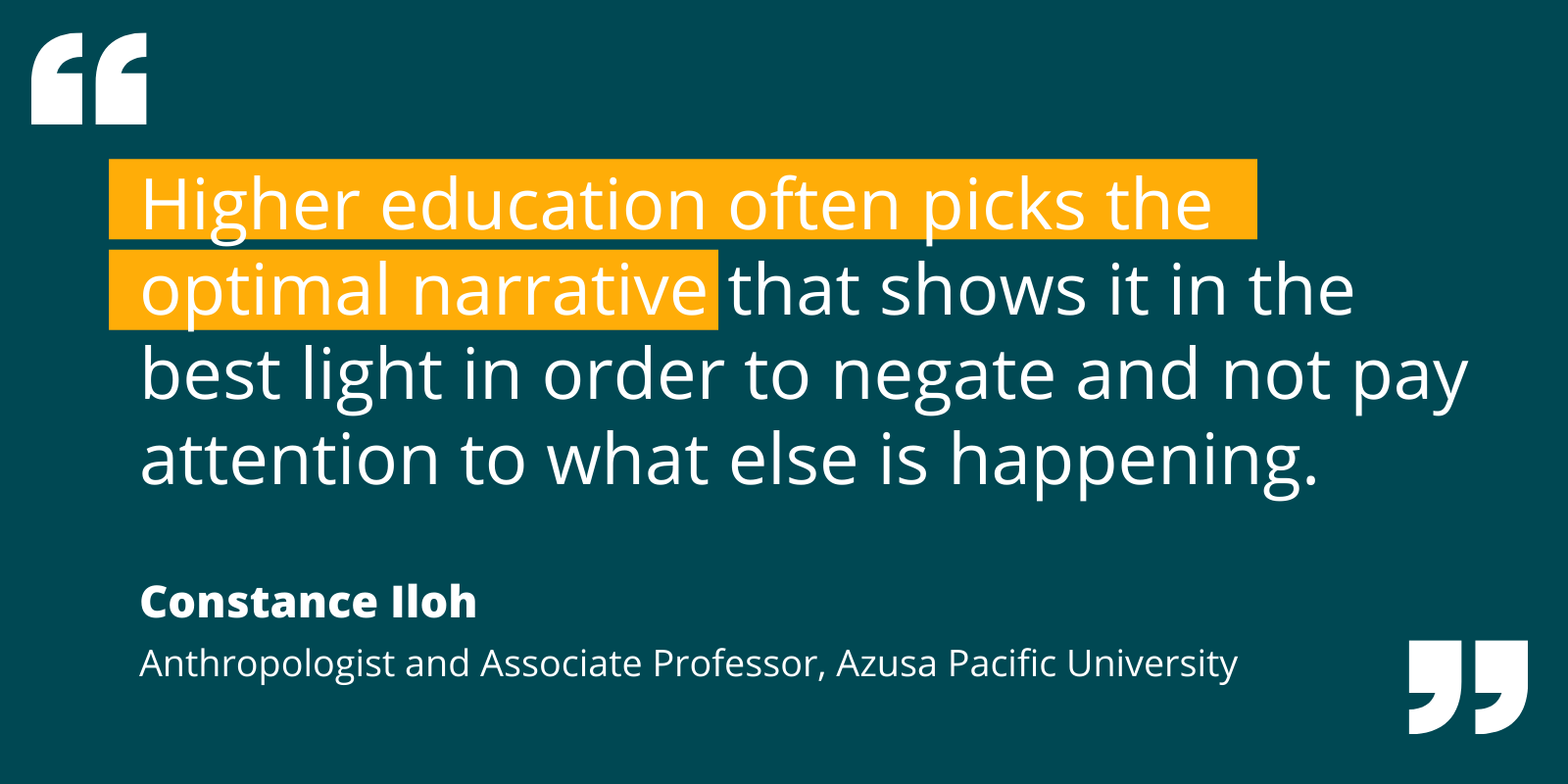 Surfacing the Deep Flaws
Professor Iloh's metaphor for deflection is memorable. "So one day you say, 'I really want a salad,' but the base of the salad, the spinach, the kale, the lettuce, it's wilted. So it's not going to be good. For whatever crazy reason, you decide, 'I'm just going to throw some tomatoes on that, some fresh cheese, some homemade salad dressing.' Now is that salad going to taste horrible? Absolutely. Are you probably going to get sick? Yes. I think with this deflection, we see higher education just throwing on these toppings, these fresh things that really detract from the fact that the base is not good. And maybe you can't see that the lettuce is bad at the bottom with all these fresh tomatoes, but it's still bad.

"So with these race colloquium speaker series people think are addressing issues," she added, "or these targeted hires, or maybe one initiative, one year to get a few more post-traditional students and students of color, a lot of this is still not satisfactory in addressing the fact that there is a lot wrong. Elitism is going to pop right back up, racism is going to rear its ugly head in a month, in a week, maybe even after the meeting. Let's just be serious about the fact that we cannot keep treating higher education like a salad that we can throw new toppings on to avoid what is at the core. Some core things are deeply flawed and problematic, and we're still not addressing them."

Reframing the Narrative
Professor Iloh wants us to understand how the idea of choosing the college that best matches the student's educational goals is an illusion for much of the prospective student population.

"For some people," she said, "there is maybe one institution that even made them feel like 'we actually want you' or 'you should be here,' or they had to seek out something because nothing was presenting itself. And for a lot of people, based on their life's circumstance, their race, income, or background that they have, the very idea of choice is a farce."

She had to reframe how a significant number of students saw college-going. "When I was doing different studies and using popular college 'choice' conceptions that were very linear and sequential," she explained, "that's a very narrow way to think about how someone comes to decide on a college. That's not a lot of the students that I engage. We're talking about multiple institutions or multiple attempts starting and stopping out all along the way. So the reality that a lot of these narratives and pathways are convoluted. We have to take that seriously, which means we've got to wrestle with why we're talking about anything as linear and sequential."

Professor Iloh asks us to take a hard look at who's actually going to college. "A lot of students aren't captured in our conception of the 21st-century college student," she stated. "A lot of sectors aren't even captured in our conception of where people are going to higher education, whether those are community colleges or proprietary colleges. Those are the institutions that are often grossly left out of these conversations. We're talking about students that are maybe thinking about starting college at age 40. We're talking about people who aren't dependent on someone; they have dependents. We're talking about people who higher education maybe failed a few decades ago and they really want to take a stab at it again. That's why I feel like a lot of lenses and perspectives really distort and make it harder for us to realize what is happening with this college-going conundrum."

The IIoh Model of College-Going Decisions and Trajectories
Professor Iloh created an ecological model called the Iloh Model of College-Going Decisions and Trajectories. "With this framework, it's really a meeting of these three different components: information, time, and opportunity," she explained. "When they come together, I can see how one individual arrived at their decision, had a specific trajectory, and had a lack of or variety of options through privilege."

"With these three components combined," Professor Iloh added, "we have insight into a decision and trajectory. I chose those elements because, in and of themselves, they exhaust all other questions and inquiries one might have about why a decision would be made. I'm really excited about the possibilities of it, not just with different studies, but also in practice."

When we asked about the intentions of this model and its broader applications, Professor Iloh told us, "The model is created to be applicable for all kinds of students, but yes, it is intentional in that I really thought about groups that have been excluded in the ways that we think about college-going. But it's also meant for us to even think comparatively about student A and student B, and how these different decisions and trajectories come to bear. So it's really a means to look at all kinds of people, all kinds of prospective students, and all kinds of ways people are situated in this place called higher education."
Note: This interview in the Scholarship to Practice Series originally aired on October 7, 2020 as part of the University Innovation Alliance's Innovating Together Podcast, appearing live on Facebook, Twitter, and LinkedIn.

Links Mentioned in This Episode
• Dr. Constance Iloh
• Azusa Pacific University
• Iloh Model of College-Going Decisions and Trajectories
• Work and study trajectories are ongoing horror movies ("The Genre is Horror: Academia as a Never-ending Scary Movie for Black People" by Constance Iloh at Medium.com)
• Information ("A Spectrum of What is Predatory: How Information, Information Deserts, and Information Asymmetries Shape College-Going Ecologies and Inequities" by Constance Iloh, College and University, 2020)

Keeping Up With Dr. Constance Iloh
In addition to the links provided above and those included below in her bio, you can find Dr. Iloh on Twitter, YouTube, Facebook, and Linkedin. She also invites you to follow her blog.
Bios of Guest Luminary and Co-Hosts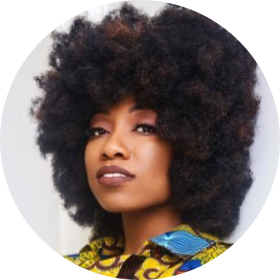 Guest Luminary: Constance Iloh, Associate Professor, Azusa Pacific University
Dr. Constance Iloh explores the culture and business of postsecondary education and the consequences these infrastructures have on minoritized communities. She is currently an Associate Professor in the Department of Higher Education and School of Behavioral and Applied Sciences at Azusa Pacific University. As an anthropologist, Professor Iloh is attentive to institutional culture, access, and exclusion across the education pipeline and beyond. Dr. Iloh's work has been featured in Forbes, Inside Higher Ed, Harvard Law Review, Medium, Politico, and National Public Radio, who profiled her as a national expert in naming her their Source of the Week. Her recent article, "Do it for the Culture: The Case for Memes in Qualitative Research" is published in the International Journal of Qualitative Methods. Constance Iloh is also a contributing writer for Diverse Issues in Higher Education, an outlet that has highlighted her as "powerhouse in higher education." Iloh has been invited to share her expertise with the White House Initiative on Educational Excellence for African Americans, the Community College League of California, the Institute of Higher Education, the Chronicle of Higher Education, Telemundo, NBC Universal, and Michelle Obama's Reach Higher Campaign. Iloh has been the recipient of multiple prestigious grants and fellowships, including the American Association of University Women (AAUW) Postdoctoral Fellowship. Dr. Constance Iloh is one of the few academics ever named to the change-agents and break-out stars of the Forbes "30 under 30" list.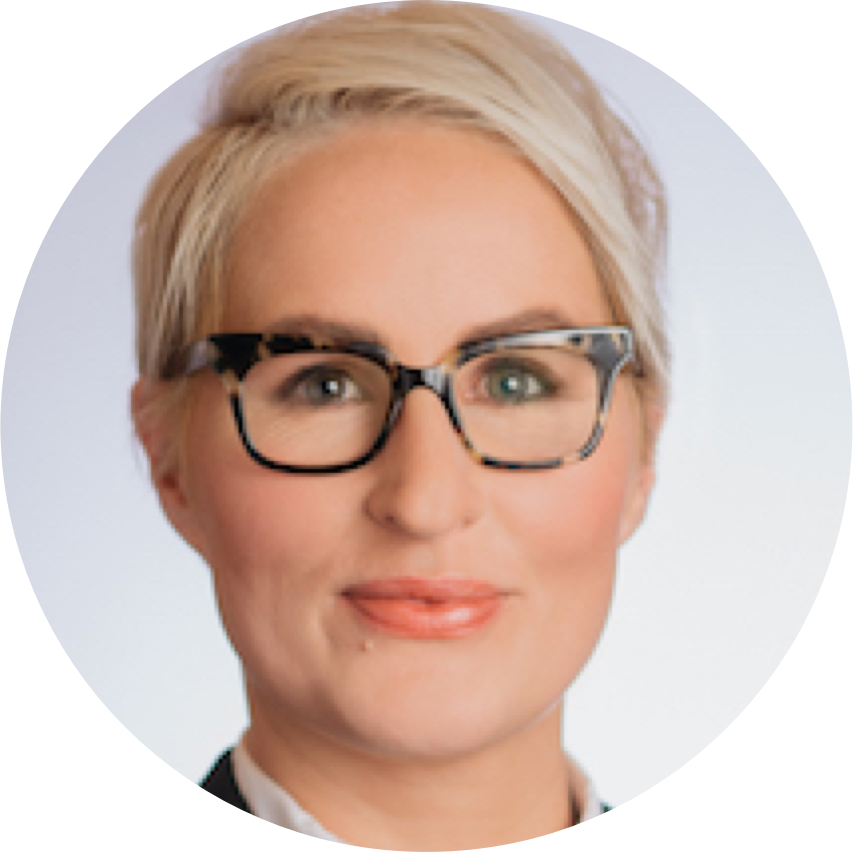 Co-Host: Bridget Burns, Executive Director, University Innovation Alliance
Dr. Bridget Burns is the founding Executive Director of the University Innovation Alliance (UIA). For the past decade, she has advised university presidents, system chancellors, and state and federal policy leaders on strategies to expand access to higher education, address costs, and promote completion for students of all backgrounds. The UIA was developed during Bridget's tenure as an American Council on Education (ACE) Fellowship at Arizona State University. She held multiple roles within the Oregon University System, including serving as Chief of Staff and Senior Policy Advisor, where she won the national award for innovation in higher education government relations. She was a National Associate for the National Center for Public Policy and Higher Education, and has served on several statewide governing boards including ones governing higher education institutions, financial aid policy, and policy areas impacting children and families.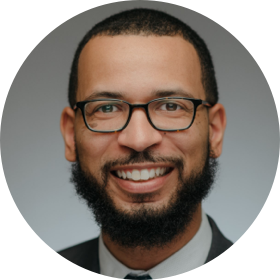 Co-Host: Derrick Tillman-Kelly, Director, University Innovation Alliance Fellows Program and Network Engagement
Dr. Derrick L. Tillman-Kelly serves as the Director of the UIA Fellows Program and Network Engagement for the University Innovation Alliance. He previously served in multiple roles at The Ohio State University, including as the inaugural UIA Fellow and special assistant to the director of the Center for Higher Education Enterprise. Dr. Tillman-Kelly earned his Ph.D. in educational policy and leadership with a specialization in higher education and student affairs from Ohio State; a master's degree in higher education and student affairs from Indiana University; and a bachelor's degree from Illinois Wesleyan University.
About Scholarship to Practice
Scholarship to Practice is an event series that happens live on Facebook, Twitter, and LinkedIn. It also becomes a podcast episode. We interview higher education scholars, researchers, and academics as we surface relevant research on topics that administrators often wonder about, and examine how a practitioner or administrator could apply this learning in real-time to improve student success. At the UIA, we know that we need to bridge that gap between scholarship and practice if we're going to stand a chance of improving student success. We all need to work together leveraging research in the field and identifying where we need more research to support greater innovation in higher ed. With its short and conversational format, this show is designed to help bridge that gap by elevating the relevant research we all could be using in our daily lives.
Rate, Review & Subscribe
Learn why hundreds of people have rated this new podcast 5 stars! Please join others and rate and review this podcast. This helps us reach and inform more people -- like you -- to help increase the number and diversity of college graduates in the United States.
Click here, scroll to the bottom, tap to rate with five stars, and select "Write a Review." Then be sure to let us know what you loved most about the episode! Also, if you haven't done so already, subscribe to the podcast. We'll be adding a bunch of bonus episodes to the feed and, if you're not subscribed, there's a good chance you'll miss out.