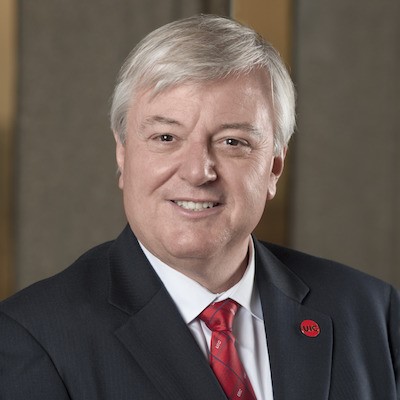 Michael Amiridis
Chancellor
Michael Amiridis took office as the 6th chancellor of the University of Illinois Chicago in March 2015. Since arriving at Chicago's public research university, Amiridis has focused on leveraging UIC's strengths to elevate, enhance and sustain the institution by focusing on student experience and success; engaging Chicago and its communities; enhancing UIC's national and international impact and visibility; and becoming a more entrepreneurial university.
Under his leadership, the development and implementation of strategies to boost student enrollment have produced a six-year pattern of record campus enrollment, which surpassed 34,000 students in fall 2021, while maintaining UIC's status as one of the nation's most diverse campuses. He has continued to advance UIC's mission and commitment to public education, scholarship, research and community service with the 2019 acquisition of the John Marshall Law School, creating the UIC School of Law which is Chicago's first and only public law school.
In 2020 UIC established a new historic record in research awards, exceeding for the first time in its history the $400 million mark. Amiridis' strategic support for faculty research in all fields and the commitment of university funding to seed new programs and improve the research support infrastructure have played an important role in achieving this new record. Amiridis has initiated ongoing engagement with community, civic, corporate and elected officials to discuss how UIC's strengths and resources are beneficial to Chicago, the state of Illinois and the nation. He serves on the boards of the Hispanic Association of Colleges and Universities, the Coalition of Urban Serving Universities, the Chicago Council on Global Affairs, and was recently invited to the Springer Nature US Research Advisory Council.
His research interests focused on environmental catalysis and the synthesis and characterization of bimetallic nanoparticles with controlled composition and architecture. His work has resulted in 110 peer-reviewed journal publications and he has received more than $15 million in research funding as a principal investigator and more than $9 million as a co-investigator. He earned the National Science Foundation's award for early-career scientists and engineers in 1999, the University of South Carolina's research achievement award in 2005, and the university's Golden Key Award for Integration of Undergraduate Teaching and Research in 2000. Amiridis has also received awards for teaching excellence at South Carolina and as a graduate instructor at Wisconsin. He was elected a fellow of the American Association for the Advancement of Science in 2012 and a fellow of the American Institute of Chemical Engineers in 2015.
Earlier in his career, Amiridis was a research engineer for three years at W.R. Grace and Co., an international manufacturer of specialty chemicals and materials, and a lecturer at Johns Hopkins University in Baltimore. A native of Greece and a U.S. citizen, Amiridis earned his undergraduate degree in chemical engineering from Aristotelian University of Thessaloniki in Greece in 1985, and his Ph.D. in chemical engineering from the University of Wisconsin-Madison in 1991. He and his wife, Dr. Ero Aggelopoulou-Amiridis, have two children, Aspasia and Dimitri.