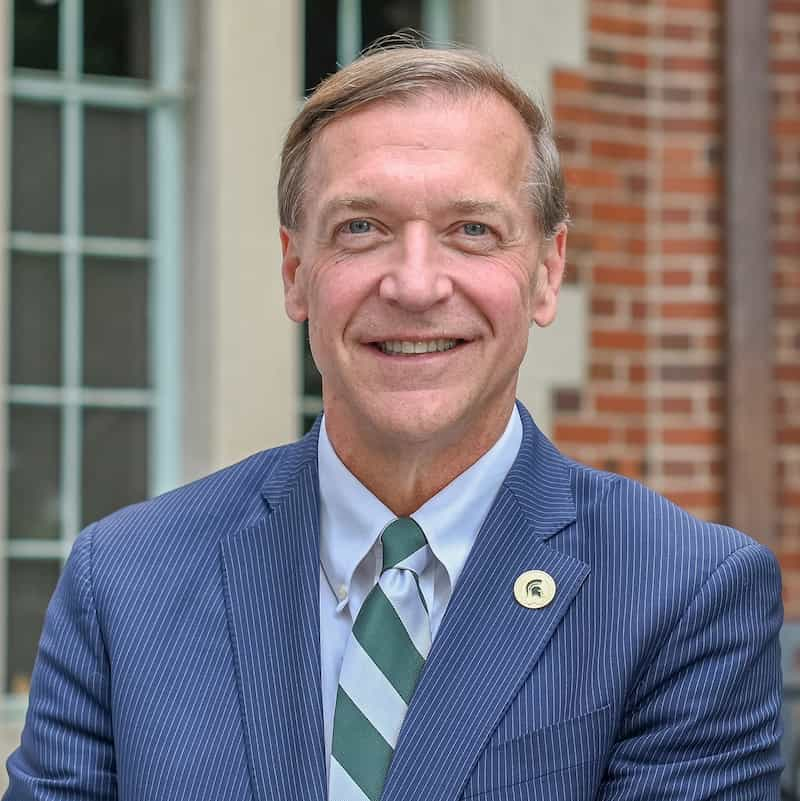 Samuel L. Stanley Jr.
President
Samuel L. Stanley Jr., M.D., was selected by the Michigan State University Board of Trustees as MSU's 21st president, effective Aug. 1, 2019.
Born in Seattle, Dr. Stanley earned a Bachelor of Arts in biological sciences (Phi Beta Kappa) from the University of Chicago. After earning his medical degree from Harvard Medical School in 1980, he completed resident-physician training at Massachusetts General Hospital and then went to Washington University in St. Louis in 1983 for a School of Medicine fellowship in infectious diseases. There, he became a professor in the departments of both medicine and molecular microbiology in recognition of the collaborative nature of his research.
A distinguished biomedical researcher, Dr. Stanley was one of the nation's highest recipients of support from the National Institutes of Health for his research focusing on enhanced defense against emerging infectious diseases. He is an expert in the biological mechanisms that cells employ when responding to infectious agents such as parasites, bacteria and viruses — a process known as the inflammatory response.
In 2006, Dr. Stanley was appointed vice chancellor for research at Washington University, serving in that position until he was appointed president of Stony Brook University in New York in 2009.
As the fifth president of Stony Brook, Dr. Stanley recorded the most successful fundraising year in the university's history and championed legislation that helped Stony Brook hire more than 240 new faculty over five years. He chaired the board of Brookhaven Science Associates, which manages Brookhaven National Laboratory on behalf of the U.S. Department of Energy.
Dr. Stanley served as chair of the National Science Advisory Board for Biosecurity, which advises the United States government on issues related to the communication, dissemination and performance of sensitive biological research. He was a member of the National Advisory Allergy and Infectious Diseases Council at the NIH and a member of the NIH Director's Blue Ribbon Panel on the National Emerging Infectious Diseases Laboratories. He also served as an ambassador for the Paul G. Rogers Society for Global Health Research and has received an Honorary Doctorate Degree in Science from Konkuk University in South Korea. He is a member of the Board of Directors of the Association of American Universities and has served on the NCAA Board of Directors and NCAA Board of Governors.
A researcher, patent holder and former technology transfer executive, Dr. Stanley supports academic and industry collaborations to leverage both their economic impact and the potentially enormous contributions they can make to society. His extensive experience gives him invaluable perspective on the emerging field of translational research. Dr. Stanley also continues to work as a strong advocate for federal funding of basic research, working through organizations such as the AAU to promote the critical role of university research in innovation and discovery.
President Stanley's wife, Ellen Li, M.D., Ph.D., is a distinguished biomedical researcher and gastroenterologist. In addition to her roles as a clinician and scientist, Dr. Li tutors students in chemistry and has mentored many students interested in biomedical research. Dr. Stanley and Dr. Li have four children.