We caught up with Dr. Kristina Johnson, President of The Ohio State University, as our guest for the Weekly Wisdom Podcast. She talked about starting a new leadership job during the pandemic, how to improve public safety on and off campus, and the connection between diversity and opportunity.

Onboarding During COVID
While President Johnson is no stranger to large-scale institutional leadership, coming to Ohio State after three years as chancellor of the State University of New York (S.U.N.Y.) system, we were curious about the challenges of starting such a role during the pandemic.

"Part of onboarding is to meet as many people as you can everywhere they are, as often as you can," she said. "That was pretty challenging when you can't have meetings with more than ten. That was the approach we had to take to onboarding. And then Franklin County went purple in November, and that pretty much shut down all activities at Ohio State. After Thanksgiving we didn't bring the students back but had them take their classes and assignments remotely."

Stringent COVID precautions brought O.S.U.'s positivity rate down to less than half a percent by spring semester, she continued, "and we were able to get back to our sports, our in-person music performances, and a lot of things that we couldn't do before. So onboarding was challenging, without a doubt. We started to have in-person meetings in May, the Monday after graduation, so that was tough."

Connecting With Students
"I came in every day," President Johnson recalled about the pandemic. "I'd walk around the Oval. It was pretty empty. I would record two or three videos every day. I'd go to the Student Union fully masked, say hello to the students. It was really trying to be as visible as possible 24/7 just because, again, you couldn't have the large gatherings that would facilitate more of that connection, just being able to walk up to a group of students, talk to them about what they're experiencing. I learned from faculty and staff that they are a very impressive group of scholars, smart and curious and kind. They're passionate about making a difference in the world. We now have over 2000 students engaged in research in our laboratories. They're all back doing that and getting engaged, both on campus and in the world. They're grateful for it, and I think probably one of the best days as a Buckeye was the celebration in August for all the students who graduated in 2020 but didn't have an in-person graduation. I have never seen so many happy students, parents, faculty celebrating.

"It's so great to be back in person," she added, "walking along the Oval and just seeing all the students, and they're smiling. We require masks indoors but not outdoors, so I can actually see them, and it's really terrific."

Safety and Security
Among President Johnson's notable accomplishments in her first year at O.S.U., she committed $20 million to campus public safety.

"I've always felt that if you don't feel safe, it's difficult to learn," she told us. "So we announced a number of initiatives: expanding our free Lyft ride to get students on or off campus safely; expanding the lighting in our surrounding neighborhoods; the camera systems that we deploy. We have a joint program with the Columbus Police Department, and a very good working relationship with Chief Elaine Bryant, Mayor Ginther, and our community leaders. We recognize a holistic approach to public safety, not just security, but also trying to get at the fundamental roots of increased crime. This is something that we need to address as a society, and it has multiple approaches and measures of success."

President Johnson believes that crime prevention starts with social change in the community. "We just announced this week a project I'm really excited about," she said. "STEAMM Rising incorporates science, technology, engineering, arts, medicine, and math. It's in conjunction with the Columbus City School District and Superintendent Felicia Dickson, as well as the mayor, and President David Harrison of Columbus State Community College. It's a career pathway for students as young as second and third grade. Degrees in STEAM on average earn about $90,000, about double those in non-STEAM careers, so we want to make sure those opportunities are open to everyone -- that's the point of land grant institutions. So I would say I'm very passionate about public safety, about keeping our students safe, and I will continue to do this until we solve this matter."

Diversity and Opportunity
During President Johnson's S.U.N.Y. tenure, she was responsible for a significant diversity hiring initiative, a goal that she also brings to O.S.U.

"Over the last decade, we've increased the number of students at Ohio State by 6,000," she observed, "while we've decreased the number of tenure-track faculty hires by 220. We need to get our student/faculty ratio lower, because you learn better when you have fewer students, more faculty. So the primary initiative in academic excellence is around hiring at least 350 tenure-track faculty in fields that are high demand right now, business and engineering. But the arts, literature, social sciences, and humanities are fundamental to what it means to be a great university. I've always said the measure of a great university is the quality of the faculty. So we'll invest to hire the faculty, because they educate the next generation."

She referred to what she called multiple pandemics: "I think the reawakening since the George Floyd murder really is around racism in our society. And so we've announced the RISE initiative -- Race, Inclusion, Social Equity -- which has six pillars. We'll be looking to hire faculty whose scholarship is in education focused on STEAM. It's in healthcare disparities, economics, and access to leadership and natural resources. It's the arts, and it's public safety. We are aiming to hire at least 50 researchers so that we can get at some of the systemic issues of racism and social justice in our society."

When we noted that President Johnson was among the first higher ed leaders to speak up about Black Lives Matter, she shared a story about her grandfather, who graduated from O.S.U. in 1896.

"My grandfather worked for George Westinghouse at the turn of last century," she said. "And he created these things called casino schools. I asked Mom and Dad, 'What are casino schools? Was he teaching people to gamble?' Actually, it was a restaurant in Pittsburgh, Casino Restaurant. At night he would rent the upper floor and hold engineering and technical classes so that underrepresented minorities, mainly African Americans and women living in Pittsburgh, working for Westinghouse, could do something different than being janitors or serving tea. I did find on his death a letter written to my grandmother by the N.A.A.C.P. and the African American workers at Westinghouse applauding him for this work. So I do think it's somewhat in the D.N.A."

Leader and Player
President Johnson reflected on two incidents that shaped her approach to leadership.

"There weren't the sporting opportunities in my high school or college for women that there were for men," she recalled. "We didn't have a lacrosse team at Stanford in the '70s. So I founded it. Got all the kids together and I said, 'Look, let's play, let's start this sport on this coast.' I was center but I was also the coach. So that's the way I approached leadership; you have to do the little things and the big things well. Sometimes that means mostly coaching, but sometimes that means you have to be a player, too."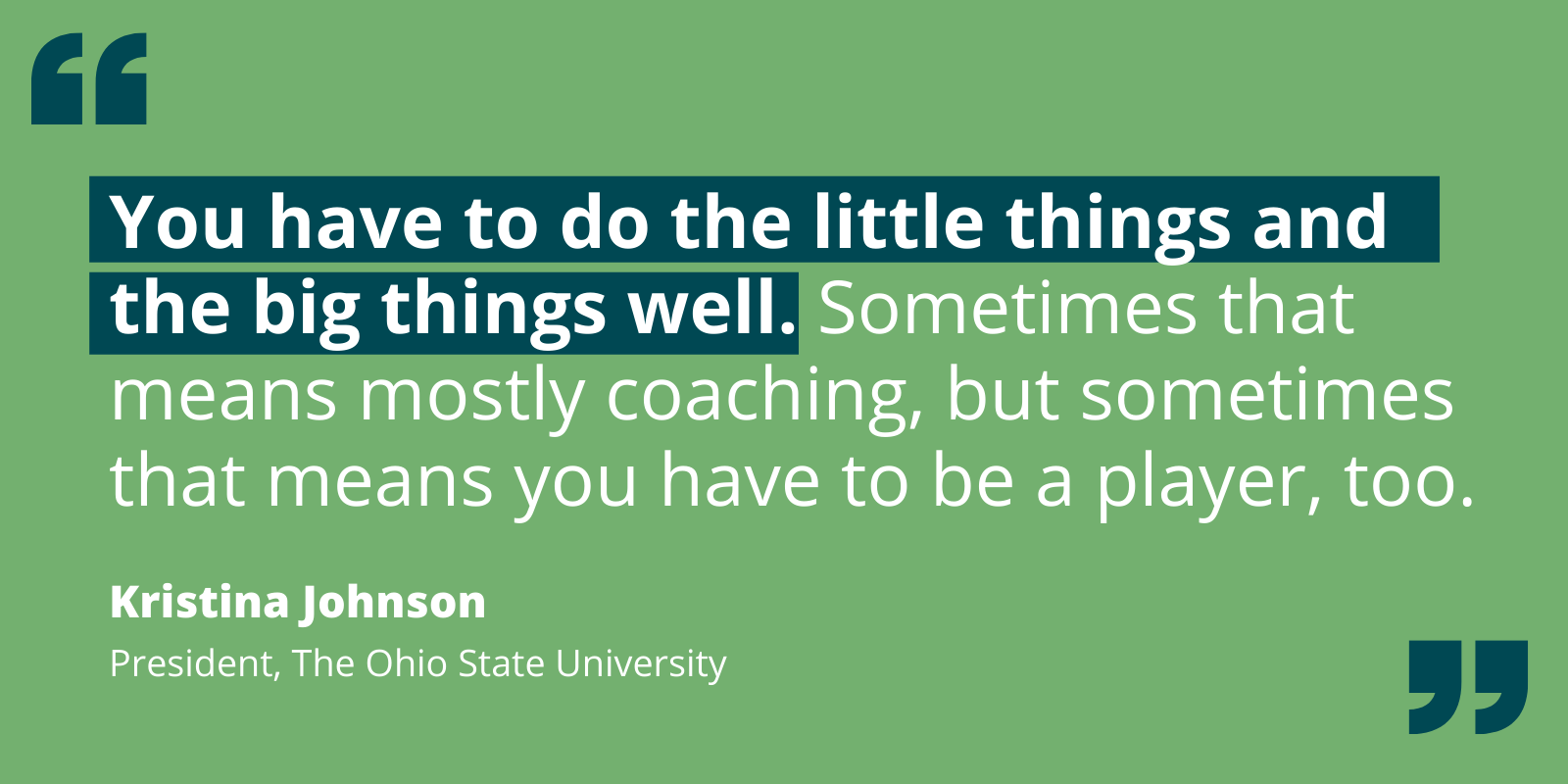 Much later, as S.U.N.Y. chancellor, she chose to begin leading this expansive system of public colleges and universities with a personal gesture.

"I sent all 64 presidents a little book called The Starfish and the Spider," President Johnson said, which talks about resilient organizations and how they're structured. The best systems are hybrid, where you have some activities that are centralized, but also a lot of activities that are decentralized and happen at the campus."

But personal gestures weren't always possible when administrating a huge statewide system that removed her from seeing results firsthand. As she explained, "If I wanted to do a special project or see an opportunity to make change, I was a layer or two removed from being able to really effectuate that change. So after the students returned to Ohio State and I got to actually meet the faculty, I realized that's really where my heart is, and I'm going to teach a class next semester on clean energy and reducing our carbon footprint. I'll co-team it with a professor. I'm really excited to be back in the classroom and working closely with students."

Words From and To the Wise
We concluded our chat by asking President Johnson to share the best career advice that she ever received, and the advice that she frequently gives future leaders.

She credited this received wisdom to Gordon Gee, a former O.S.U. president now at West Virginia University: "'Ask for help. It's too big, complex, and difficult to do by yourself, and people find it endearing.' And that's true. Any time somebody calls and says, 'Hey, I need some help,' you feel like, 'Wow, I have something to offer.' I ask everybody for help. Some of the biggest problems cut across disciplines. It's all about partnerships. And that's one way to build partnership."

President Johnson sees all students as potential leaders, telling them, "'The whole needs to be greater than the sum of the parts.' Solving complicated problems requires everyone coming together, but the parts have to be better for being part of the whole. And the other thing I tell our students is, 'Make room in your suitcase.' When you leave Ohio State, make room in your suitcase for your roommates, the student clubs or sports teams, the music or the dance, because those are going to be your friends for life. I'm still in great contact with my dear friends from Stanford, and I wouldn't have it any other way."

Note: This interview in the Weekly Wisdom Series originally aired on September 27, 2021 as part of the University Innovation Alliance's Innovating Together Podcast, appearing live on Facebook, Twitter, and LinkedIn.

Links Mentioned in This Episode
• The Ohio State University
• State University of New York
• Land grant institutions (Association of Public & Land-Grant Universities "About Us" page)
• George Floyd murder (as reported in Time magazine, 6/4/20)
• The Starfish and the Spider: The Unstoppable Power of Leaderless Organizations by Ori Brafman and Rod A. Beckstrom
• Gordon Gee (President of West Virginia University)
 
Bios of Guest and Co-Hosts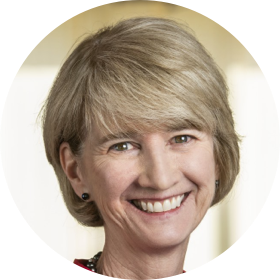 Guest: Kristina Johnson, President, The Ohio State University
Kristina M. Johnson, Ph.D., became the 16th president of The Ohio State University in August 2020. Prior to that, she served as chancellor of the State University of New York (S.U.N.Y.), founded and served as C.E.O. of several successful science and technology companies, served as undersecretary at the U.S. Department of Energy (with a focus on clean energy and reducing carbon emissions), and held academic leadership positions at institutions such as Johns Hopkins University (provost and senior V.P. for academic affairs), Duke University (dean of the Pratt School of Engineering), and the University of Colorado at Boulder (professor in the Electrical and Computer Engineering Department and director of the National Science Foundation Engineering Research Center for Optoelectronic Computing Systems). At S.U.N.Y., Dr. Johnson led a system of 64 public colleges and universities, launching a system-wide student success initiative and a diversity initiative to hire underrepresented minorities and women in STEM. Dr. Johnson has published nearly 150 papers and proceedings, and holds more than 100 U.S. and international patents. Her awards include the 2004 Society of Women Engineers Lifetime Achievement Award, the 2008 John Fritz Medal from the National Inventors Hall of Fame, and the 2010 Woman of Vision Award for Leadership by the Anita Borg Institute for Women and Technology. A member of several corporate boards, she currently sits on the board of directors of Cisco Systems, Inc. Dr. Johnson earned her B.S., M.S., and Ph.D. in electrical engineering at Stanford University, where she was a varsity athlete in field hockey and founded the club varsity lacrosse team. She is married to Veronica Meinhard, a native of Caracas, Venezuela, and a four-time All-American swimmer at her alma mater, the University of Florida.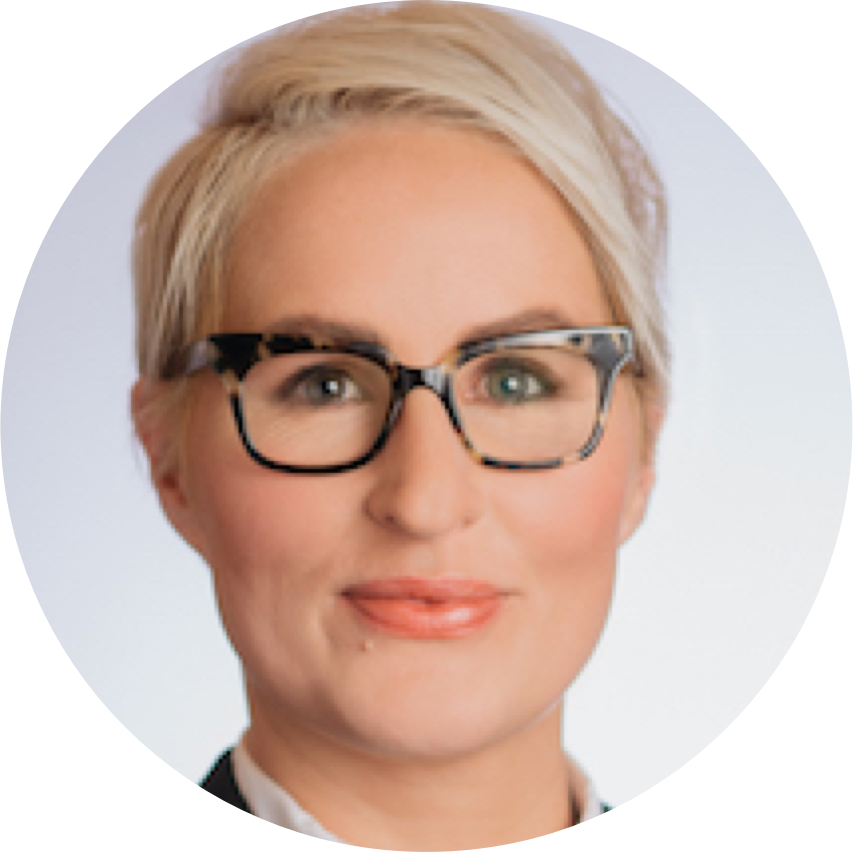 Co-Host: Bridget Burns, Executive Director, University Innovation Alliance
Dr. Bridget Burns is the founding Executive Director of the University Innovation Alliance (UIA). For the past decade, she has advised university presidents, system chancellors, and state and federal policy leaders on strategies to expand access to higher education, address costs, and promote completion for students of all backgrounds. The UIA was developed during Bridget's tenure as an American Council on Education (A.C.E.) Fellowship at Arizona State University. She held multiple roles within the Oregon University System, including serving as Chief of Staff and Senior Policy Advisor, where she won the national award for innovation in higher education government relations. She was a National Associate for the National Center for Public Policy and Higher Education, and has served on several statewide governing boards including ones governing higher education institutions, financial aid policy, and policy areas impacting children and families.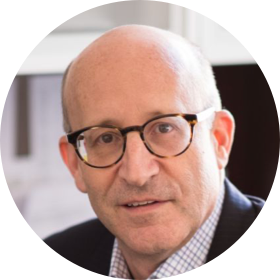 Co-Host: Doug Lederman, Editor and Co-Founder, Inside Higher Ed
Doug Lederman is editor and co-founder of Inside Higher Ed. With Scott Jaschik, he leads the site's editorial operations, overseeing news content, opinion pieces, career advice, blogs and other features. Doug speaks widely about higher education, including on C-Span and National Public Radio and at meetings and on campuses around the country. His work has appeared in The New York Times and USA Today, among other publications. Doug was managing editor of The Chronicle of Higher Education from 1999 to 2003, after working at The Chronicle since 1986 in a variety of roles. He has won three National Awards for Education Reporting from the Education Writers Association, including one for a 2009 series of Inside Higher Ed articles on college rankings. He began his career as a news clerk at The New York Times. He grew up in Shaker Heights, Ohio, and graduated in 1984 from Princeton University. Doug and his wife, Kate Scharff, live in Bethesda, MD.
About Weekly Wisdom
Weekly Wisdom is an event series that happens live on Facebook, Twitter, and LinkedIn. It also becomes a podcast episode. Every week, we join forces with Inside Higher Ed and talk with a sitting college president or chancellor about how they're specifically navigating the challenges of this moment. These conversations will be filled with practicable things you can do right now by unpacking how and why college leaders are making decisions within higher education. Hopefully, these episodes will also leave you with a sense of optimism and a bit of inspiration.
Rate, Review & Subscribe
Learn why hundreds of people have rated this new podcast 5 stars! Please join others and rate and review this podcast. This helps us reach and inform more people -- like you -- to help increase the number and diversity of college graduates in the United States.
Click here, scroll to the bottom, tap to rate with five stars, and select "Write a Review." Then be sure to let us know what you loved most about the episode! Also, if you haven't done so already, subscribe to the podcast. We'll be adding a bunch of bonus episodes to the feed and, if you're not subscribed, there's a good chance you'll miss out.