On May 26, 2022, in connection with a panel discussion about the future of academic advising, we were honored to speak with Arne Duncan, the former U.S. Secretary of Education. Although he returned to the private sector after his tenure in the Obama Administration, Secretary Duncan generously shared his views on the need for institutions to support student success, the need for government to encourage institutions in this effort, and the urgency for moving ahead with these initiatives.

Collaborating and Incentivizing for Student Success
During Secretary Duncan's tenure in federal government, one of his notable accomplishments was establishing the First in the World Award, which recognized the prevalence of adult learners, working students, students from underserved groups, and first-generation students in higher ed, and incentivized collaboration for student success innovation. He assured us that the program was just a first step toward what still needs to be done.

"We have a couple thousand institutions of higher education, and many of the challenges are shared," he noted. "And so the idea of having a couple thousand institutions trying to figure this out by themselves doesn't quite make sense to me. And having really smart, really committed people come together to share best practices and getting a playbook that you're laying out today, will be so helpful and informative. The idea of doing this in silos, being competitive with each other – this fight is too important. We gotta scale what works as fast as we can, and that's exactly what your collaborative has done."

Secretary Duncan still believes that government can and should play an ongoing role in encouraging innovation and support for college students. He told us:

"I do think this actually cuts across all of education, K-12 as well. I'm a much bigger believer in carrots rather than sticks. I don't think you beat people into doing better. You build a coalition of the willing, folks dissatisfied with the status quo who want to do something better, set a bold goal. I always talk about ambitious but achievable goals. It was never about what my idea was, or what President Obama's idea was. It was really about empowering people to do what works and to take it to scale. So I think a very appropriate role to adopt in education would be the ultimate, bipartisan, nonpartisan issue. There's nothing Republican, Democrat, or left or right about having more young people go to college, and not just go, but graduate. This is nation-building work. And so we're all in this together, and the federal government can help to incentivize, can help to convene, can help to shine a spotlight on what's working. That's something that I think should transcend administrations. That should be a constant."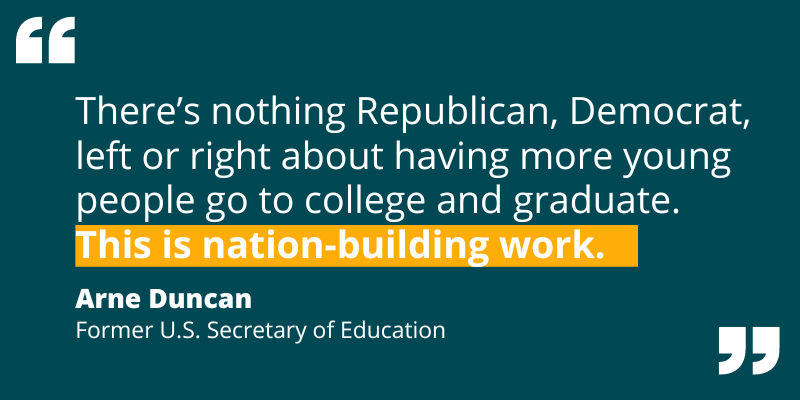 Support the Students That You Recruit
Secretary Duncan suggests that we in higher ed need to focus on evolving how we advise students.

"We can talk about majors, but what's always a little bit underneath the radar is how strong is your academic advising, how strong are your supports? And I think that might be your most important department at the university. Because we know the majority of folks who go to college don't graduate. That's a devastating reality. We talk a lot about college being too expensive, but the worst-case scenario is we've taken all that debt and don't have a degree to show for that. And so having universities try to recruit students to their campuses based upon the strength of their academic advising, and not just based upon how pretty their campus is or how good the major is or how many wins the football team might get, this is the reason to come to university. I don't think anyone has ever gone to college saying, 'My goal is not to graduate.' But that's what's happened. And people talk about systems being broken, but I often think systems aren't broken; they're perfectly designed to get the results that they get. And I think we've been too complacent. We've let it go that the majority of folks that go to college don't finish. That's an untenable reality that we have to change together."

Real-World Concerns and Reversing a Trend
Secretary Duncan, having served seven years in the federal government after leading one of the country's largest urban school districts, is uniquely positioned to suggest what we can do to begin seeing different results:

"Focus on the academic part, but that's just one piece of it in thinking about students' mental health and all the challenges with coming out of the pandemic, and talking to university presidents who really take this seriously and hearing the top concerns that their students have. If you're worried about how you're gonna eat, or how your family is gonna eat, if you're worried about where you're gonna live or where your children are gonna live, it's pretty hard to concentrate. It's not a lack of will, it's not a lack of desire, it's not a lack of intellect. It's pretty hard to concentrate on the academic part of this. And so, really having a holistic mindset that whatever those very real barriers are, not their easy answers, the university is gonna do whatever is in its power to help overcome them so students can pursue their dreams and cross that finish line."

Keeping an eye on the bigger picture, he admitted, "I am very worried about our democracy fraying at the edges. It's divided lots of ways by race and class and geography. But I really think it's divided maybe most significantly around educational opportunities, and the haves and the have-nots. And if you have a chance to go to college and graduate, the prospects for your family are pretty strong. And for so many first-generation college-goers, there's tremendous upward mobility there. But those that don't have those opportunities in an increasingly globally competitive, flat world where the jobs are gonna go to the knowledge workers, those that don't have those credentials, don't have those opportunities, are on the outside looking in.

"And that's very scary, and it can create a lot of fear and anger. And that's the division that I'm deeply worried about in our country. A generation ago, we led the world in college graduates. It's not so much that we've dropped, it's that we're stagnated. A lot of other countries have out-educated, out-invested, out-innovated. I would love to see us set the goal of leading the world in college graduates again. And if we could unite behind that, and really do everything we could –collectively, collaboratively – we would not just have the best-educated workforce in the world; I'm convinced we'd have a much stronger democracy than we have today. So for me, the stakes are extraordinarily high, and whatever I can do to be helpful to you and others, I'm all in, because this is that important."

Breaking the Cycle
Secretary Duncan also had some kind words for the UIA's progress in how, since 2014, we've increased our member institutions' low-income graduates by 46%, graduates of color by 85%, and produced 97,000 more graduates.

"Those are really, really significant numbers," he acknowledged. "These are individual lives. These are families where generations will be changed because of the chance, not just to go to college, but to graduate. I say all the students that you guys have helped to graduate, they weren't necessarily smarter than students a few years before them. They weren't necessarily better prepared. What they were was better supported. Systematically, systemically, you guys better supported them and helped them get across the finish line. So that's just remarkable, remarkable work. And thanks so much for all of your evolution and hard work."

Note: This conversation was adapted from the introductory section of a panel discussion about the future of academic advising, hosted by the University Innovation Alliance in partnership with The Chronicle of Higher Education and originally aired on May 26, 2022. We provide a transcript of the full conversation if you would like to learn more. You can also watch on demand.

Links Mentioned in This Episode
• "The Future of Academic Advising" by Bridget Burns, 6/23/22
• First in the World Award
• Playbook (Proactive Advising: A Playbook for Higher Education Innovators, available from the UIA)
• The UIA's progress ("Innovating Together: Results From the University Innovation Alliance" by Bridget Burns, 6/10/21)
• The University Innovation Alliance
• The Chronicle of Higher Education
• Transcript of the full conversation ("The Future of Academic Advising: Transcript" by Bridget Burns, 6/23/22)
• Watch on demand ("Virtual Forum: The Future of Academic Advising" via The Chronicle of Higher Education)
 
Bios of Guest and Host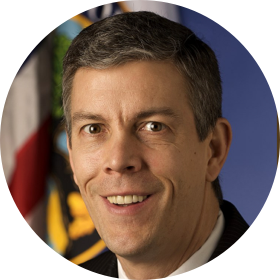 Guest: Arne Duncan, Former U.S. Secretary of Education
Arne Duncan, currently a managing partner of the Emerson Collective and distinguished senior fellow at the University of Chicago's Harris School of Public Policy, was the ninth U.S. Secretary of Education. During his tenure in the Obama Administration from 2009-2015, he helped to secure congressional support for President Obama's investments in education, including the American Recovery and Reinvestment Act's $100 billion to fund 325,000 teaching jobs, increases in Pell grants, reform efforts such as Race to the Top and Investing in Innovation, and interventions in low-performing schools. He helped secure an additional $10 billion to avoid teacher layoffs; the elimination of student loan subsidies to banks; and a $500 million national competition for early learning programs. The Department also focused billions of dollars to transform struggling schools, prompting nearly 1,000 low-performing schools nationwide to recruit new staff, adopt new teaching methods, and add learning time. In support of the president's goal for the U.S. to produce the highest percentage of college graduates by the year 2020, Duncan helped secure increases in the Pell grant program to boost the number of young Americans attending college and receiving postsecondary degrees. He began new efforts to ensure that colleges and universities provide more transparency around graduation, job placement, and student loan default rates. Prior to his appointment as Secretary of Education, Duncan served as the chief executive officer of the Chicago Public Schools (CPS) from 2001 through 2008. He won praise for uniting education reformers, teachers, principals and business stakeholders behind an aggressive education reform agenda that included opening more than 100 new schools, expanding after-school and summer learning programs, closing down underperforming schools, increasing early childhood and college access, dramatically boosting the caliber of teachers, and building public-private partnerships. Before joining CPS, Duncan ran the nonprofit Ariel Education Initiative from 1992 to 1998, which helped fund a college education for a class of inner-city children under the I Have A Dream program. From 1987 to 1991, he played professional basketball in Australia, where he also worked with children who were wards of the state. Duncan graduated magna cum laude in sociology from Harvard University in 1987. He was co-captain of Harvard's basketball team and was named a first team Academic All-American.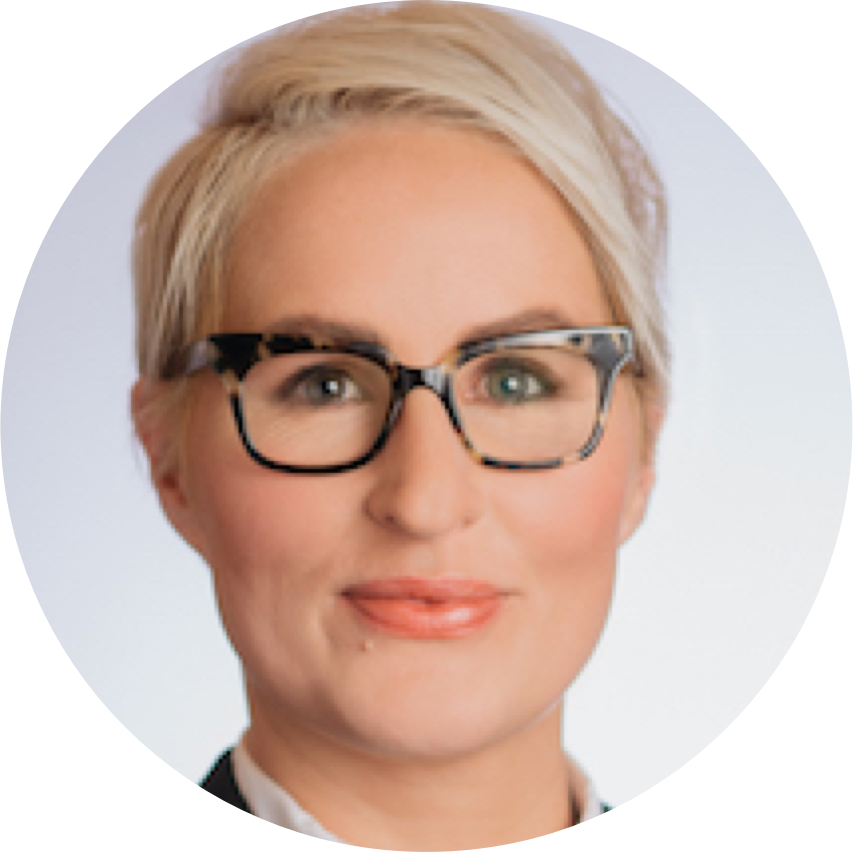 Co-Host: Bridget Burns, CEO, University Innovation Alliance
Dr. Bridget Burns is the founder and CEO of the University Innovation Alliance (UIA). For the past decade, she has advised university presidents, system chancellors, and state and federal policy leaders on strategies to expand access to higher education, address costs, and promote completion for students of all backgrounds. The UIA was developed during Bridget's tenure as an American Council on Education (A.C.E.) Fellowship at Arizona State University. She held multiple roles within the Oregon University System, including serving as Chief of Staff and Senior Policy Advisor, where she won the national award for innovation in higher education government relations. She was a National Associate for the National Center for Public Policy and Higher Education, and has served on several statewide governing boards including ones governing higher education institutions, financial aid policy, and policy areas impacting children and families.