In 2015, the UIA won a U.S. Department of Education's First in the World (FITW) grant to study the scaling and impact of proactive advising in a project designed by Tim Renick from Georgia State University. The four-year, 10,000-student RCT was a massive project generating significant insights and learning for each of our campuses.
Our innovation and scale work is never just about us; we are committed to sharing what we learn to benefit the rest of higher education. To that end, we have compiled our most important lessons learned from implementing proactive advising in an easy-to-use playbook for the higher education community. We are thrilled to share our Proactive Advising Playbook with our newsletter subscribers first.
A few of the high level insights from our Proactive Advising Playbook include:
It is critical for advisors to employ empathy driven and student centered advising practices in every 1:1 interaction with students since they are the frontline for supporting underserved students.
The main challenge for advisors today is how to do this when they are dealing with convoluted course registration processes, high advising caseloads, outdated technology, and unnecessary paperwork, and are often burnt out from managing these day-to-day challenges in the midst of caring for themselves and their families during an ongoing pandemic and higher ed labor shortage.
We must figure out new ways to work together to support this vulnerable but important group of student success professionals and empower advisors to lead from where they are at their institutions.
Building more effective advising practices has implications not just for the future of advising but also for faculty, administrators, and student affairs professionals in their own student success work.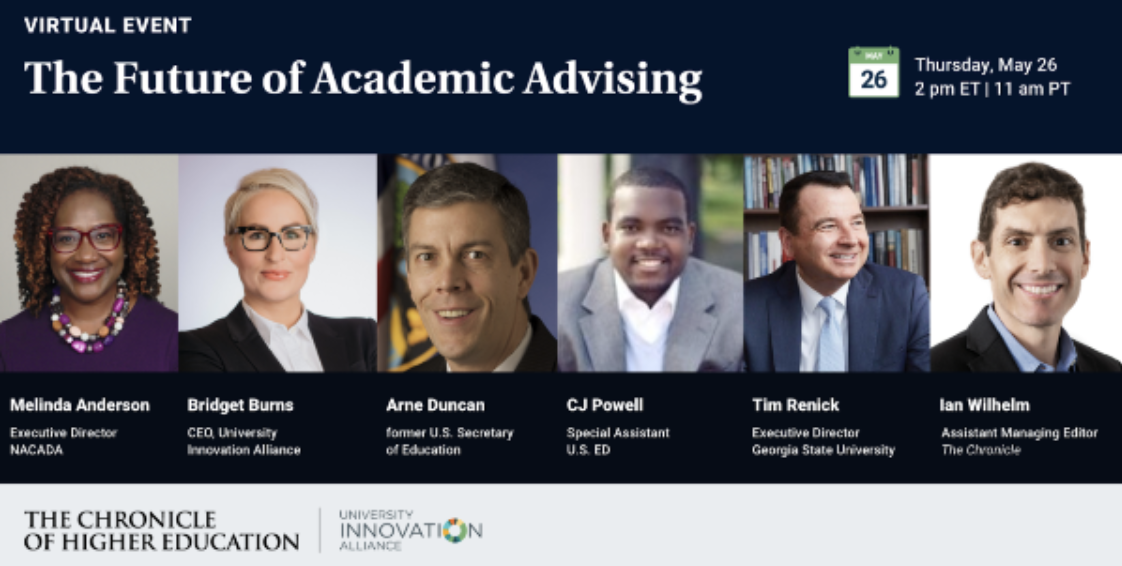 On May 26th we are co-hosting a webinar with The Chronicle of Higher Education to discuss the future of academic advising. The former U.S. Secretary of Education Arne Duncan, colleagues at the Department of Education, Georgia State University, and NACADA will join us as we delve into why institutional leaders should prioritize data-enabled, proactive advising as an essential tool to help boost retention and completion rates for first generation students, low-income students, and students of color. We will also share key insights and practical tools campuses can implement from our "Proactive Advising: A Playbook for Higher Education Innovators" playbook going live to the public on May 26th. If you'd like more information about the webinar or to register click here.
"Leaders must learn how to listen with engagement. You can't do that if you're trying to talk and be the center of attention. You're not hearing the other people."