The University Innovation Alliance (UIA) is all about collaboration. Partnership is our strength as we collect relevant data on student success, evaluate and strategize the best uses of that data, offer these resources to our member institutions, and share their outcomes across our network. We spent 2021 sharpening our focus on equitable higher ed experiences for Black students, supporting emerging scholars in their research of student success, and collaborating with other networks that share our mission to make high-quality education accessible for all.

The Black Student Success Initiative
In November 2019, UIA presidents and chancellors added another goal to the list of what we hope to accomplish: eliminating disparities in educational outcomes based on student background characteristics such as race/ethnicity, income, gender, and geography, with specific consideration to the individual demographic context of each institution. Respecting that commitment and responding to the imperatives of our member campuses, the UIA launched the Black Student Success Initiative (BSSI), an exploratory effort to assess and transform the experiences and outcomes of Black students across the public research universities in our network. The BSSI is a scalable, adaptable process enabling any institution to examine and redesign itself to optimize conditions for long-term Black student success.

UIA institutions engaged in an intensive assessment process to review data, barriers, and opportunities related to Black student success on their campuses. We brought together institutional leaders to unpack their data, challenges, and priorities. Insights from leading Black scholars, such as Dr. Shaun Harper and Dr. Leonard Taylor, grounded our work as we explored requirements for Black student success, learned about reconceptualizing Black students' success and becoming Black-serving institutions, and reflected on the roles of narrative, institutional identity, agency, and data in defining the challenges associated with better serving Black students. After a year of collaboration and shared learning, UIA institutions have begun to implement new campus-level initiatives addressing barriers to Black student success.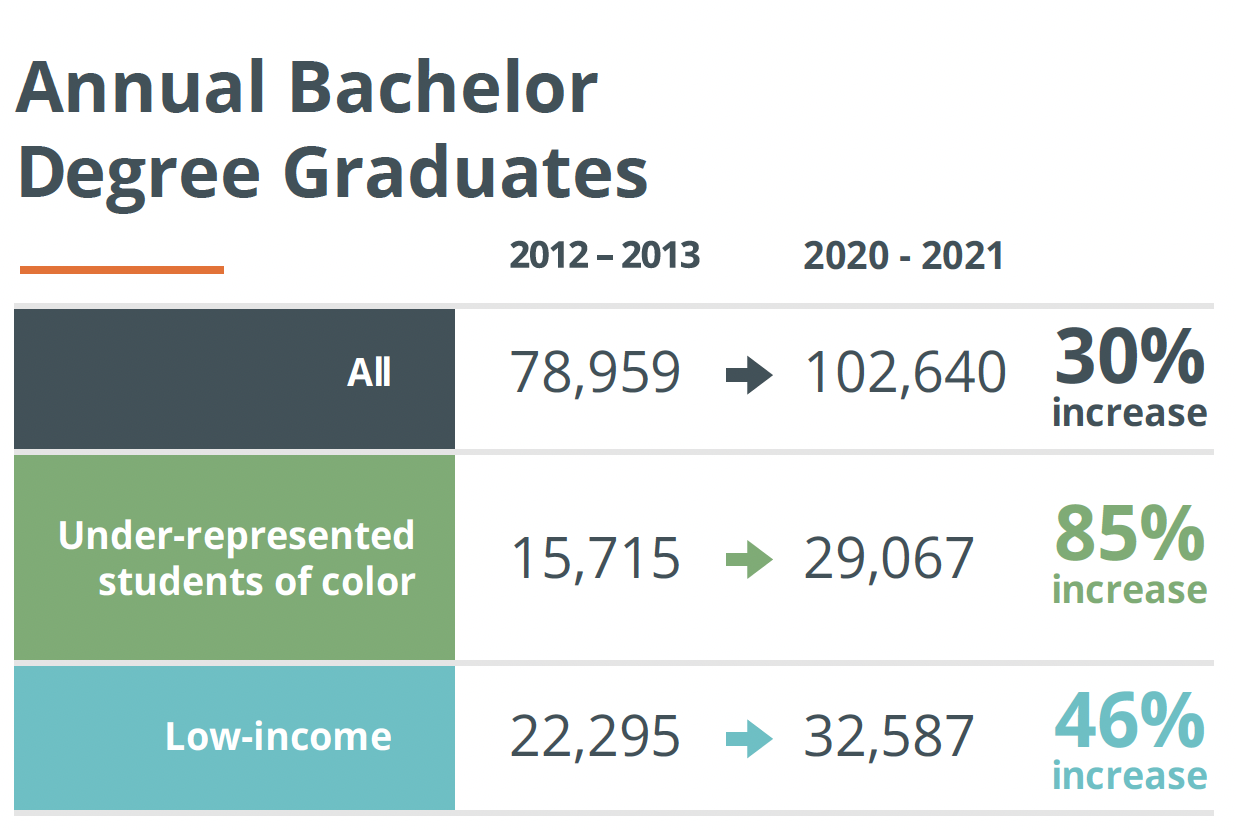 The Doctoral Research Fellows Program
UIA institutions are home to talented faculty and graduate students in many fields that play a role in understanding and advancing student success. To engage some of these senior and emerging scholars in the research, the UIA piloted a Doctoral Research Fellows program in 2020-2021. Aided by the Carnegie Corporation of New York, we supported graduate students and faculty advisors conducting student success research using UIA project data. Campus-led projects focused on proactive advising (Ohio State), completion grants (Michigan State), technology-based student success interventions (Georgia State), and the effectiveness of advising alerts and campaigns (Arizona State). Through this model, we plan to extend our research capacity and provide further opportunities for emerging researchers to apply their skills to the study of student success.

Some of the work on which we based our program:
Collaborating With Other Networks
The UIA's focus on collaboration produced substantial learning and change across our network in 2021 through two key relationships.

First, we continued supporting several member institutions in the Gates Foundation's Frontier Set – a group of high-performing, high-potential institutions and organizations committed to eliminating race/ethnicity and income as predictors of student success by transforming how they operate. Participating UIA institutions (Arizona State, Georgia State, and University of Central Florida) took a leading role, improving equity in student outcomes and experiences as they worked with both the UIA and the Frontier Set network to demonstrate innovative course delivery models, use of data and technology, and cross-functional collaboration and organizational redesign. The Frontier Set's activities concluded at the end of 2021, but we look forward to sharing more this year about what we've learned in collaboration with our university, intermediary, and Gates Foundation partners.

Last year, as part of the BSSI, we partnered with We All Count, a project for equity in data science that delivered capacity-building support and data equity training to UIA institutions. Our landscape analysis work with campuses revealed data limitations, politics, and bias as key factors undermining efforts to address and improve support for Black students. This collaboration will continue to support UIA and member campus efforts to counter bias and racism in project design, data collection, and measurement.

A Wealth of Ongoing Results
Throughout the past two challenging years, the UIA has focused more than ever on listening to and supporting our members so they, in turn, can support their students. In 2022, we intend to continue supporting academic recovery efforts amid the pandemic, and to continue elevating and amplifying the learner voice. Through our online toolbox, the University Innovation Lab, we plan to provide resources and a virtual collaborative space for institutions across the country to engage with ideas, learning, and community that can help move our sector toward equitable outcomes for students of all backgrounds.

Note: This blog, adapted from the UIA's Annual Report, is the second in a series highlighting our progress in 2021. We invite you to read A Strong Year for the University Innovation Alliance and Teamwork, Completion Grants, and Workforce Readiness.