The University Innovation Alliance (UIA) works for the collective good of our members and ultimately to make higher education accessible for traditionally under-represented groups, yet our outcomes begin with the vision of and examples by individual leaders. Two of the initiatives that we highlighted in our 2021 Annual Report – our completion grants and college-to-career programs – would never have happened as they did without the rigorous and innovative work of the teams at our member institutions: the UIA Board Members, Liaisons, and Fellows. Here are two of the critical programs that they helped us bring to fruition in the past year.

Completion Grants
Completion grants are an emerging form of student aid for degree candidates facing unexpected financial difficulties en route to graduation. The COVID crisis brought even more attention to the importance of helping students navigate sudden financial hurdles. While the federal government intervened to provide aid to students struggling through the pandemic, most ongoing emergency aid comes from institutions and philanthropic supporters eager to find proven, tangible, and replicable ways to help more students graduate.

In spring 2021, the UIA concluded its four-year completion grant initiative after providing more than 5,000 microgrants (valued at $3.6 million) to low-income students facing modest financial hurdles to degree completion as they neared graduation. Of these recipients, 83% remained enrolled or graduated within three terms. Over 1,100 students received grants during the initial COVID disruptions in 2020. Through the project, funded by the Bill & Melinda Gates Foundation and Ascendium Education Group, the UIA also produced a Completion Grants Playbook sharing lessons learned and recommendations for institutions considering completion grants. We show how we designed our parameters to determine grant eligibility, the range of microgrants that worked best for qualifying students, and the scalability of this program across a variety of campuses.

Among the challenges we identified were:
Institutional policies related to tuition, registration, graduation, drop for nonpayment, billing dates, and other areas related to student enrollment and success
Student attitudes toward debt and personal finance, their earning and borrowing patterns, and their understanding of eligibility for government grants and loans
The misconceptions about middle-income students' financial needs and eligibility for resources
Understanding how students may use their completion grant funds
The unique needs of transfer students
Bridging the Gap From Education to Employment
As the COVID pandemic transforms the workforce, universities need new approaches to supporting career planning and college-to-career transition. Over the past three years, UIA institutions participated in a college-to-career redesign initiative funded by the Strada Education Network. This effort brought together staff, faculty, students, and employers to co-design and test new approaches to supporting students as they transition to the workforce. Using a scalable design thinking process, campus teams developed and prototyped new approaches to helping students prepare for their next steps after graduation. This project formally concluded in 2021, but campuses have continued to evolve and scale these models. The UIA also developed a Bridging the Gap From Education to Employment Playbook to support others interested in leveraging what we learned through this work.

Our member institutions supported this initiative with an impressive array of strategies: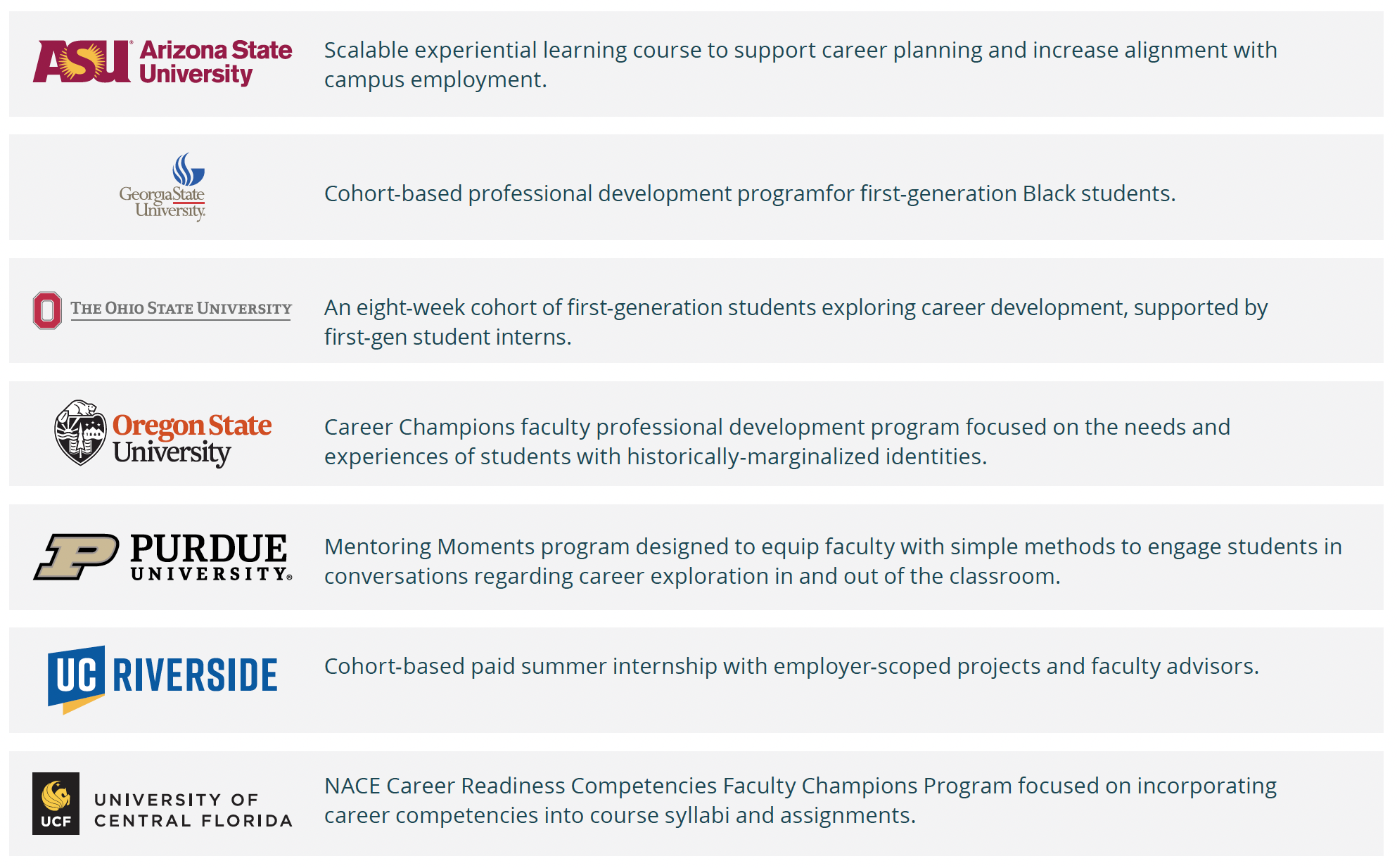 Teamwork and Partnership
We owe so much of our direction, energy, and success to these remarkable teams:
The UIA Board is a group of dynamic, visionary presidents and chancellors who embody our commitment to student success for low-income students and students of color.
The UIA Liaisons are the essential engine driving our work. They provide strategic guidance, insight, collaborative effort, and selfless leadership through mentoring, on-campus engagement, and organizational accountability.
The UIA Fellows are the future leaders of higher education, members of an early- to mid-career professional development program who provide us with the strategic innovation capacity that propels our collaborative work while they develop their own already-impressive leadership skills.
Additionally, we wouldn't be where we are now without the philanthropic support of our partners from our inception in 2014 through the extreme challenges of 2020 and 2021. These generous partners, too many to name here, have supported our vision and enabled our movement to make higher education truly student-centered. We're also grateful to our member institutions for their commitment to the UIA's mission – and to the students who inspire this work every day.

Note: This blog, adapted from the UIA's Annual Report, is the third in a series highlighting our progress in 2021. We invite you to read A Strong Year for the University Innovation Alliance and How Universities Collaborated for Student Success.