Sometimes innovation is about shiny new technology, and sometimes it's about a fresh look at the data already at our fingertips. The University Innovation Alliance (UIA) always looks forward to sitting down with Dr. Tim Renick, Executive Director of the National Institute for Student Success (NISS) at Georgia State University, and for this podcast in the Innovation Spotlight Series, he was happy to talk all about data: DFW rates and the accelerator model, the pandemic's lingering impact on student success, the hurdles of institutional culture, and gauging a school's readiness to implement change.

The Accelerator Model as an Innovation for Student Success
First-year students sometimes have difficulties adjusting to college's academic demands, and Dr. Renick's team noted that freshmen struggled even more during the pandemic. The rising DFW rate (students earning grades of D and F or withdrawing from a course with no credit) presented a troubling metric for anyone tracking student success data. Addressing this problem was the genesis of the accelerator model. Dr. Renick admitted:

"Like a lot of the so-called innovative practices we've adopted here at Georgia State, this came about largely by accident and by need. In the fall of 2020, when we brought in our first COVID first-year class, we began to see problems, 20 and 30 percent increases in distressed behavior. And by the end of that year, their credit hour accumulation, their average GPAs, and their ability to progress to what they needed to take sophomore year was severely hindered.

"And so, what we did the summer of '21 was very quickly pivot to a new program. We invited back first-year students who had failed critical classes. These are issues that were going to hold them up in their ability to proceed. We re-offered those courses in the summer, but with a whole wraparound set of supports. We handpicked instructors who are particularly effective in teaching introductory-level courses. We connected each section with supplemental instruction, so a near-peer tutor was embedded. We had proactive advising where we were tracking the students on a very intense level, looking at engagements through online technology platforms, looking at course attendance, tracking quizzes, and reaching out to students proactively. We had coaching. And the idea was let's try to get these students through these critical courses before their sophomore year begins."

Dr. Renick was proud to share the results:

"The first year we did it, over 60% of the students got through -- and mind you, all of them had basically failed the course in their first attempt. This past summer, we got that closer to 80%. But more than that, we saw a really sobering data: 15% of the students who had failed the first time got A's the second time that they attempted the course. So, what we've tried to do is find new interventions that can help deal with these really crippling DFW rates that not only hold up students academically, but also interfere with their eligibility for financial aid."

Data Indicators of Student Success
While the COVID lockdown is behind us and campuses have resumed their day-to-day operations, we're still feeling the ripples from two years of learning loss. Many students and institutions could benefit from adopting the accelerator model during their summer session. Dr. Renick offered these beginning steps:

"The first thing to say is this problem's not going away. Our students have not recovered. There's significant learning loss, and significant mental health challenges and stresses on the students. And nationally, the DFW rates continue to be much higher than they were prior to the pandemic.

"Secondly, there's a bifurcation of impacts based upon socioeconomics. DFW rates have not gone up across the board. If you are a well-resourced high-school student who comes from an academically rigorous school with high graduation rates, you probably weathered the pandemic pretty well. We know some high schools in the Atlanta area, during the pandemic when they were entirely online, were shooting for attendance of 50% on any given day. Half the students weren't there to learn.

"So what we advise campuses to start with is track your data. Understand who are the students that are struggling and where are they struggling. We've seen increased DFW rates in math courses, in STEM areas, but also in basic skills courses like English composition. And you have to know who these students are, because you need to encourage them to do something different than they've been doing in the past. It's a heavy lift to get students to come back and take the same course over again during the summer. And so, part of what we work with campuses to do is understand how you message that to students and create the incentives so that they can get back on track again."

Is Institutional Culture Part of the Problem?
In our mission to elevate student success and educational equity, the UIA sometimes comes face to face with the uncomfortable idea that the institution itself may be part of the problem it's trying to solve. Dr. Renick spoke to this underlying cultural story when we asked whether it might affect the success of the accelerator model:

"I think the bias here is, 'If it's not the student's fault, if it's not the pandemic's fault, if it's not intractable, then maybe I'm to blame, right? Maybe I'm not as good.' If a student doesn't succeed, it's easier to say, 'Well, they didn't succeed because they didn't engage sufficiently.' We need to find ways of demystifying this so that it doesn't become personalized. What we do see at Georgia State is we are not only part of the problem, we still are the problem because our students haven't changed. Over the last decade, their SAT scores on average are going down. We have twice as many Pell students as we used to have, but we're graduating 3,500 more students every year than we were ten years ago. If you need evidence that we're the problem, that's it right there. The students didn't change, we had to change, and they're succeeding at higher levels."

He suggested that changes on the faculty side might be as easy as finding the best instructors to teach the accelerator courses:

"When we offered these courses for the first time, summer of 2021, to my knowledge, it was the first time that Georgia State ever offered course sections where every student in the course had previously failed the course. We need to do a better job of looking at who's successful with teaching the kind of students who are going to be in these core sections. What does that mean differently about the way we equip our supplemental instructors and our near-peers to coach? So, I think whatever the innovation, the accelerator or anything else, it's going to have to go through a constant process of iteration, and that means assessment is not a one-time thing. You are constantly running data. You're constantly looking at it to see what's working, what's changing and what's not."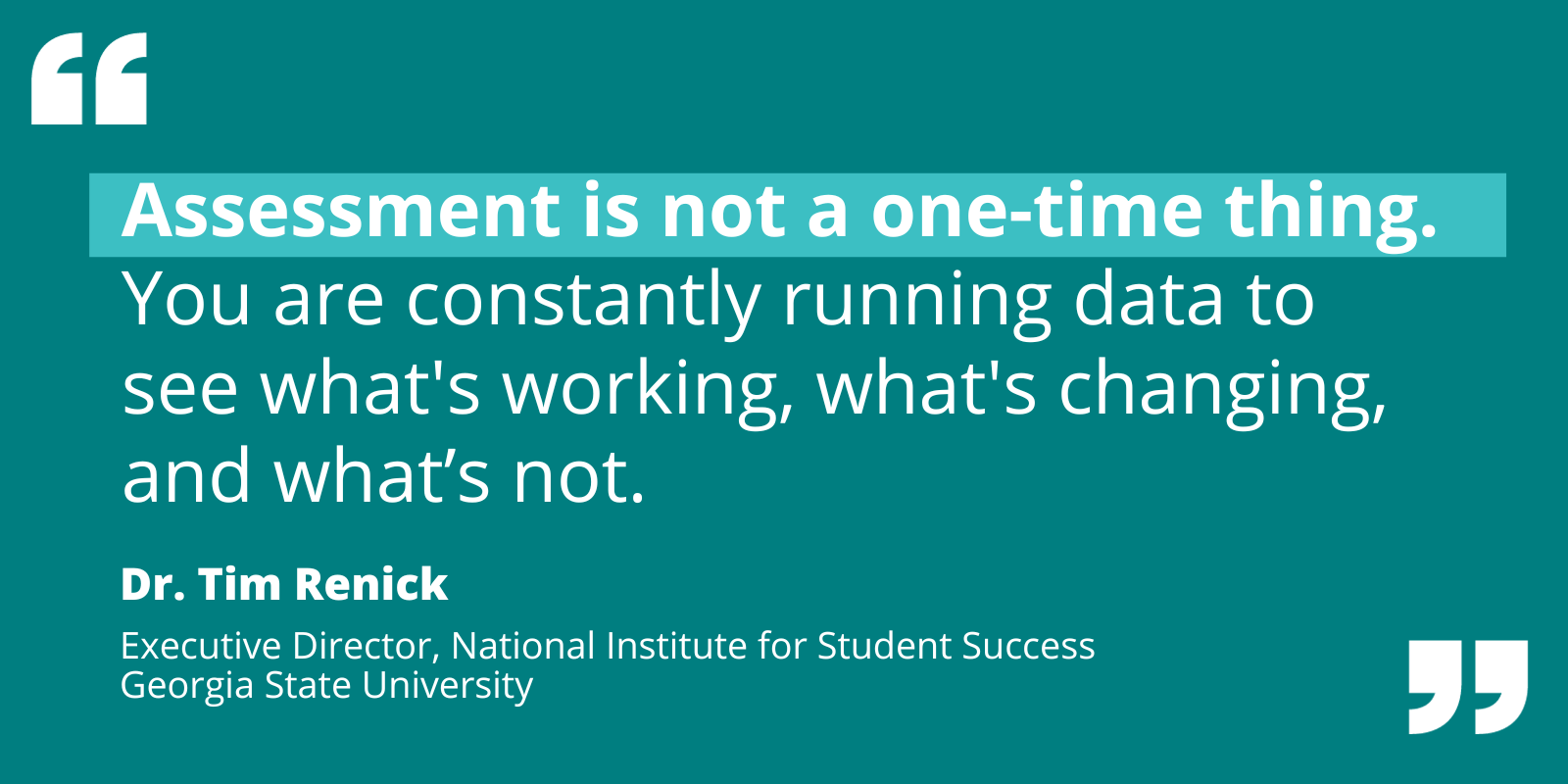 Effective Use of Institutional Resources
The unique mission of the NISS gives Dr. Renick special insight into the aspirations and struggles of many institutions trying to increase the academic success of their under-resourced students. When asked about the biggest challenges he's seeing for campuses who want to implement change, he told us:

"Most often, we hear campuses say they're understaffed and they're not at the cutting edge of technology. My assessment is they mostly need to overcome their silos. If they overcame the silos, their staff would be more efficiently deployed, and the technologies they already have would be more than adequate. But the problem is getting the buy-in across the silos. The bigger, the more powerful the campus, oftentimes the deeper the silos. In many instances, we've had more success moving the needle quickly on improving graduation rates at our community college partners than some of the institutions that are best resourced, which I think is an indication that it's the silos that really are the issue."

The NISS, like most institutions, operates with finite resources, so it partners only with colleges that are committed to using those resources effectively. Dr. Renick said:

"We have a detailed diagnostic to get a baseline of where their data is, what's working, and what's not working on the campus. We're looking specifically at systematic issues, admissions, financial aid, advising, student communication platforms, and so forth. It's helpful to get a baseline set of data, but also seeing how much effort it takes to get that data. Because if a campus is cooperative and willing to change and be self-analytical, that diagnostic goes very smoothly. In other cases, it's a very strained and difficult process, and that tells us a lot about how ready a campus is to change."


Note: This interview in the Innovation Spotlight Series originally aired on October 9, 2023 as part of the University Innovation Alliance's Innovating Together Podcast, appearing live on Facebook, Twitter, and LinkedIn.

Links Mentioned in This Episode
• University Innovation Alliance
• Dr. Tim Renick
• National Institute for Student Success
• Georgia State University
• Innovation Spotlight Series
• Proactive advising ("The Future of Academic Advising" UIA, 6/23/22)
• Eligibility for financial aid ("Completion Grants: Innovative Financial Aid for Today's Students" UIA, 11/3/22)
 
Bios of Guest and Co-Hosts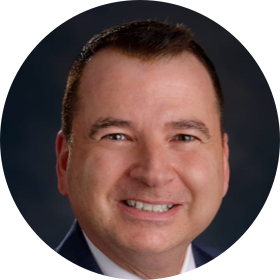 Guest: Tim Renick, Executive Director, National Institute for Student Success (NISS) at Georgia State University
Dr. Tim Renick, who has led Georgia State University's student success efforts since 2008, is the founding executive director of Georgia State's National Institute for Student Success, and Professor of Religious Studies at Georgia State. Previously, he served as Georgia State's Senior Vice President for Student Success, Chair of the Department of Religious Studies, and Director of the Honors Program. Between 2008 and 2020, he directed the university's student success efforts, overseeing one of America's fastest improving graduation rates and the elimination of all equity gaps based on students' race, ethnicity or income level. Dr. Renick has testified before the U.S. Senate on strategies for helping low-income university students succeed and has twice been invited to speak at the White House. His work has been covered by the New York Times, the Wall Street Journal, Time, and CNN and cited by former President Barack Obama. He was named one the 16 Most Innovative People in Higher Education by Washington Monthly, and received the Award for National Leadership in Student Success and the McGraw Prize in Higher Education. He has served as principal investigator for more than $30 million in federal and private research grants in student success. A summa cum laude graduate of Dartmouth College, Dr. Renick holds his M.A. and Ph.D. in Religion from Princeton University.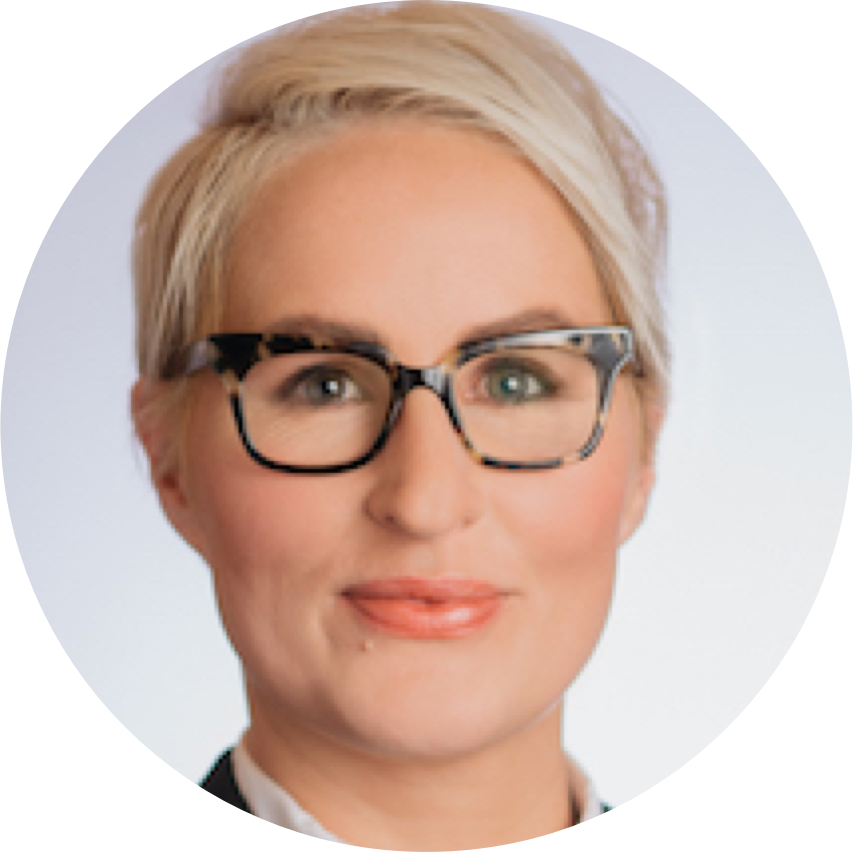 Co-Host: Bridget Burns, CEO, University Innovation Alliance
Dr. Bridget Burns is the founder and CEO of the University Innovation Alliance (UIA). For the past decade, she has advised university presidents, system chancellors, and state and federal policy leaders on strategies to expand access to higher education, address costs, and promote completion for students of all backgrounds. The UIA was developed during Bridget's tenure as an American Council on Education (A.C.E.) Fellowship at Arizona State University. She held multiple roles within the Oregon University System, including serving as Chief of Staff and Senior Policy Advisor, where she won the national award for innovation in higher education government relations. She was a National Associate for the National Center for Public Policy and Higher Education, and has served on several statewide governing boards including ones governing higher education institutions, financial aid policy, and policy areas impacting children and families.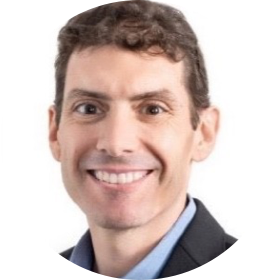 Co-Host: Ian Wilhelm, Assistant Managing Editor, The Chronicle of Higher Education
Ian Wilhelm is a journalist with more than 20 years of experience, covering higher education, nonprofits, and philanthropy. He currently serves as Assistant Managing Editor for Chronicle Intelligence (CI), a division of The Chronicle of Higher Education. CI produces content to inform colleges and universities about national issues and develop ways to solve pressing problems on campuses. Previously at The Chronicle, he was a senior editor, helping manage a team of reporters focused on enterprise and feature stories for its weekly newspaper and daily website. He also served as the international editor and senior writer for The Chronicle of Philanthropy, the newspaper for the nonprofit world. As a freelance writer, Ian's articles have appeared in The Christian Science Monitor, The Religion News Service, USA Today, The Washington Post, Newsday, and other publications. He has worked abroad, living in Germany and reporting stories from Africa, China, Sri Lanka, and elsewhere.
About Innovation Spotlight
Innovation Spotlight is an event series that happens live on Facebook, Twitter, and LinkedIn. It also becomes a podcast episode. We feature short interviews with experts on specific interventions and innovations that serve student success, with a particular emphasis on the critical skills necessary to help an institution eliminate disparity. By elevating these cutting-edge insights, ideas, and innovators in the field, who share what they're learning from the front lines, we aim to help viewers identify the first three steps to take, what they need to know to take action tomorrow, and what experts have learned from implementation that they wished they'd known beforehand. We hope that, by surfacing these perspectives and inspirations, along with some tips and tricks to make the complicated business of innovation a little easier, we can help you in your work.
Rate, Review & Subscribe
Learn why hundreds of people have rated this new podcast 5 stars! Please join others and rate and review this podcast. This helps us reach and inform more people -- like you -- to help increase the number and diversity of college graduates in the United States.
Click here, scroll to the bottom, tap to rate with five stars, and select "Write a Review." Then be sure to let us know what you loved most about the episode! Also, if you haven't done so already, subscribe to the podcast. We'll be adding a bunch of bonus episodes to the feed and, if you're not subscribed, there's a good chance you'll miss out.