We felt privileged to speak with James Kvaal, the Biden Administration's Under Secretary of Education. Unlike our usual guests on the Weekly Wisdom Podcast, he isn't a college or university leader, although he's someone with a great deal of influence on their work. Under Secretary Kvaal was kind enough to talk about leadership at the federal level, understanding the perspectives of advocates from outside the government, and the critical details of what it takes to be an effective communicator.

Lessons in Leadership
Under Secretary Kvaal has spent almost half of his life working in the Federal government. He's served Presidents Clinton, Obama, and Biden, as well as a number of Cabinet secretaries, senators, and presidential candidates. We asked how his time with these leaders influenced his own leadership style.

"It's really been a privilege for me to see their leadership style and think about what works for them," he reflected. "There are as many different styles as there are leaders. But a couple of things that I admire and try to emulate: one is humility." He attributed this to his first boss, Secretary of Education Richard Riley, explaining, "He made everyone in the room feel like they were on the team, and someone he respected, and someone he counted on for contributions.

"A second thing is clarity," he continued. "Really great leaders, in politics, business, or government, know how to get their point across in very few words. John Edwards was a very successful trial attorney. He had this incredible gift to see one corner and he could sketch the whole picture. Arne Duncan also has a great ability to use one fact or story that inspires people to feel like they have to take action."

Additionally, Under Secretary Kvaal emulates a sense of responsibility, explaining, "I want to make sure that when my team takes the time to write a memo, or finds an issue that they think is important or they need help on, they feel like I'm doing my job in giving them that guidance or that support or clearing the way for them." He cited President Obama's practice of always making time to read a briefing. "I think that's really an important part of the bargain that leaders have with their team, to make sure you're supporting them and respecting the contributions that they're trying to make."

A Broader Perspective
Under Secretary Kvaal has also worked in the nonprofit sector as president of the Institute for College Access & Success (TICAS), which he described as a very different experience from the practice of building consensus and enacting policy within any given presidential administration.

"As an outside advocate," he observed, "you need to have a couple of things that you believe very strongly, plant a flag, find new and creative ways to keep banging away at those points, stay relevant, and try and keep your issue at the forefront. Now that I'm here at the Department, I'm really trying to support the Secretary, support the President. I'm trying to make space for my team so that they have the guidance and autonomy that they need to drive their projects forward and try and produce results. You know, I think it's helpful for me in my current role to have had those different perspectives, because I have some idea of how the White House will think about a problem or the very different questions that a Congressional staffer might ask, for example."

Realities and Aspirations
People working in the ed sector often assume that the Department of Education is all-powerful, and according to Under Secretary Kvaal, that's a misconception. "It is true the Department has a lot of discretion," he admitted, "but there's also a lot of people internal to the Administration – not just across the Department, but also across the government – that need to agree for us to take action. A lot of those requirements are prescribed by Congress. All of that I think is really for good reason. The stuff we do is important, and we have to get it right. It benefits from people having a lot of different perspectives. It is sometimes not easier necessarily than going to Congress. It can take 18 months to write a regulation. That's moving pretty fast, actually."

Even though his department may not be all-powerful, Under Secretary Kvaal was happy to answer our question about how he'd change higher ed if he could.

"I think our higher education system places far too much emphasis on a relatively small number of institutions that are very wealthy, very selective, very prestigious," he suggested. "We are very lucky to have those colleges and universities in the United States. But if you are trying to expand the middle class, promote equitable opportunity, help large numbers of people understand each other, you've got to be looking at community colleges and public universities. Those are the kinds of places that are changing large numbers of people's lives, and are really driving prosperities of communities and regions."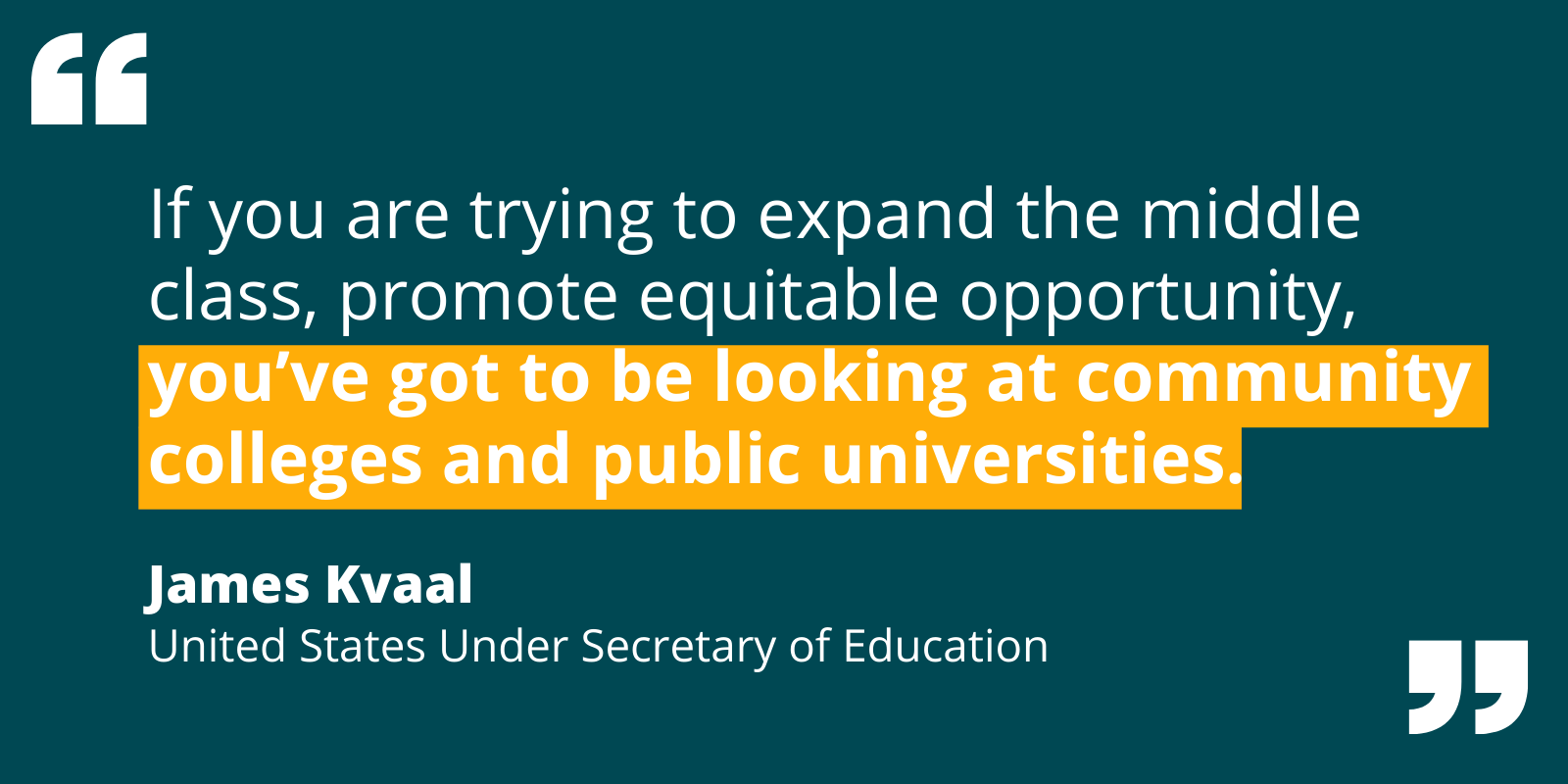 What's Said and What's Heard
We're big readers at the UIA, and we're always curious about what books on leadership have inspired our guests during their careers. Under Secretary Kvaal added another title for our consideration.

"One book I recommend a lot is How to Have a Good Day by Caroline Webb," he told us. "This was recommended to me by John Schnur of America Achieves, and I have found myself buying it for people. She takes scientific literature around psychology and communication, breaks down the psychological aspects of why people may not be ready to hear what you want to say, or what might be going on in their heads as you're trying to communicate with them, and literally gives you the precise words or formula for how to break down your message in a way that they may be able to hear. She also has some good tips for leaders in managing their own emotions, which I think can be really helpful. Because if you're not calm and patient, if you're thinking about the last meeting or something else that didn't go the way you wanted it to, then it's hard to be present and supportive for people."

Under Secretary Kvaal also shared a valuable suggestion from his father: "His advice was to try and make your boss look good. It helped me remember what my job was and my role in the team, especially as a junior person. Something that I try to emphasize now to my team is, I think all of us can work on our communication styles. How do you simplify and shorten what you're trying to say and try and make this main point stick? It's not what you say, it's what they hear that's really important."

Note: This interview in the Weekly Wisdom Series originally aired on March 21, 2022 as part of the University Innovation Alliance's Innovating Together Podcast, appearing live on Facebook, Twitter, and LinkedIn.

Links Mentioned in This Episode
• Arne Duncan (former U.S. Secretary of Education)
• The Institute for College Access & Success (TICAS)
• Books on leadership ("10 Winter Break Reads for Higher Education Leaders" by Bridget Burns, UIA Executive Director, 12/16/21)
• How to Have a Good Day: Harness the Power of Behavioral Science to Transform Your Working Life by Caroline Webb
• America Achieves (nonprofit focused on making a direct impact and informing systemic change to advance economic opportunity and mobility)
 
Bios of Guest and Co-Hosts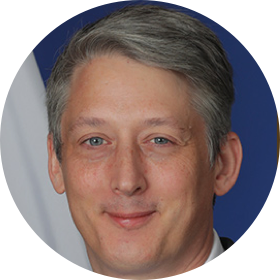 Guest: James Kvaal, U.S. Under Secretary of Education
James Kvaal formerly served as the president of the Institute for College Access & Success (TICAS), a research and advocacy nonprofit dedicated to affordability and equity in higher education, nationally recognized for its policy recommendations on student debt. Mr. Kvaal served in the Obama Administration as the deputy domestic policy adviser at the White House and deputy undersecretary at the U.S. Department of Education. He led efforts to cut student loan monthly payments, hold career colleges accountable for excessive debts, and make community colleges tuition-free. He helped organize the White House Summit on College Opportunity, which featured more than 100 college presidents and other leaders committing to help more students graduate from college. He also has served in senior roles in the U.S. House of Representatives and the U.S. Senate. Mr. Kvaal taught at the University of Michigan's Ford School of Public Policy and graduated with honors from Stanford University and Harvard Law School.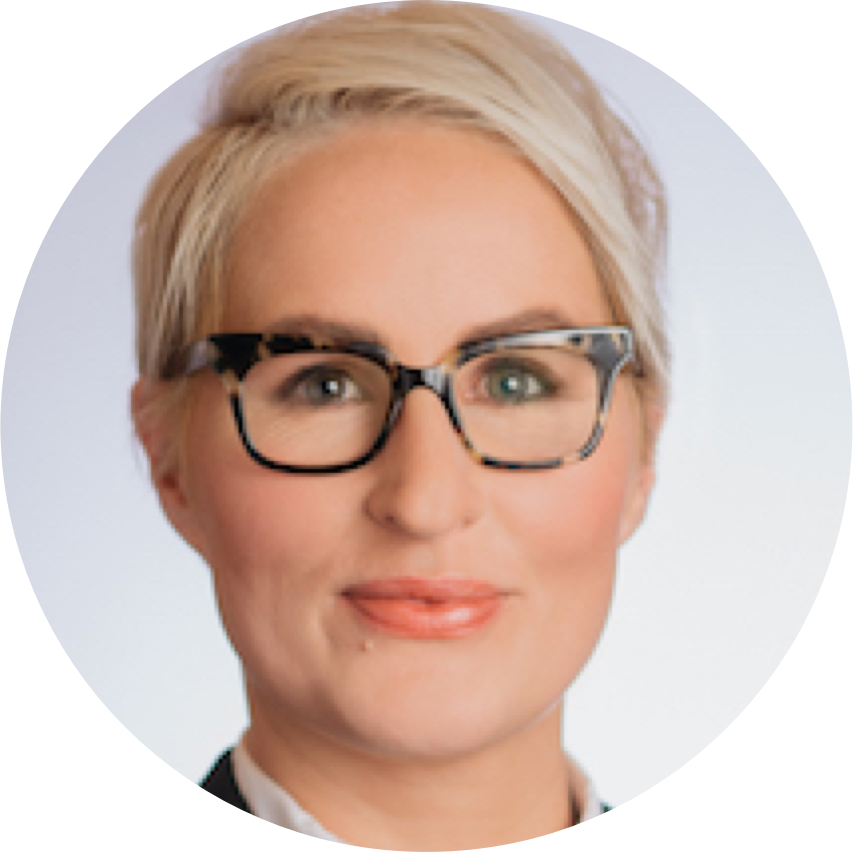 Co-Host: Bridget Burns, CEO, University Innovation Alliance
Dr. Bridget Burns is the founder and CEO of the University Innovation Alliance (UIA). For the past decade, she has advised university presidents, system chancellors, and state and federal policy leaders on strategies to expand access to higher education, address costs, and promote completion for students of all backgrounds. The UIA was developed during Bridget's tenure as an American Council on Education (ACE) Fellowship at Arizona State University. She held multiple roles within the Oregon University System, including serving as Chief of Staff and Senior Policy Advisor, where she won the national award for innovation in higher education government relations. She was a National Associate for the National Center for Public Policy and Higher Education, and has served on several statewide governing boards including ones governing higher education institutions, financial aid policy, and policy areas impacting children and families.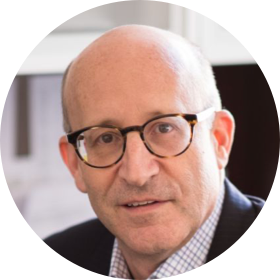 Co-Host: Doug Lederman, Editor and Co-Founder, Inside Higher Ed
Doug Lederman is editor and co-founder of Inside Higher Ed. With Scott Jaschik, he leads the site's editorial operations, overseeing news content, opinion pieces, career advice, blogs and other features. Doug speaks widely about higher education, including on C-Span and National Public Radio and at meetings and on campuses around the country. His work has appeared in The New York Times and USA Today, among other publications. Doug was managing editor of The Chronicle of Higher Education from 1999 to 2003, after working at The Chronicle since 1986 in a variety of roles. He has won three National Awards for Education Reporting from the Education Writers Association, including one for a 2009 series of Inside Higher Ed articles on college rankings. He began his career as a news clerk at The New York Times. He grew up in Shaker Heights, Ohio, and graduated in 1984 from Princeton University. Doug and his wife, Kate Scharff, live in Bethesda, MD.
About Weekly Wisdom
Weekly Wisdom is an event series that happens live on Facebook, Twitter, and LinkedIn. It also becomes a podcast episode. Every week, we join forces with Inside Higher Ed and talk with a sitting college president or chancellor about how they're specifically navigating the challenges of this moment. These conversations will be filled with practicable things you can do right now by unpacking how and why college leaders are making decisions within higher education. Hopefully, these episodes will also leave you with a sense of optimism and a bit of inspiration.
Rate, Review & Subscribe
Learn why hundreds of people have rated this new podcast 5 stars! Please join others and rate and review this podcast. This helps us reach and inform more people -- like you -- to help increase the number and diversity of college graduates in the United States.
Click here, scroll to the bottom, tap to rate with five stars, and select "Write a Review." Then be sure to let us know what you loved most about the episode! Also, if you haven't done so already, subscribe to the podcast. We'll be adding a bunch of bonus episodes to the feed and, if you're not subscribed, there's a good chance you'll miss out.