Note: This interview in the Weekly Wisdom Series originally aired on March 29, 2021 as part of the University Innovation Alliance's Innovating Together podcast, appearing live on Facebook, Twitter, and LinkedIn.

Here at the University Innovation Alliance (UIA), we're proud to present the Innovating Together Podcast, created in partnership with Inside Higher Ed. I'm the UIA's Executive Director, and my co-host is Doug Lederman, Editor and Co-Founder of Inside Higher Ed. For our 3/29/21 episode of Innovating Together's Weekly Wisdom series, we checked in with Dr. Gabrielle Starr, President of Pomona College. As an experienced leader who's become a national voice on college access for students of all backgrounds, the future of higher education, women in leadership, and the importance of the arts, President Starr had a lot of wisdom to share about setting practical expectations, collaboration between institutions, the realities of leadership, and the power of human connection.

Positive Changes From the Pandemic
A year of COVID-19 lockdown changed many things in higher ed, some of them positive. We asked President Starr which of these changes she'd like to see carried forward at Pomona College.

"None of us can do everything," she said. "We tell students all the time, 'There's so much out there. Take advantage of everything.' It's not healthy for them. I'm hoping that we can take the sense of self-regulation that we can't expect ourselves to do everything." She also described a successful summer math pilot program for incoming freshmen that had been planned before the pandemic. "The kids loved it," she told us. "Not only did they come to school with study partners, but they came having listened to each other, because with a novel problem and a group of five, you don't have any choice but to. It also reminded us that bridge programs are meant to foster inclusivity on a college campus, so they should start where the students are to build a community that comes with them rather than saying, 'Your community starts here.'"

Collaboration and Inclusivity
Pomona College belongs to a consortium of smaller schools, a community that President Starr sees as a model for collaboration across higher ed institutions.

"We've taken this time to align our policies with each other," she said, "to really think about how we can collaborate better. We're also part of a group called the Liberal Arts College Racial Equity Leadership Alliance, which is asking, 'What can we do more together than we could do separately? Can we join together to create the next generation of faculty? The next generation of leadership? Can we share pipelines so that we can be agnostic as to what college a low-income student might attend, but unite all of our pipeline programs so that we can share the wealth? How can we bring the individual strength that each of us might have together?' We can and should work together because none of us can do it on our own. We have plenty of students to go around. It's a question of how we can best serve the students who need serving."

As a personal example, President Starr added, "My daughter is applying for high schools this year, and she said something that I really wish a bunch of college presidents would say. She said, 'This school has a really low admissions rate. It's one of those high-selective schools, but I thought if I didn't go, I was passing up something special. I was one of the few people who got let in.' And then she's like, 'Why am I judging myself by how exclusive the community is that I would be joining?' It was incredibly spot on. In one of the wealthiest countries in the world, we're going to judge ourselves on who we exclude? That's not the way to be successful. It's the way to narrow success so that other people don't get it, and there's no point to that."

Higher Ed Leadership Tips
President Starr happily articulated her leadership style for us. "Find the person that has the skills that you need and then let them move," she stated. "Our chief operating officer had been through three government shut-downs. That was the best hire I could've possibly made. I just say, 'All right, you know what you're doing. I don't know the insides and out of debt refinancing. So put your team together and expect them to work as a team. Don't come to me with any proposal that you all don't agree on. And if you don't all agree on it, come up with a majority. If you need a minority opinion, tell me, but don't come to me individually with requests.' I need everyone to be focused on each other's needs, too, whether or not their needs rise to the top. I think that, for me, building mutual respect is the only way that I could possibly lead."

Her advice for new and future presidents: "The first thing I would say is you have no idea what you're getting into – none. Recognize that. The second thing is I had a colleague at N.Y.U. who said, 'Just remember that everything addressed to you really should be read as dear occupant. Don't take things personally. Realize that you are the institution in so many people's minds, and your responsibility is to keep that institutional perspective.' And then realize that's not the only one because you've got faculty members, a department chair, a dean, all of those perspectives are valid. Try to keep it all going in your head as much as possible. And the last bit of advice sounds kind of macabre, but 'Live like death is on your shoulder.' You're making decisions the best you can at the time that you do them, and the outcome is not always up to you. Resign yourself to that and you'll be happier."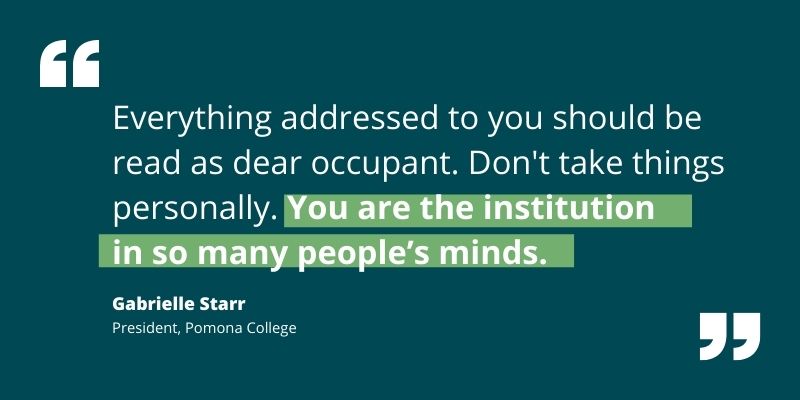 Adapting Leadership to a Changing Situation
There's no question that the pandemic changed the tone of President Starr's administration. She described her pivot while onboarding new team members.

"Trying to build camaraderie over Zoom was interesting," she reflected. "We lost a lot of formality really quickly and moved to daily check-ins. Now I know that there's more than two-dimensional people on the screen. I also decided that I was going to teach this spring. I missed students and, on the empathy front, I also felt like my faculty were really struggling with how to make a classroom work and to be their best selves. I think this little screen can be a big equalizer if you approach it that way."

With a research background in neuroscience and people's responses to art, President Starr found ways to lighten this past year's challenging circumstances.

"Instead of holding the usual office hours," she said, "my team picked an art form, and we just had a kind of study break – the students talking about what music they listen to, what they've been doing to get outside of themselves. Music is really interesting because oftentimes we bring prosocial goals to how we listen. Even in your headphones, you are building a connection with someone or something outside of you that can help you feel not quite so closed in. We also played a little game following on The Office, where we explained our worst decision, real or fantasy, in terms of a piece of literature, a film, or a TV show. That was pants-wettingly funny for the entire team. It's just one of those moments like, 'Okay, we're just going to take advantage of the fact that none of us is living in our normal way,' and we got some great answers."

President Starr believes that art serves as a prosthetic. "It can make us feel stronger, powerful, faster, more precise, better," she observed. "Human beings need prosthetics. It's creativity and it's human connection we can engage with as extensions of each other to do something good in the world and remind yourself that even in isolation you have those possibilities of connection."

Links Mentioned in This Episode
• Pomona College
• Liberal Arts College Racial Equity Leadership Alliance (as reported by Insight Into Diversity, 11/12/20)
• Neuroscience and people's responses to art (Feeling Beauty: The Neuroscience of Aesthetic Experience by G. Gabrielle Starr)
 
Bios of Guest and Co-Hosts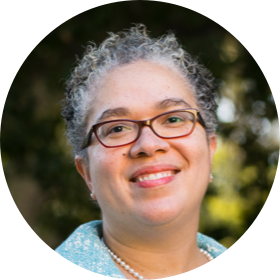 Guest: Gabrielle Starr, President, Pomona College
Dr. G. Gabrielle Starr became Pomona College's tenth president in 2017. She previously spent over 15 years at New York University, serving as English department chair, director of undergraduate studies, and College of Arts and Science dean. She co-founded a cross-university prison education program and is a national voice on college access for students of all backgrounds, the future of higher education, women in leadership, and the importance of the arts. Her writing has appeared in The New York Times, The Chronicle of Higher Education, and The Washington Post, among other publications. She serves on the California Higher Education Recovery with Equity Taskforce, which envisions a post-COVID approach for college preparation and workforce readiness. She also serves on the boards of the Guggenheim Foundation, the Los Angeles Philharmonic, Cedars-Sinai, the Consortium on Financing Higher Education (COFHE), and the executive committee of the Association of Independent California Colleges and Universities (AICCU). Dr. Starr grew up in Tallahassee, Florida, enrolling at Emory University at age 15. She received her bachelor's and master's degrees in women's studies before earning her doctorate in English and American literature at Harvard University. Recipient of the Guggenheim Fellowship and author of two books, Dr. Starr's research focuses on neuroscience to understand how people respond to art.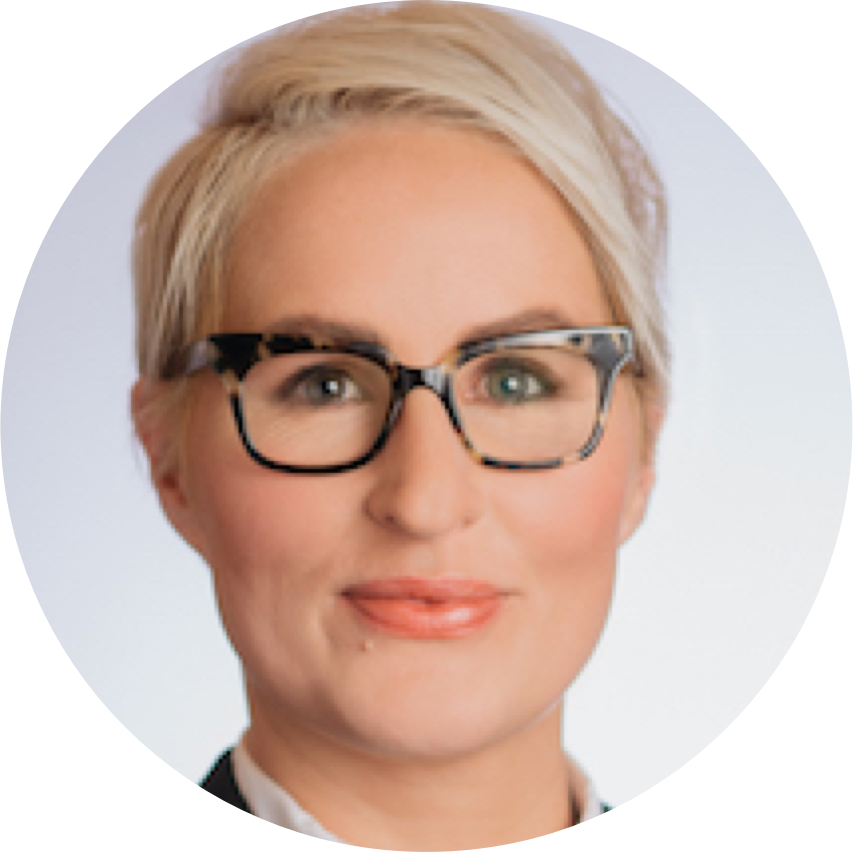 Co-Host: Bridget Burns, Executive Director, University Innovation Alliance
Dr. Bridget Burns is the founding Executive Director of the University Innovation Alliance (UIA). For the past decade, she has advised university presidents, system chancellors, and state and federal policy leaders on strategies to expand access to higher education, address costs, and promote completion for students of all backgrounds. The UIA was developed during Bridget's tenure as an American Council on Education (ACE) Fellowship at Arizona State University. She held multiple roles within the Oregon University System, including serving as Chief of Staff and Senior Policy Advisor, where she won the national award for innovation in higher education government relations. She was a National Associate for the National Center for Public Policy and Higher Education, and has served on several statewide governing boards including ones governing higher education institutions, financial aid policy, and policy areas impacting children and families.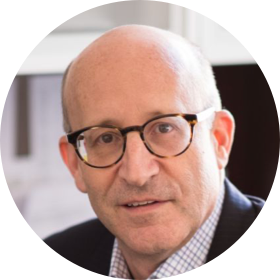 Co-Host: Doug Lederman, Editor and Co-Founder, Inside Higher Ed
Doug Lederman is editor and co-founder of Inside Higher Ed. With Scott Jaschik, he leads the site's editorial operations, overseeing news content, opinion pieces, career advice, blogs and other features. Doug speaks widely about higher education, including on C-Span and National Public Radio and at meetings and on campuses around the country. His work has appeared in The New York Times and USA Today, among other publications. Doug was managing editor of The Chronicle of Higher Education from 1999 to 2003, after working at The Chronicle since 1986 in a variety of roles. He has won three National Awards for Education Reporting from the Education Writers Association, including one for a 2009 series of Inside Higher Ed articles on college rankings. He began his career as a news clerk at The New York Times. He grew up in Shaker Heights, Ohio, and graduated in 1984 from Princeton University. Doug and his wife, Kate Scharff, live in Bethesda, MD.
About Weekly Wisdom
Weekly Wisdom is an event series that happens live on Facebook, Twitter, and LinkedIn. It also becomes a podcast episode. Every week, we join forces with Inside Higher Ed and talk with a sitting college president or chancellor about how they're specifically navigating the challenges of this moment. These conversations will be filled with practicable things you can do right now by unpacking how and why college leaders are making decisions within higher education. Hopefully, these episodes will also leave you with a sense of optimism and a bit of inspiration.
Rate, Review & Subscribe
Learn why hundreds of people have rated this new podcast 5 stars! Please join others and rate and review this podcast. This helps us reach and inform more people -- like you -- to help increase the number and diversity of college graduates in the United States.
Click here, scroll to the bottom, tap to rate with five stars, and select "Write a Review." Then be sure to let us know what you loved most about the episode! Also, if you haven't done so already, subscribe to the podcast. We'll be adding a bunch of bonus episodes to the feed and, if you're not subscribed, there's a good chance you'll miss out.