Dr. Paul LeBlanc has been President at Southern New Hampshire University (SNHU) since 2003, and he joined us on the Weekly Wisdom Podcast to talk about how he first introduced online education through disruptive innovation, what happens to schools that can't or won't evolve, the necessary discomfort of honesty in leadership, and personal stories as a critical tool in human connection.

Disruptive Innovation and Higher Ed
When President LeBlanc began his first higher ed leadership position in 1996, the year of the dotcom boom, he saw a role for digital technology at Vermont's small, struggling Marlboro College.

"I was passionate about technology," he recalled, "so I was able to persuade the board and the faculty and my colleagues to open up a new graduate center. 'Let's do it away from campus, 20 minutes away down in Brattleboro. Let's open up something called the Marlboro College Grad Center.' And we did the first full degree program in e-commerce, the first master's of arts in teaching with the Internet. And we did low-residency, working online, then once a month coming to Brattleboro. And that really became a source of new revenues and strengthened the school. I couldn't get them to do fully virtual degrees. And then when we saw the growth of online learning and the for-profits rush into the vacuum, because most not-for-profits were looking down their nose at it, I thought, 'No, we are ceding this important part of serving Americans. How can we do that?' So SNHU was a great place to take that next step."

President LeBlanc credits the development of his own innovative thinking and leadership skills to a long friendship with academic and business consultant Clayton Christensen, who wrote The Innovator's Dilemma and whose theory of disruptive innovation played a critical role in shaping the business world of the 21st century.

"Clay and I met long before he was famous," President LeBlanc said. "We met playing basketball in a church gym in Cambridge, Mass on Saturday mornings when I was still in graduate school at Boston College. Clay was the head of a high-tech ceramics firm. We started a conversation about the impact of technology. This was a lifelong conversation. I often say the things that I get credit for are really just the implementation of his playbook, but SNHU became a favorite case study for Clay in terms of higher ed and using the theory of disruptive innovation or sustaining innovation."

How Institutions Can Evolve and Why They Don't
As a thought leader in business and economic innovation, some of Dr. Christensen's theories were uncomfortable for academic institutions. President LeBlanc explained:

"His ideas of disruptive innovation were really played out in the open-market, for-profit corporate world. But when you look at the changes he was thinking about in higher ed, 50% of all schools will go out of business. The reality is a lot of that will take slower cuts. Colleges are hard to kill, and they will go on as zombie institutions in some instances, or really flailing and struggling. That may change real soon with the end of HEERF money," he added.

President LeBlanc has seen institutions close, most notably Marlboro College, when the school he first led merged with Emerson College in 2020. He told us:

"Part of Marlboro's scrappy, defy-reality existence was this dedication to its mission and how it did what it did. But there is a point where that strength that carried you through such difficult times actually becomes your Achilles heel, and I think that they just couldn't let go of the model. And honestly, there are folks in those institutions who would rather see it close than evolve. And that's part of the culture that's irrational, but it is part of the equation that I think Clay didn't account for."

Thinking beyond regrettable events like this, his team at SNHU is developing a new model for small-school survival.

"It's not full autonomy, nor is it acquisition. It's based on a deep study of platform cooperatives. Could we build the platform that would allow small institutions to leverage economies of scale? They don't have to build their own tech platform, their own security, their own HR, et cetera. So we are prototyping the first of those very soon, and I'm super excited about it."

Learning Leadership the Hard Way
President LeBlanc learned a lot about leadership from watching other leaders struggle, such as one college president who was unable to own his mistakes. As a faculty member, then-Professor LeBlanc promised himself, "When I mess up, I'm going to get in front of people and say so. I don't care what the situation is." He admitted, "I've had to do it more than I'd like to think."

He recounted the example of an outside evaluator reviewing a specific process at SNHU, who told him, "You're not creating leaders here. You're failing your people." The evaluator had been steadily hearing answers like, "Well, it's what Paul wanted," and observed, "They have enormous trust in you, and they love the mission of what you're doing. So they will simply acquiesce, but it's not good leadership. And sometimes you are wrong, from what I can tell."

So President LeBlanc brought his team into a meeting and turned it over to the evaluator.

"He came at me pretty hard in that meeting, described me in very concrete ways. Saying things that I just told you about in broad strokes. I could see some people thought, 'Mmm, about time. This is good. I like this.' And then he turned around and he said, 'And there's no courage in this room.' We walked out of that room feeling pretty bruised and beat up."

The issues were addressed and mostly resolved at a staff retreat a few weeks later, and President LeBlanc concluded, "I think that we're in a much, much better place. But I had to really think hard about my leadership and how I lead at this stage of my career. And it was important. Oftentimes you learn the most when you've been knocked to the floor, and what you with do with that."

The Invitation of Storytelling
We often ask our guests to share the best career advice they ever received. President LeBlanc was emphatic about this: "Say yes. I mean, say yes to opportunities. Say yes to the invitation. Say yes. In my career, in my life." He supported this with a remarkable – and true – personal story from his college days, featuring an impulsive cross-country bus trip to win back his future wife after she'd broken up with him by phone. "And we've been together since," he concluded. "Sometimes you just say yes to the invitation."

Following that theme, it was no surprise to hear this former English major explain how reading fiction teaches him about leadership. He spoke about his current read, George Saunders' A Swim in the Pond in the Rain:

"It's based on a class he teaches at Syracuse deconstructing four Russian short stories. And it's really about our humanity. I used to think it was all about our skills. I actually think it's about our relational power now. My old tendency was to start every meeting with the agenda. My tendency today is like, 'How are you doing? How are you in this moment today?' I think that's partly a reflection of the world we find ourselves in. I think it's the effects of the pandemic. And books teach life values and habits of people a lot unlike yourself. I can't get there, but books can help me understand. There are just so many good examples of that."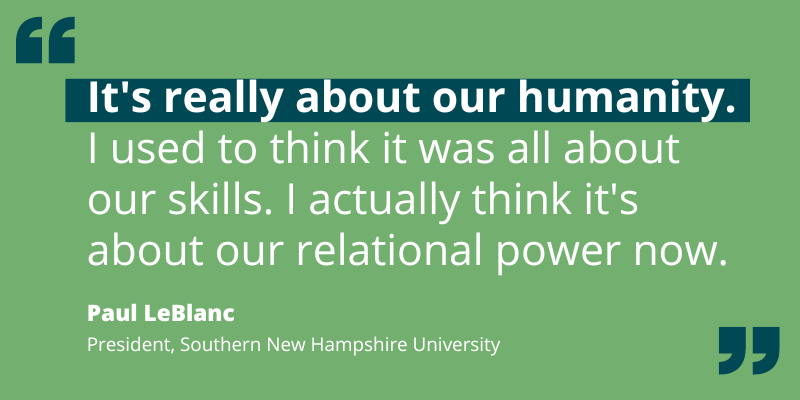 Note: This interview in the Weekly Wisdom Series originally aired on July 11, 2022 as part of the University Innovation Alliance's Innovating Together Podcast, appearing live on Facebook, Twitter, and LinkedIn.

Links Mentioned in This Episode
• Southern New Hampshire University
• Marlboro College
• Clayton Christensen
• The Innovator's Dilemma: When New Technologies Cause Great Firms to Fail by Clayton Christensen
• HEERF (Higher Education Emergency Relief Fund, authorized by the Coronavirus Response and Relief Supplemental Appropriations Act of 2021, and administered by the U.S. Department of Education)
• Emerson College
• A Swim in the Pond in the Rain: In Which Four Russians Give a Master Class on Writing, Reading, and Life by George Saunders
 
Bios of Guest and Co-Hosts
Guest: Paul LeBlanc, President, Southern New Hampshire University
Dr. Paul J. LeBlanc became President of Southern New Hampshire University (SNHU) in 2003. Since then, SNHU's enrollment has grown from 2,800 to over 150,000. As the largest nonprofit provider of online higher education in the country it was the only university included on Fast Company's "World's Fifty Most Innovative Companies" list. Among Dr. LeBlanc's numerous awards, Forbes has listed him as one of its 15 "Classroom Revolutionaries" and one of the "most influential people in higher education," and in 2018, he won the TIAA Institute Hesburgh Award for Leadership Excellence in Higher Education. He served as Senior Policy Advisor to Under Secretary Ted Mitchell at the U.S. Department of Education, working on competency-based education, new accreditation pathways, and innovation. He serves on the National Advisory Committee on Institutional Quality and Integrity (NACIQI); the National Academies of Sciences, Engineering and Medicine's Board on Higher Education and Workforce; the American Council on Education (ACE) Board; and the Association of Governing Boards (AGB) Council of Presidents. Paul immigrated to the United States as a child, was the first in his extended family to attend college, and is a graduate of Framingham State University (BA), Boston College (MA), and the University of Massachusetts (PhD). From 1993 to 1996 he directed a technology start-up for Houghton Mifflin Publishing Company, was President of Marlboro College (VT) from 1996 to 2003. His wife Patricia is an attorney, and they have two daughters, Emma and Hannah.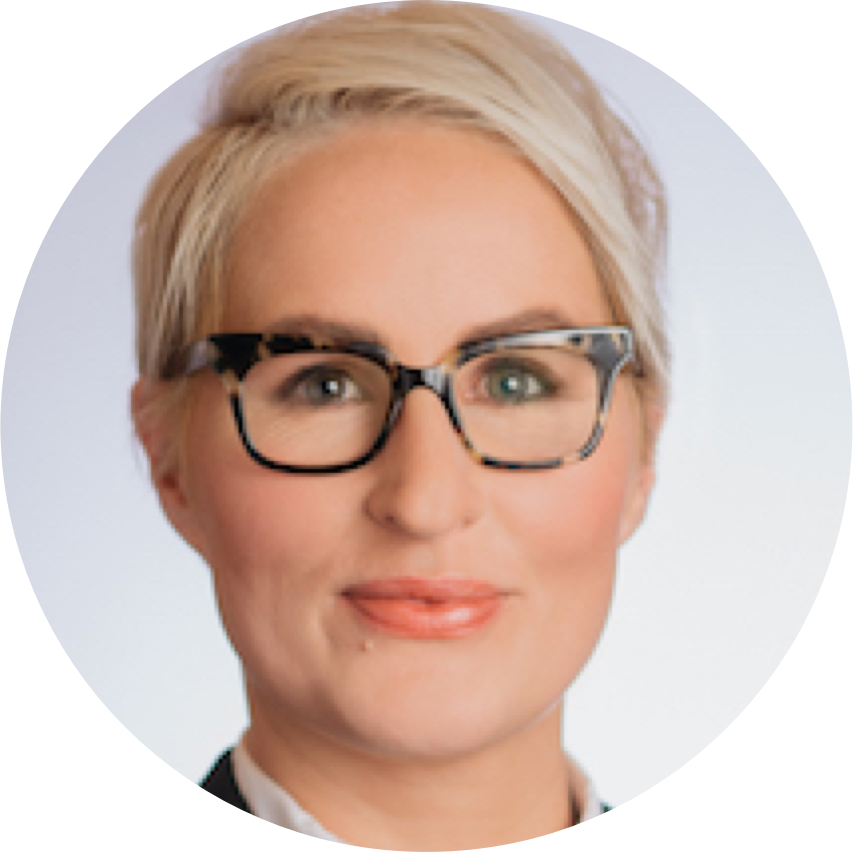 Co-Host: Bridget Burns, CEO, University Innovation Alliance
Dr. Bridget Burns is the founder and CEO of the University Innovation Alliance (UIA). For the past decade, she has advised university presidents, system chancellors, and state and federal policy leaders on strategies to expand access to higher education, address costs, and promote completion for students of all backgrounds. The UIA was developed during Bridget's tenure as an American Council on Education (A.C.E.) Fellowship at Arizona State University. She held multiple roles within the Oregon University System, including serving as Chief of Staff and Senior Policy Advisor, where she won the national award for innovation in higher education government relations. She was a National Associate for the National Center for Public Policy and Higher Education, and has served on several statewide governing boards including ones governing higher education institutions, financial aid policy, and policy areas impacting children and families.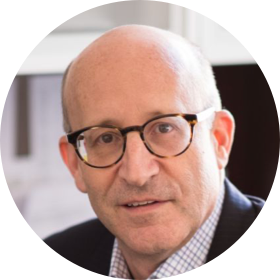 Co-Host: Doug Lederman, Editor and Co-Founder, Inside Higher Ed
Doug Lederman is editor and co-founder of Inside Higher Ed. With Scott Jaschik, he leads the site's editorial operations, overseeing news content, opinion pieces, career advice, blogs and other features. Doug speaks widely about higher education, including on C-Span and National Public Radio and at meetings and on campuses around the country. His work has appeared in The New York Times and USA Today, among other publications. Doug was managing editor of The Chronicle of Higher Education from 1999 to 2003, after working at The Chronicle since 1986 in a variety of roles. He has won three National Awards for Education Reporting from the Education Writers Association, including one for a 2009 series of Inside Higher Ed articles on college rankings. He began his career as a news clerk at The New York Times. He grew up in Shaker Heights, Ohio, and graduated in 1984 from Princeton University. Doug and his wife, Kate Scharff, live in Bethesda, MD.
About Weekly Wisdom
Weekly Wisdom is an event series that happens live on Facebook, Twitter, and LinkedIn. It also becomes a podcast episode. Every week, we join forces with Inside Higher Ed and talk with a sitting college president or chancellor about how they're specifically navigating the challenges of this moment. These conversations will be filled with practicable things you can do right now by unpacking how and why college leaders are making decisions within higher education. Hopefully, these episodes will also leave you with a sense of optimism and a bit of inspiration.
Rate, Review & Subscribe
Learn why hundreds of people have rated this new podcast 5 stars! Please join others and rate and review this podcast. This helps us reach and inform more people -- like you -- to help increase the number and diversity of college graduates in the United States.
Click here, scroll to the bottom, tap to rate with five stars, and select "Write a Review." Then be sure to let us know what you loved most about the episode! Also, if you haven't done so already, subscribe to the podcast. We'll be adding a bunch of bonus episodes to the feed and, if you're not subscribed, there's a good chance you'll miss out.