Online learning became a critical component for many institutions during COVID. The University Innovation Alliance (UIA) recognizes the ongoing usefulness of this higher education model for some student populations, so we invited Dr. Becky Takeda-Tinker, president of Colorado State University Global, to tell us more about it. On this episode of our Weekly Wisdom Podcast, President Takeda-Tinker spoke about higher ed for working adults, how university leaders must balance positivity and assertiveness, and the increasing role of data in running an institution and in leadership decisions.

Leadership as a Legacy of Hard Work
President Takeda-Tinker's commitment to CSU Global's mission originates from a powerful element of her own life story. She recalled:

"Coming out of World War II and the internment camp, my father's family had no money, so he put himself through college, working three jobs. He never could stay in class. He would drop off his homework, stay for tests, and then drive off to his next job so that he could pay for college and graduate as an electrical engineer. So, when I learned about the opportunities CSU Global provided for non-traditional adult and working students -- fully online, available-anytime-anywhere-type services -- that vision reconciled with what I'd heard my father speak about."

Before entering education, she worked in private equity doing turnarounds, or bridge financing. As she explained:

"Having to pull people or organizations together where they weren't successful, and getting everybody united and moving forward, was significant preparation for my work with CSU Global, helping it get launched and then independently accredited as the first-in-the-nation state nonprofit institution. The CSU system is the state's land grant, which means we have this obligation to ensure that the state has the educated, trained workers it needs for economic development and stability. So, who would've thought coming from my background into private equity and then ending up in a state nonprofit system would have evolved to being the president of CSU Global? I say this all the time to my team: there is nothing as wasted hard work. It will all apply to something."

Leading Through Inclusion and Accountability
While President Takeda-Tinker has seen all kinds of leadership throughout her career, she focuses on positive examples:

"Leadership is about human connectedness. If people aren't following you, you're not leading. I look at how the governor of Colorado shares with his executive directors what he would like to see the state accomplish. I look at how the chancellor with our Board of Governors reconciles their ideas with the system so that we are united in accomplishing our respective missions. I've even carefully watched our church ministers and our HOA president in my neighborhood, seeing how they make the people feel included in solutions. All these leaders are transparent and caring. If you can see what their success looks like, we can learn from it. So, I am constantly taking note and improving how I engage and interact with people. I want experiences to be positive ones."

She also admitted that no matter how effortless a good leader makes it seem, leadership can still be a challenge:

"It can be exhausting to always ask people what they can do, want to do, can get to, and then hold them accountable. I'm very much about holding my team accountable to what they commit to, and holding myself accountable to what I say I will do, so that we, as a nonprofit state institution, ensure integrity from all sides. Yesterday we were on a call with a lender that works with our engagement team, and I was very direct with the CEO in terms of what they committed to and why they weren't getting there. We are trying to move people forward for workplace success and for state and national economic development and stability. Accountability can get boring, but it's got to be done. Measuring what you think you can do to what you can actually do can be illuminating so that individuals aren't overpromising, and they can be more genuine in what they can achieve. Facing the realities of our own human limitations is part of that work."

Responsive, Data-Driven Higher Ed
The UIA has observed that online institutions require a different leadership style from brick-and-mortar campuses. President Takeda-Tinker comes from a financial industry background where instantaneous communication is critical, and she spoke to this difference:

"To lead an online or technology-driven institution means that people's expectations of responsiveness have to be in that real-time environment. There's no 'I'll get back to you next week,' because in the online world, even 24 hours can seem long. That responsive, always-on expectation is how we all individually operate. If you apply that to learning and think about our non-traditional learners who have very busy lives, juggling work, family responsibilities, community engagements, they need the responsiveness that fits within their life. We're very consumer-driven as an online, technology-driven institution. And our online campus always evolving. As staff and faculty, we're always learning and trying to keep up with the students, who are also encountering new things. Our industry's moving a lot faster than I had originally thought it would, and it's only going to get faster. AI is going to drive learning at a hyper speed, and we're all going to have to keep up."

President Takeda-Tinker added that, like any enterprise, online or on-ground, CSU Global demonstrates it successes through its data:

"We track data at every level so that we understand what the students are learning, how often they're in the classroom, and how they're doing with the assignments. We listen to our faculty. We align courses with industry-recognized certification exams. Our mission is workplace and professional success for our students. So, we ensure all that by tracking data, understanding where they are at every level, where they go past graduation, and how they're doing, so that we know we're equipping them for job opportunities, promotions, new careers, and longer-term degrees. We want to make sure that they're walking away immediately with something they've learned. They'll learn something in week one, and then report in week two how they applied that theory, technique, or solution, and the response from their peers and bosses. And when the students are coming back and telling us that they are moving themselves forward and how proud they are of what they've learned, that is the reward."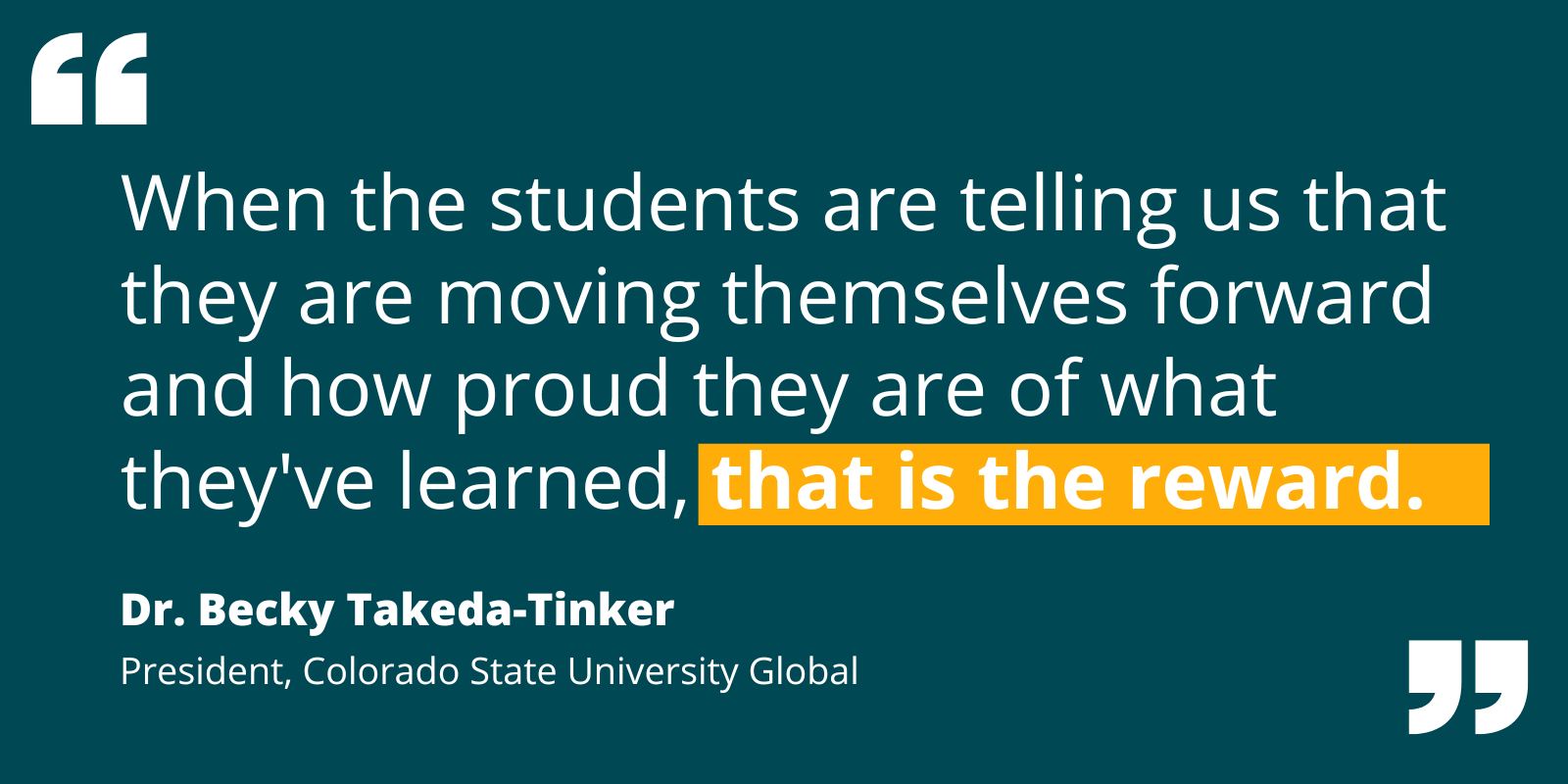 Advice for Innovative, Committed Leaders
As an alliance of higher ed leaders, the UIA is all about sharing good advice. President Takeda-Tinker makes a point of encouraging younger people who are interested in innovative leadership, telling them:

"Think at a higher level. Envision what is possible, communicate that vision, and collaborate on what can operationally be done, because you've got experts that can do separate components. One of the hardest things is to make that shift from being a great manager to a great leader. If you're going to lead people, there needs to be a compelling vision that's achievable. And when everybody can contribute to how we're going to get there, they're included, they feel heard, and they understand their role so that they too can communicate to their peers at an operational level. Communication is so vital."

She reminded us that there are no guarantees:

"If you're going to lead an initiative, you're taking all the risk and blame if something goes wrong. Be ready to regroup, circle back, and try to get there a different way, working together again on plan B, plan C, plan D, so that we can still get to the bigger vision. With every industry now being driven by technology and the speed of change, we've got to try new ways to help people learn quickly and be upskilled in a way that's beneficial. It's absolutely incumbent upon us to keep moving, regrouping, looking at the data, making our way to the goal that we had intended, and continuing that work. It takes grit and tenacity to lead in today's world, and it's not going to get easier."

And what advice drives President Tinker-Takeda? She credits her father for the best advice she ever received:

"He always said, 'Do what makes you happy.' So, I have only done work that I have enjoyed: helping people advance themselves to their goals. When I was in private equity, I loved that work because all the employees could benefit, send their kids to school or college, and take that vacation they never got to take. When I think about the work I do at CSU Global, helping even one student get to a better professional position, or when I read on the discussion boards what they're doing with the information they're learning from us, it makes me so happy that we are really helping people, that I have a capacity to help. It does really move our world forward in a positive way."


Note: This interview in the Weekly Wisdom Series originally aired on August 21, 2023 as part of the University Innovation Alliance's Innovating Together Podcast, appearing live on Facebook, Twitter, and LinkedIn.

Links Mentioned in This Episode
• University Innovation Alliance
• Dr. Becky Takeda-Tinker
• Colorado State University Global
• Weekly Wisdom Podcast
• Land grant universities
 
Bios of Guest and Co-Hosts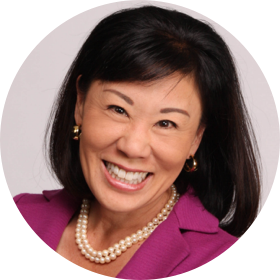 Guest: Becky Takeda-Tinker, President, Colorado State University Global
Since March, 2023, Dr. Becky Takeda-Tinker has served as the first president and CEO of Colorado State University Global, the nation's only online, fully accredited, state, nonprofit university. She was appointed to this position as a champion of workforce success through innovative and evidence-based education and training programs and models. In her previous role as Chief Education & Operations Innovation Officer at the CSU System, Dr. Takeda-Tinker leveraged years of experience in collaborating, leading, and sharing what is possible among diverse stakeholders to deliver innovative higher education and training programs that ensure workforce success. Prior to that, she served as Recovery Officer with Colorado's Departments of Labor & Employment and Higher Education, where she worked to invest post-pandemic federal and state funds for economic growth and recovery. Previously, her roles within CSU have included Chief Educational Innovation Officer and Dean of Academic Affairs. Her 13 years of work with the institution has led to the graduation and degree completion of over 20,000 in CSU Global's first decade while still serving over 20,000 students, all without the benefit of state financial support. In the private sector, Dr. Takeda-Tinker has held leadership positions with Finesse LLC; Merchants Billing Services, Inc.; Digital Courier Technologies, Inc.; SMART Modular Technologies, Inc.; and Sterling Ventures. She holds a Ph.D. in organization and management with a specialization in leadership; an MBA in finance; a post-graduate certificate in marketing management; and a BA in Economics. She is also the author of Impacting the Future of Higher Education: Insight Into a New Model That Works for Students, Academic Institutions, and America, has been selected as one of Denver Business Journal's Outstanding Women in Business, named one of the 25 Most Powerful Women in Business by the Colorado Women's Chamber of Commerce, and one of the Five Higher Ed Leaders to Watch by Education Dive, a Woman of Distinction by the Girl Scouts, and a Power Book Thought Leader by the Denver Business Journal.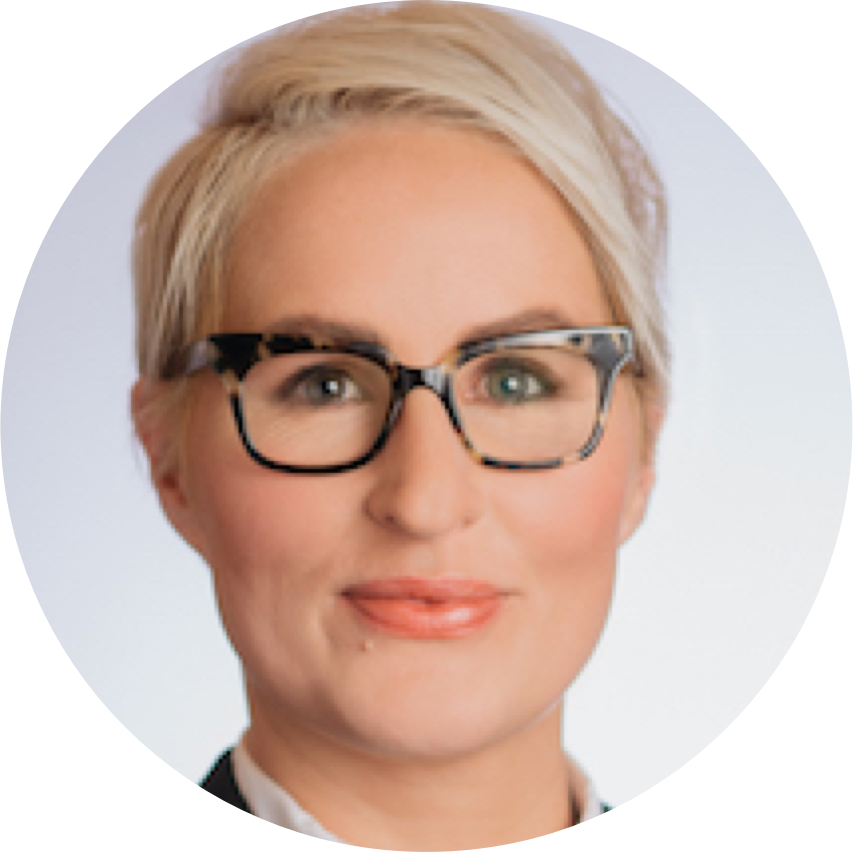 Co-Host: Bridget Burns, Executive Director, University Innovation Alliance
Dr. Bridget Burns is the founding Executive Director of the University Innovation Alliance (UIA). For the past decade, she has advised university presidents, system chancellors, and state and federal policy leaders on strategies to expand access to higher education, address costs, and promote completion for students of all backgrounds. The UIA was developed during Bridget's tenure as an American Council on Education (ACE) Fellowship at Arizona State University. She held multiple roles within the Oregon University System, including serving as Chief of Staff and Senior Policy Advisor, where she won the national award for innovation in higher education government relations. She was a National Associate for the National Center for Public Policy and Higher Education, and has served on several statewide governing boards including ones governing higher education institutions, financial aid policy, and policy areas impacting children and families.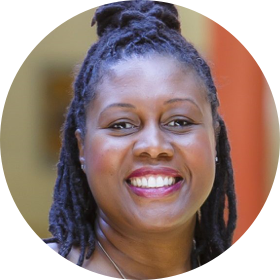 Co-Host: Candice Staples, Senior Director of Alliance Engagement, University Innovation Alliance
Dr. Candice Staples, as the University Innovation Alliance's Senior Director of Alliance Engagement, is responsible for development and oversight of the UIA's member engagement and support strategy. She is an experienced leader in the nonprofit sector and the higher education field. She advocates for institutional equity by shedding light on understudied populations in postsecondary institutions. Previously, she worked for Charitable Ventures, the University of Maryland, the Consortium on High Achievement and Success, and the Thurgood Marshall College Fund. She has been recognized for her research by the University of Maryland Graduate Research Interaction Day (GRID) and had her dissertation funded in part by the University of Maryland College of Education Support Program for Advancing Research and Collaboration (SPARC) grant. She holds a B.A. in Psychology from Hampton University, an M.S.Ed. in Higher Education Administration from the University of Pennsylvania, and a Ph.D. in Higher Education, Student Affairs, and International Education Policy from the University of Maryland - College Park.
About Weekly Wisdom
Weekly Wisdom is an event series that happens live on Facebook, Twitter, and LinkedIn. It also becomes a podcast episode. Every week, we join forces with Inside Higher Ed and talk with a sitting college president or chancellor about how they're specifically navigating the challenges of this moment. These conversations will be filled with practicable things you can do right now by unpacking how and why college leaders are making decisions within higher education. Hopefully, these episodes will also leave you with a sense of optimism and a bit of inspiration.
Rate, Review & Subscribe
Learn why hundreds of people have rated this new podcast 5 stars! Please join others and rate and review this podcast. This helps us reach and inform more people -- like you -- to help increase the number and diversity of college graduates in the United States.
Click here, scroll to the bottom, tap to rate with five stars, and select "Write a Review." Then be sure to let us know what you loved most about the episode! Also, if you haven't done so already, subscribe to the podcast. We'll be adding a bunch of bonus episodes to the feed and, if you're not subscribed, there's a good chance you'll miss out.