We were happy to sit down again with Dr. Michael Sorrell, President of Paul Quinn College, who has been a frequent guest on the Weekly Wisdom Podcast. This time, he shared some inspiring thoughts about adapting to the long haul of the pandemic, best practices for focusing on and pursuing what truly matters to an institution and the ed sector at large, and identifying the path forward that will benefit the most people.

Finding a North Star
President Sorrell is keenly aware of the pandemic's toll on our society. He reflected, "People thought, 'Well, this might be a sprint.' Then people said, 'Well, maybe it might be a middle distance race.' Then it became apparent that this might be a marathon. Now folks are asking the question, 'Is this now my life?'"

He observed that Americans aren't accustomed to long-term sacrifices. "We've never had a sustained national crisis. None of us have lived through a real world war. We haven't seen things that require us to change our modus operandi for extended periods of time. But this has been a perfect storm. You had this happen at a time where you had a presidential administration that really didn't want any part of these types of complex issues. What we should have done from the beginning was say, 'We don't really understand this, and we're going to do the very best we can. We're going to set as our North Star saving the greatest amount of people's lives and preserving their health as possible. And doing so is going to require sacrifices.' But we weren't in a place as a country to hear that.

"I have to change how I'm thinking about all of this," President Sorrell admitted. "I now have to govern myself, my emotions, my family, and my institution from a perspective of there's going to be ebbs and flows, and we're going to make decisions at all times. We did establish that North Star. We're going to function in a way to preserve health and safety, and that's going to make people uncomfortable. We're going to have to delay the in-person start of things. We're going to make some modifications, but we're also not compromising on tough decisions. We have to continuously communicate the tough decisions are going to be part of our everyday lives."

How a Crisis Shapes Decision-Making
In our previous conversations with President Sorrell, he discussed his professional background in crisis management. This time, he described how a sustained crisis has helped him repurpose his leadership team.

"I created a chief administrative officer," he explained. "She was our VP for academic affairs, for institutional programming, for our sponsor programs. Now she's our COVID czar. Our academic affairs people, we narrowed their scope of responsibilities, because things are changing so rapidly, you've got to have faculty members able to shift their method of delivery, their mindset, very, very quickly. The CFO, his issues are different because we're going to have to rethink the educational model."

President Sorrell acknowledged that people still attend college to open up their future opportunities. "But the part that's changed is this huge social dynamic," he added. "People come to college because it's fun, because I get to go to parties, I get to join a fraternity or a sorority. I get to do all these clubs. You can't do that the same way now. So now you're seeing people say, 'Well, this changes how I look at going to college, because I have to introduce a different set of decision-making parameters.' How do we as institutions, as an industry respond to that? This is the third year that's been impacted by COVID. So we're looking at a class of seniors next fall that COVID will be all they know. There'll be large numbers of people with no context for what college was like before this. So how you communicate why you should come is very different now. We need more voices at the table. You need people prepared differently to participate in those conversations and that decision-making."

Going for the Win
President Sorrell spoke about leaders finding the balance between honesty and hope, because the people they're leading require both. He confessed that candor hasn't always served him well, yet he tries to be candid while keeping expectations high.

"You can tell people it's going to be hard, this is tough, things have changed, but you got to tell them, 'But we're going to win,'" he asserted. "However you communicate, you have to give people a path forward. I fundamentally believe that at Paul Quinn, we're going to win. Because we're not going to sit around and mope about how the landscape has changed. We're going to change and prepare to thrive in this new landscape. Because things aren't coming back any time soon the way they were. So you change. You plan for a different version of today and tomorrow. And then you build it so that people feel as if they can still win. That has to happen."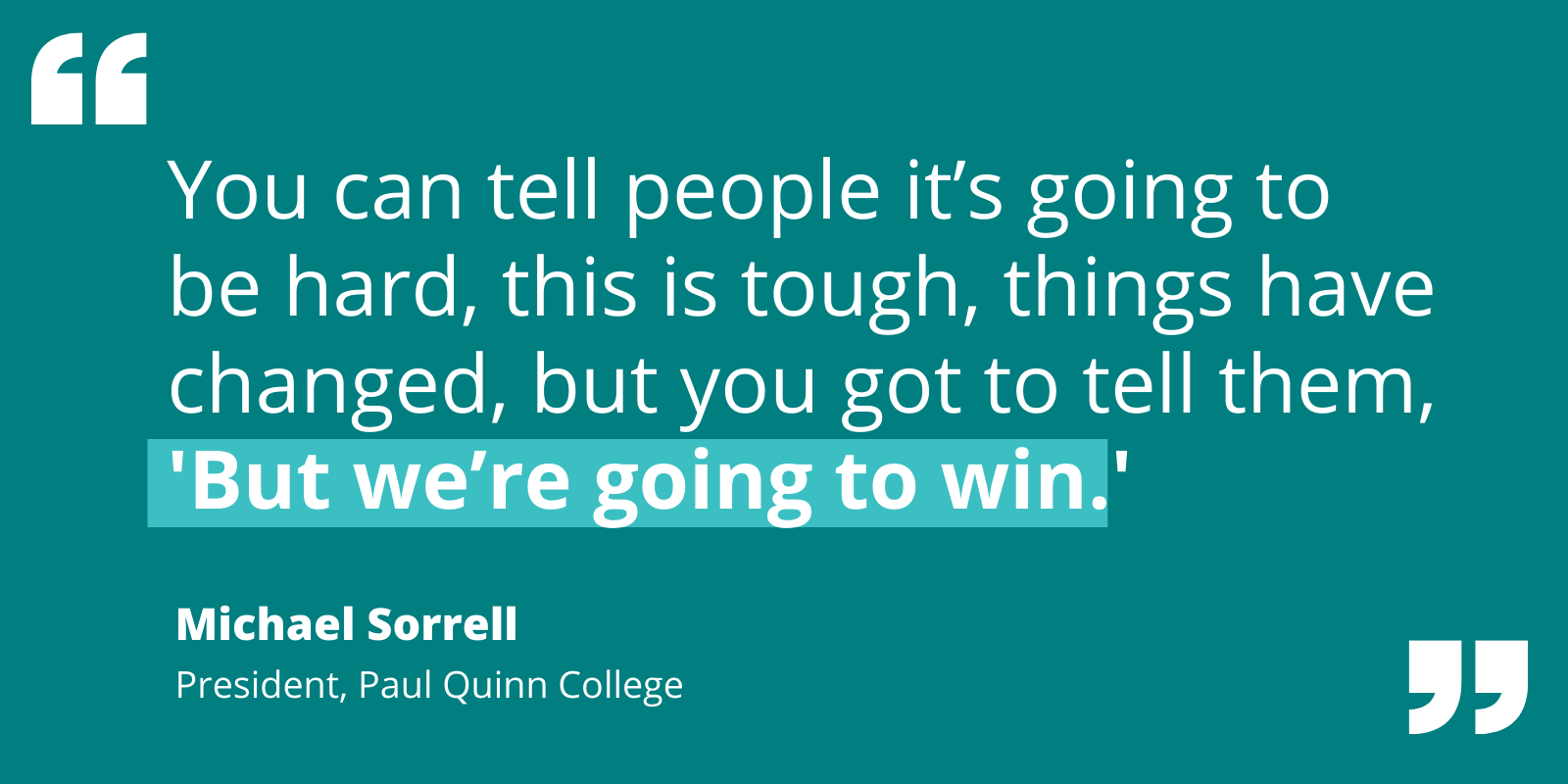 We asked President Sorrell to elaborate on the idea of what it means to win in higher education.
"I say we got a plan to help Paul Quinn win, but we never think about it as just Paul Quinn. Everything we do we're doing with an eye on what the industry and what America can do. Because what we know, what we understand, is there are just more people in the categories that we minister to than there are in other places. The majority of people in the American educational system are coming from low-income and poverty-stricken backgrounds. And what they need are institutions that respond to them directly. That means more people have to come to college. We've got to say to people, 'We're not leaving you. We're going to grab you, and we're going to hold you, and we're going to pull you up, and we're going to make your life better.'"

A Pep Talk for Higher Ed
We've always been inspired by how President Sorrell models leading with love, and we asked what kind of pump-up he'd offer higher ed as a whole.

"My mother and grandmother were steeped in the faith," he recalled. "In Black churches there's altar call. And you get on your knees and pray for whatever is burdening you. This is a season where we have to lay our troubles at the altar, but this is a season where we have to plan for the next season. This is not all our life is going to be, but this moment will forever shape us. Who we are in the next season is yet to be determined, but if we do a poor job of planning in this season, we won't have the next season. So, remember that I love you. Remember that I'm going to be here with you in this season and the next, but there is no question that in this next season we're going to be better than we are now. And we are going to get there. That's what I'd tell them."

Note: This interview in the Weekly Wisdom Series originally aired on January 10, 2022 as part of the University Innovation Alliance's Innovating Together Podcast, appearing live on Facebook, Twitter, and LinkedIn.

Links Mentioned in This Episode
• Paul Quinn College
• A different set of decision-making parameters ("Reframing the College-Going Narrative: A Conversation With Constance Iloh, Anthropologist and Associate Professor, Azusa Pacific University" by Bridget Burns, UIA Executive Director, 9/9/21)
• Leading with love ("Being Prepared, Staying Positive, and Leading With Love: A Conversation With Michael Sorrell, President of Paul Quinn College" by Bridget Burns, UIA Executive Director, 11/24/20)
 
Bios of Guest and Co-Hosts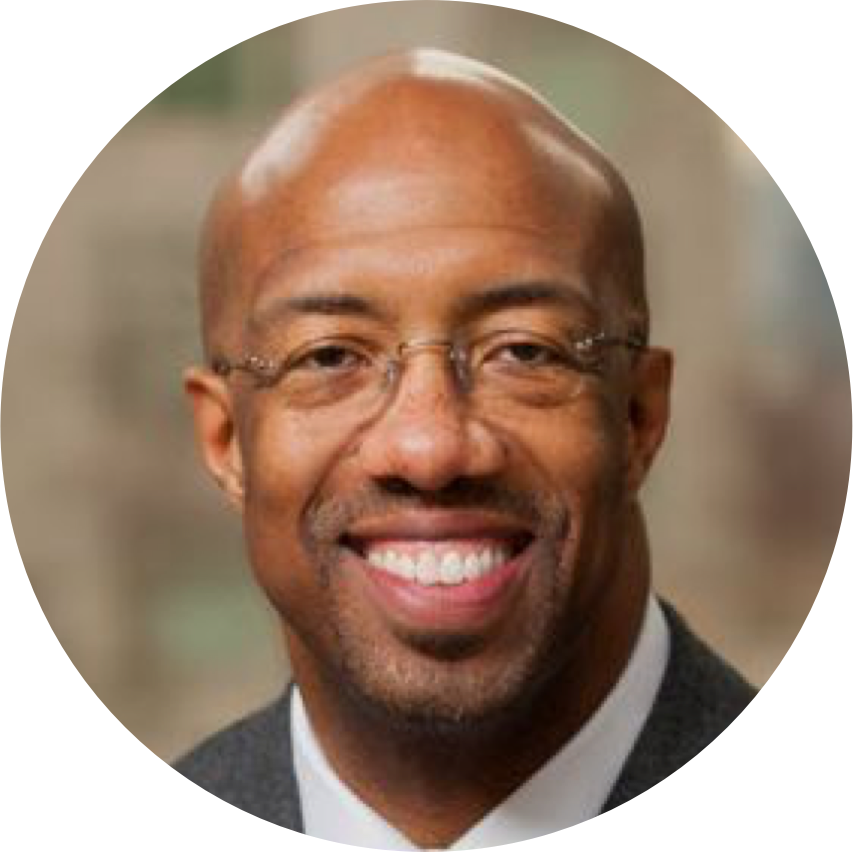 Guest: Michael Sorrell, President, Paul Quinn College
Dr. Michael J. Sorrell is the longest-serving President in the 148-year history of Paul Quinn College. During his 14 years of leadership, Paul Quinn has become a national movement for its efforts to remake higher education in order to serve the needs of under-resourced students and communities. In that time, Paul Quinn won HBCU of the Year among other awards, created the New Urban College Model, and achieved full accreditation from the Transnational Association of Christian Colleges and Schools (TRACS). As one of the most decorated college presidents in America, President Sorrell was named Higher Education's President of the Year by Education Dive, one of the World's 50 Greatest Leaders by Fortune Magazine, and one of the "31 People Changing the South" by Time Magazine. President Sorrell B.A. in Government from Oberlin College, his J.D. and M.A. in Public Policy from Duke University, and his Ed.D. from the University of Pennsylvania. While in law school, he was a founding member of the Journal of Gender Law & Policy and served as the Vice President of the Duke Bar Association. A Sloan Foundation Graduate Fellowship funded his studies at both Harvard University's Kennedy School of Government and Duke University. President Sorrell serves as a trustee or director for Duke University's School of Law, the Graduate School of Education at the University of Pennsylvania, JP Morgan Chase's Advancing Black Pathways, Amegy Bank, the Hockaday School, the Dallas Advisory Board of Teach for America, the Dallas Foundation, and EarthX, among others.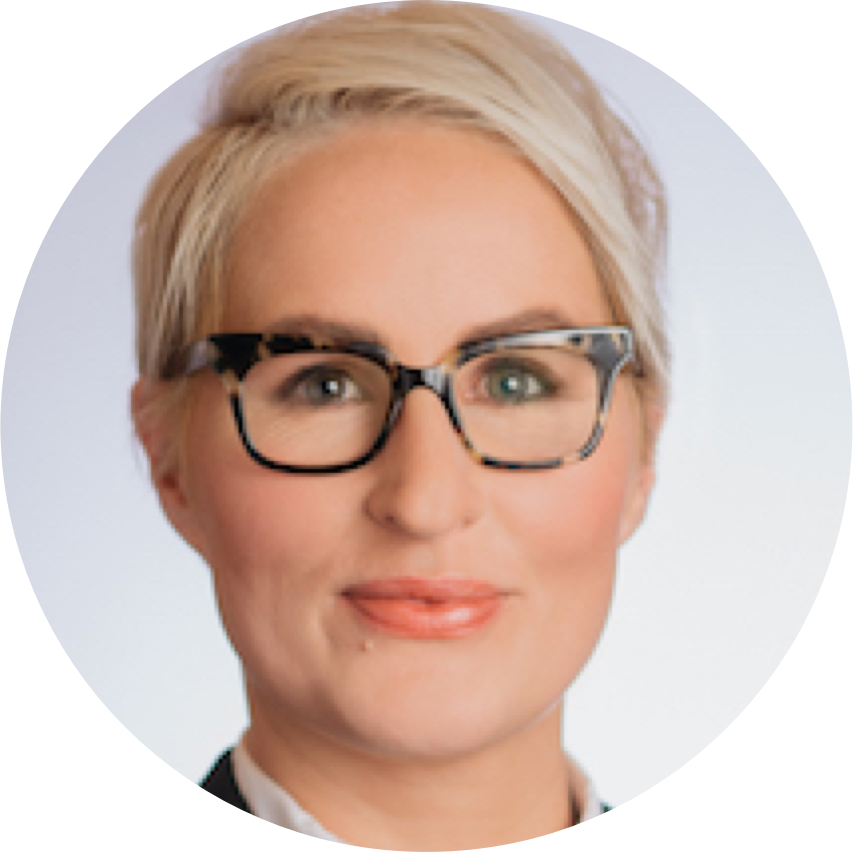 Co-Host: Bridget Burns, Executive Director, University Innovation Alliance
Dr. Bridget Burns is the founding Executive Director of the University Innovation Alliance (UIA). For the past decade, she has advised university presidents, system chancellors, and state and federal policy leaders on strategies to expand access to higher education, address costs, and promote completion for students of all backgrounds. The UIA was developed during Bridget's tenure as an American Council on Education (ACE) Fellowship at Arizona State University. She held multiple roles within the Oregon University System, including serving as Chief of Staff and Senior Policy Advisor, where she won the national award for innovation in higher education government relations. She was a National Associate for the National Center for Public Policy and Higher Education, and has served on several statewide governing boards including ones governing higher education institutions, financial aid policy, and policy areas impacting children and families.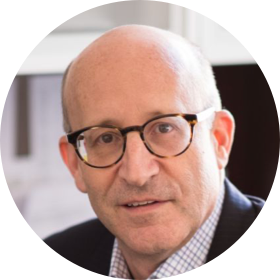 Co-Host: Doug Lederman, Editor and Co-Founder, Inside Higher Ed
Doug Lederman is editor and co-founder of Inside Higher Ed. With Scott Jaschik, he leads the site's editorial operations, overseeing news content, opinion pieces, career advice, blogs and other features. Doug speaks widely about higher education, including on C-Span and National Public Radio and at meetings and on campuses around the country. His work has appeared in The New York Times and USA Today, among other publications. Doug was managing editor of The Chronicle of Higher Education from 1999 to 2003, after working at The Chronicle since 1986 in a variety of roles. He has won three National Awards for Education Reporting from the Education Writers Association, including one for a 2009 series of Inside Higher Ed articles on college rankings. He began his career as a news clerk at The New York Times. He grew up in Shaker Heights, Ohio, and graduated in 1984 from Princeton University. Doug and his wife, Kate Scharff, live in Bethesda, MD.
About Weekly Wisdom
Weekly Wisdom is an event series that happens live on Facebook, Twitter, and LinkedIn. It also becomes a podcast episode. Every week, we join forces with Inside Higher Ed and talk with a sitting college president or chancellor about how they're specifically navigating the challenges of this moment. These conversations will be filled with practicable things you can do right now by unpacking how and why college leaders are making decisions within higher education. Hopefully, these episodes will also leave you with a sense of optimism and a bit of inspiration.
Rate, Review & Subscribe
Learn why hundreds of people have rated this new podcast 5 stars! Please join others and rate and review this podcast. This helps us reach and inform more people -- like you -- to help increase the number and diversity of college graduates in the United States.
Click here, scroll to the bottom, tap to rate with five stars, and select "Write a Review." Then be sure to let us know what you loved most about the episode! Also, if you haven't done so already, subscribe to the podcast. We'll be adding a bunch of bonus episodes to the feed and, if you're not subscribed, there's a good chance you'll miss out.