Note: This interview in the Weekly Wisdom Series originally aired on May 3, 2021 as part of the University Innovation Alliance's Innovating Together podcast, appearing live on Facebook, Twitter, and LinkedIn.

As the University Innovation Alliance's (UIA) Executive Director, I'm excited to celebrate our first year of the Innovating Together Podcast, created in collaboration with Inside Higher Ed. My original co-host Jeff Selingo, author and journalist, was back on board for the occasion, and our guest for the 5/3/21 episode of the Weekly Wisdom series was Arizona State University President Michael Crow. President Crow was our first Weekly Wisdom guest last year, and he returned to share his wisdom about reimagining higher ed institutions, giving our institutional leaders new incentives, and recommending some books to focus and inspire us.

Rethinking Our Institutions
President Crow reminded us that changes in higher ed were already afoot when the COVID-19 pandemic put the world on pause. He referred to The Fifth Wave, his book published in April 2020, which identifies a new kind of institution to provide the outcomes our society currently needs.

"We keep falling back to the British cultural model that we overthrew in the Revolution," he explained, "which was that class determines all outcomes, and your family rank is the single thing that you need to be working toward. But what we now need are lots of new institutions that can scale and be driven by technology, produce college graduates wherever they are in their life, and educate people across the entirety of their life. Institutions have to move in this new direction, or I can guarantee you the country will never achieve its democratic success. We'll never achieve our competitive success globally, because we're being outperformed in that most people that start college in the United States don't graduate."

President Crow outlined the fundamental steps for creating such institutions: "One, you can't do it by yourself. You've got to network, network, network. Two, embrace and embed technology, turning your faculty into what we now call at A.S.U. Super Faculty. Three, change your indicators of success away from how many did you not admit or how many did you graduate, to the transformation in your community, in your region, in the ecosystem in which your college or your university is operating."

New Leadership Incentives
President Crow is convinced that our institutions can't begin to change until we realign incentives for higher ed leaders.

"You don't need university presidents and chancellors to run simple government bureaucracies," he stated. "We need to embrace the notion in the public sector of operating as public enterprises. You innovate in different ways. You partner in different ways. We can already see that public bureaucracy is not good for high-speed, adaptive, knowledge-producing enterprises who have to adjust to the totality and complexity of society. We've got people trapped in two boxes – an agency model of the operation of the college, and an academic bureaucracy which must be the most bureaucratically constraining superstructure of immense pressure ever created. And so we need more differentiation, creativity, innovation, and enterprise behavior to give presidents and chancellors a meaning behind their titles and value behind their elevated salaries."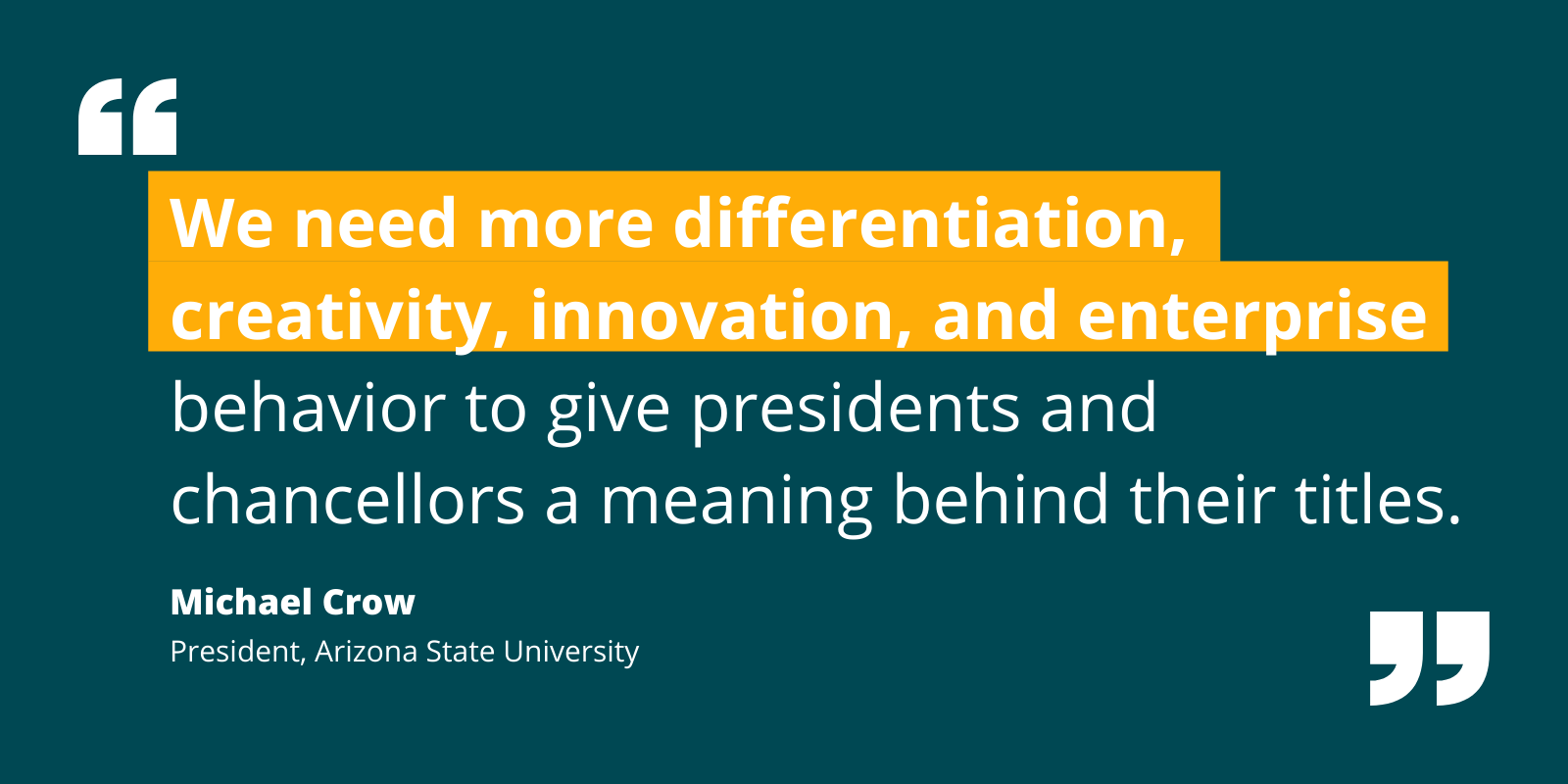 Q's & A's About Higher Ed Leadership
We asked President Crow a few rapid-fire questions:

What advice would he give another higher ed leader? "We're only on a pathway to the goals and objectives outlined in the aspirational document called the U.S. Constitution," he observed. "We do not have equal justice. We do not have all kinds of things that we talk about in that Constitution. Any public university that's not representative of the entire socioeconomic or ethnic diversity of their region isn't succeeding. To start measuring yourself against those objectives, one has to be accountable for objectives. As important as the rhetoric and the discussion is, it's about the actual performance of the institution against the societal goals and the broader aspirational goals outlined in the Constitution."

What was the best career advice he received? "Think hard about what you want someone to say about you when you're dead."

What's his most frequent advice to new presidents? "You can't worry about, 'Well, is this going to work and how am I going to get the next job? And I can't do this because I might get fired.' Go ahead and do it and get fired. It's probably worth doing. You're going into a situation where you're the leader. The leader must sacrifice. The leader must do what needs to be done. And if all you're trying to do is leverage your way to some other job, then you shouldn't even be in this business."

What surprised him the most about this past year? "The negativity of the media and the constant searching for clicks and dollars, which has not done a good job of keeping us informed, of helping us to move our way through the pandemic, and is actually perpetuating negative outcomes. That's been very powerfully negative and very surprising."

Recommended Reading
Our conversations with President Crow often result in a reading list. Topping the list this time was Washington: A Life by Ron Chernow. "I read it about three times," he admitted. "I just finished reading it again. Fantastic, unbelievable person and expendable leader, George Washington, who was expended in his process of being a leader. Well, that's what leaders need to do."

He also recommended Mission of the University by Jose Ortega y Gasset. "This book from an early 20th-century Spanish philosopher asks the fundamental question: the reform of higher education cannot be limited to the correction of abuses. Reform is always the creation of new usages. There is a mission of the university relative to social transformation. I'm not saying that the universities Ortega worked at necessarily got there, but he knew what he was doing."

Additionally, President Crow mentioned The Ministry for the Future, speculative fiction by Kim Stanley Robinson. "How do you design a ministry focused on nothing but the future? This has to do with adaptation to global change, driven by climate and other things. He gets us thinking about how to literally design actions now in anticipation of things that are dramatically different going forward."

Be the Driver
"We live in a privileged class of people," President Crow reminded us. "We must be present. We must help the society to keep moving forward. We must adapt. We must adjust to the transformation of American democracy. We can't just sit and wait for things to happen. We have to be the drivers. And so we have to take risks. Sacrifice yourself. Move forward."

Links Mentioned in This Episode
• Arizona State University
• The Fifth Wave: The Evolution of American Higher Education by Michael M. Crow and William B. Dabars
• Washington: A Life by Ron Chernow
• Mission of the University by Jose Ortega y Gasset
• The Ministry for the Future by Kim Stanley Robinson
 
Bios of Guest and Co-Hosts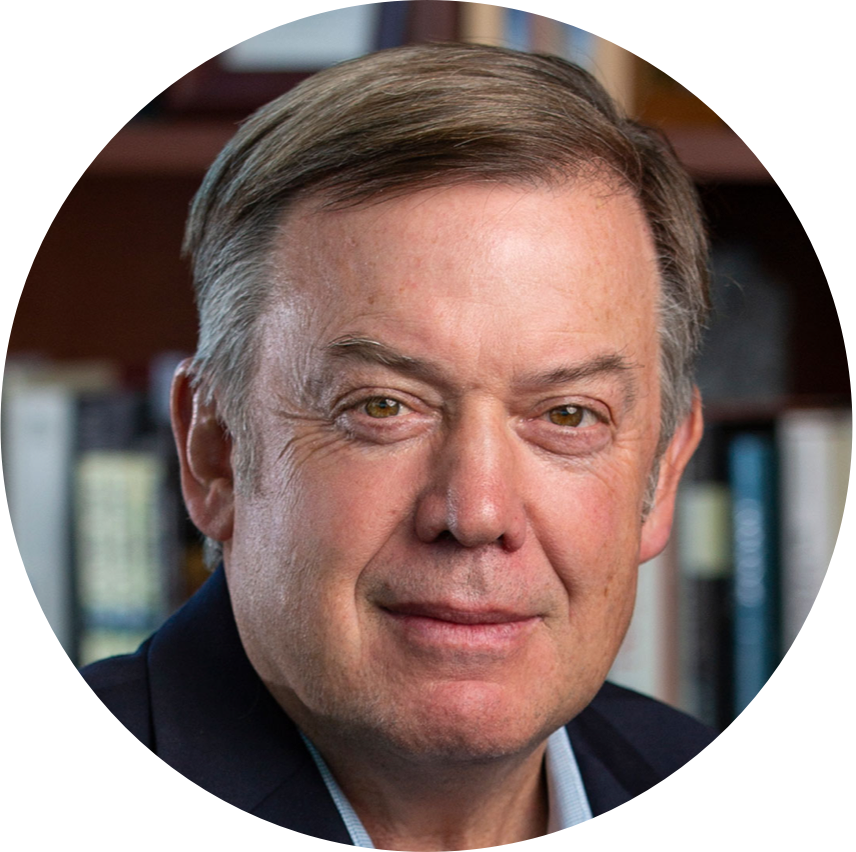 Guest: Michael Crow, President, Arizona State University
Michael Crow became the 16th president of Arizona State University on July 1, 2002. Under his direction, the university pursues teaching, research, and creative excellence focused on the major challenges and questions of our time, as well as those central to building a sustainable environment and economy for Arizona. He has committed A.S.U. to global engagement, setting a new standard for public service. Milestones during his tenure have included establishing research initiatives such as the Biodesign Institute, the Global Institute of Sustainability, and the Center for the Study of Religion and Conflict; establishing more than a dozen new interdisciplinary schools; an unprecedented research infrastructure expansion; a dramatic increase in research awards; and attracting the eight largest gifts in the university's history. Prior to joining A.S.U., President Crow was executive vice provost of Columbia University, overseeing Columbia's research enterprise and technology transfer operations. A fellow of the National Academy of Public Administration and member of the Council on Foreign Relations, he has authored books and articles relating to the analysis of research organizations and science and technology policy.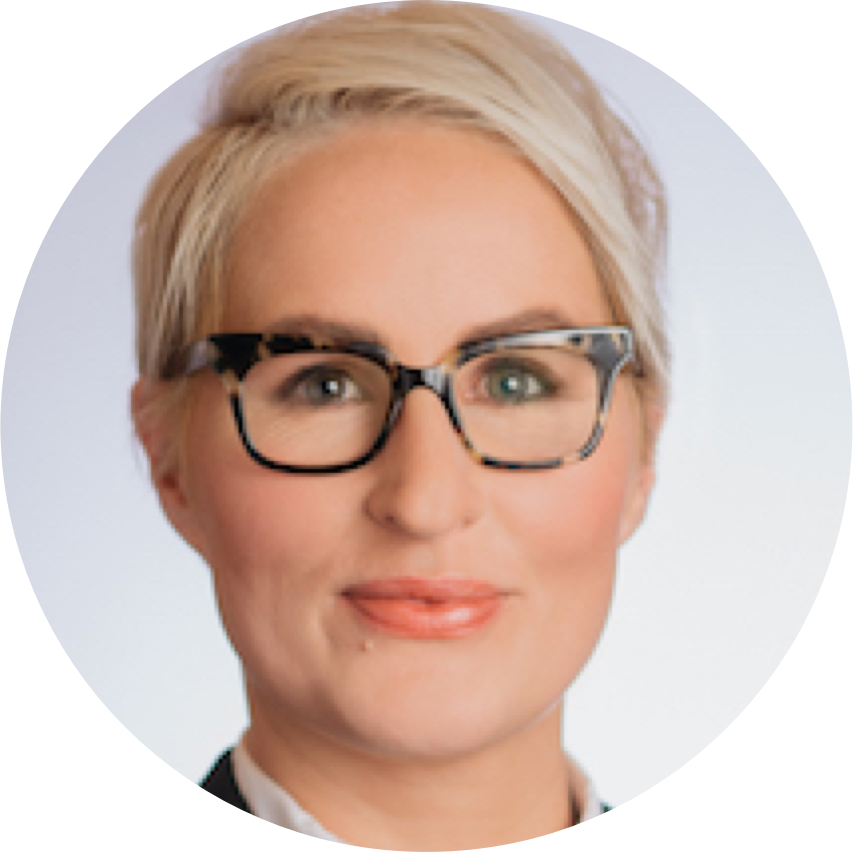 Co-Host: Bridget Burns, Executive Director, University Innovation Alliance
Dr. Bridget Burns is the founding Executive Director of the University Innovation Alliance (UIA). For the past decade, she has advised university presidents, system chancellors, and state and federal policy leaders on strategies to expand access to higher education, address costs, and promote completion for students of all backgrounds. The UIA was developed during Bridget's tenure as an American Council on Education (ACE) Fellowship at Arizona State University. She held multiple roles within the Oregon University System, including serving as Chief of Staff and Senior Policy Advisor, where she won the national award for innovation in higher education government relations. She was a National Associate for the National Center for Public Policy and Higher Education, and has served on several statewide governing boards including ones governing higher education institutions, financial aid policy, and policy areas impacting children and families.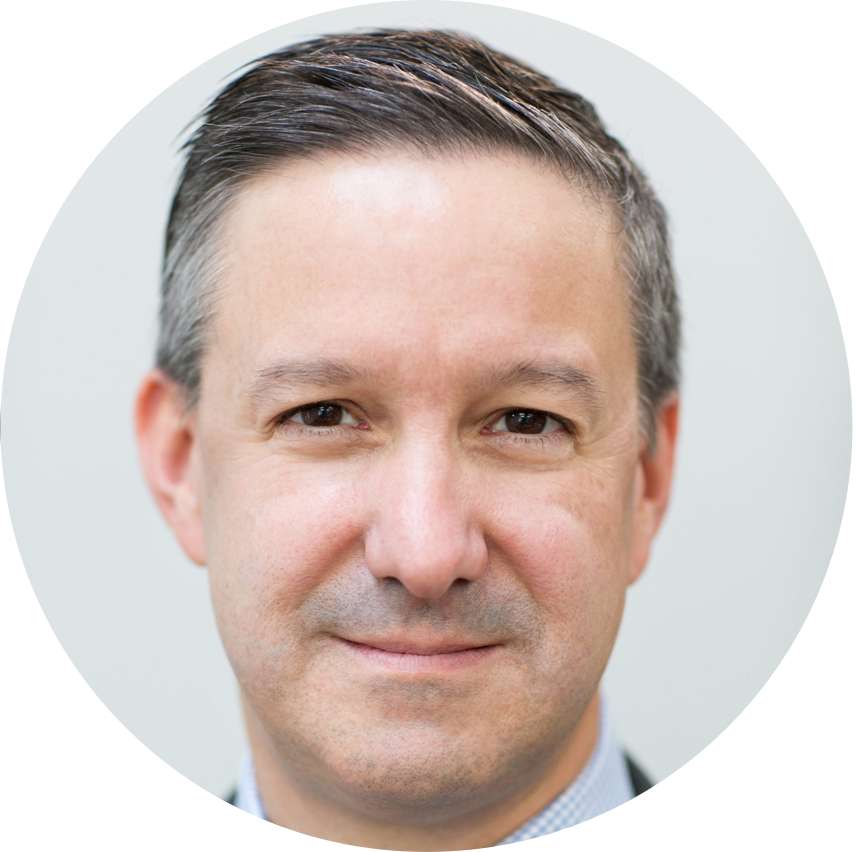 Co-Host: Jeff Selingo, author, journalist, special advisor at Arizona State University
Jeff Selingo is an author, a journalist, and a special advisor at Arizona State University.  He has written about higher education for more than two decades and is a New York Times bestselling author of three books. His latest book, Who Gets In & Why: A Year Inside College Admissions, was published in September 2020 and was named an Editors' Choice by the New York Times Book Review. A regular contributor to The Atlantic, Jeff is a special advisor for innovation and professor of practice at Arizona State University. He also co-hosts the podcast, FutureU. He lives in Washington, DC with his family.
About Weekly Wisdom
Weekly Wisdom is an event series that happens live on Facebook, Twitter, and LinkedIn. It also becomes a podcast episode. Every week, we join forces with Inside Higher Ed and talk with a sitting college president or chancellor about how they're specifically navigating the challenges of this moment. These conversations will be filled with practicable things you can do right now by unpacking how and why college leaders are making decisions within higher education. Hopefully, these episodes will also leave you with a sense of optimism and a bit of inspiration.
Rate, Review & Subscribe
Learn why hundreds of people have rated this new podcast 5 stars! Please join others and rate and review this podcast. This helps us reach and inform more people -- like you -- to help increase the number and diversity of college graduates in the United States.
Click here, scroll to the bottom, tap to rate with five stars, and select "Write a Review." Then be sure to let us know what you loved most about the episode! Also, if you haven't done so already, subscribe to the podcast. We'll be adding a bunch of bonus episodes to the feed and, if you're not subscribed, there's a good chance you'll miss out.