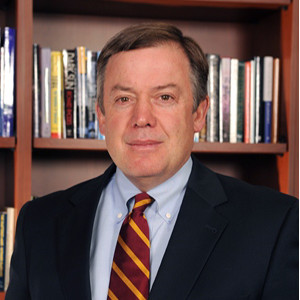 Michael Crow became the sixteenth president of Arizona State University on July 1, 2002. He is guiding the transformation of ASU into one of the nation's leading public metropolitan research universities, an institution that combines the highest levels of academic excellence, inclusiveness to a broad demographic, and maximum societal impact. Under his direction the university pursues teaching, research, and creative excellence focused on the major challenges and questions of our time, as well as those central to the building of a sustainable environment and economy for Arizona. He has committed the university to global engagement and to setting a new standard for public service.
During his tenure ASU has marked a number of important milestones, including the establishment of major interdisciplinary research initiatives such as the Biodesign Institute, the Global Institute of Sustainability, the Flexible Display Center, and the Center for the Study of Religion and Conflict; the establishment of more than a dozen new interdisciplinary schools, including the School of Global Studies, the School of Human Evolution and Social Change, and the School of Earth and Space Exploration; an unprecedented research infrastructure expansion, adding more than seven million square feet of new academic space; a dramatic increase in research awards; and the announcement of the eight largest gifts in the history of the university.
Prior to joining ASU, he was executive vice provost of Columbia University, where he oversaw Columbia's research enterprise and technology transfer operations. A fellow of the National Academy of Public Administration and member of the Council on Foreign Relations, he is the author of books and articles relating to the analysis of research organizations and science and technology policy.