We were happy to sit down with Dr. Joseph Castro, Chancellor of the California State University System, as our guest for the Weekly Wisdom Podcast. He talked about listening to the people who depend on his leadership, the do's and don'ts of decision-making during a crisis, and the need to stay focused on the ongoing issues outside of any crisis.

Listening to Leaders and Students
We asked Chancellor Castro, who oversees Cal State's 23 campuses, how the pandemic has affected the balancing act between system-wide commonality and each institution's independence.

"As a former president, I always appreciated that Chancellor Emeritus White gave us as much flexibility as possible to deal with local circumstance," he recalled. "I've tried to continue that, even though we do act as a system every single day. In terms of the pandemic, each county has its own public health department, so that makes it challenging to have any kind of a one-size-fits-all approach. In the case of Stanislaus, President Junn made the decision to stay virtual – and I supported her. Our other 22 campuses have moved forward according to their regular schedule. We're about 80 percent in-person throughout the system."

Chancellor Castro has also been listening carefully to students during the pandemic. "Many are first-generation, lower-income students," he told us. "The emergency grants have made an important difference for them. Our emphasis on basic-needs programs, whether it's food or housing or technology, has also been important. Mental health issues have really come to the fore. We, fortunately, were able to inspire more investment from the state in this area to help us to serve those needs.

"They didn't have a lot of issues with virtual education," Chancellor Castro went on. "Many of them really embraced it, and many of them still want those courses, but they don't want to be locked in their rooms. Most of the mail I received earlier this year was from students saying, 'Please, I want to be back on campus.' For those who continue to be unvaccinated, we're trying to inspire them to be vaccinated. We've got some dates at many campuses where, in order to take in-person courses, you must be vaccinated, unless you have an exemption." He admitted that some of these challenges might discourage students, adding, "I expect that we're going to see some issues with our retention rates. I'll be looking carefully to see what we can do to address any challenges that have come up."

Burnout, Flexibility, and Compassion
Since COVID may be with us for a while, dealing with this extraordinary situation continues to take an ongoing toll on higher ed leadership. Chancellor Castro understands about burnout.

"People like me need to really listen to our colleagues and to those that we serve," he said. "I didn't take much time during that earlier part of the pandemic when I was a president. I was happy that many of the presidents and my colleagues here in the chancellor's office did it this summer. I did that in August for a bit. I'm trying to show that I'm walking my talk. In terms of our employees at large, to the extent it's possible to have some flexibility as we bring more folks back to the office, we're going to experiment a little and see how that works. Flexibility and compassion are both really important guideposts for me. To the extent that we can invest more in counseling and support for all those that we serve, I will certainly support that, as well."

Chancellor Castro offered some examples: "Here in my office, we're going to have schedules that allow folks to do their jobs remotely, and then would be here a couple days a week. That also has the advantage of lowering the density in our offices. Our campuses are trying different approaches as well. We've agreed that we need to be student focused to the extent it's possible to have flexibility. For those who are parents, if they have a child who suddenly has to quarantine for a period of time, or someone who's taking care of someone, then of course we should be flexible and compassionate there. This morning, as I was walking in, my colleague seemed a little down. I asked him what was wrong. His sister died yesterday of COVID. She was fully vaccinated, a relatively young woman. It just shows how there's so much we don't yet understand about this pandemic."

Reasonable Decision-Making
Another balance that Chancellor Castro tries to maintain is the reflective nature of administrative decisions versus the need for reflexive action in a time of crisis.

"If we have to pivot, let's pivot," he stated. "I know that can be frustrating for some people, but we've pivoted as a system when we've needed to. We'll continue to do that if we have to. To go out of your way to adhere to some old rule, just because, that doesn't make any sense to me. I've seen universities that have stayed connected to a decision that may not be a good one, just because they didn't want to switch up. One of the big decisions we made last December is we were going to be predominantly in-person, but there were some months earlier this year where we really pushed that decision. Is that still reasonable? We decided that it was. We decided these are the things that we need to do to make it safe. In addition to our vaccine requirement, we've required masks in classrooms, frequent testing. We did that based on advice from Dr. Carrie Byington, the head of health affairs for U.C., who's been a wonderful resource for us. I've watched universities who don't want to bite the bullet on requirements or masking or testing, and now they've got cases galore. I'm thankful that, even when we've had some issues, we've had strategies to keep our cases and any breakouts as close to zero as possible."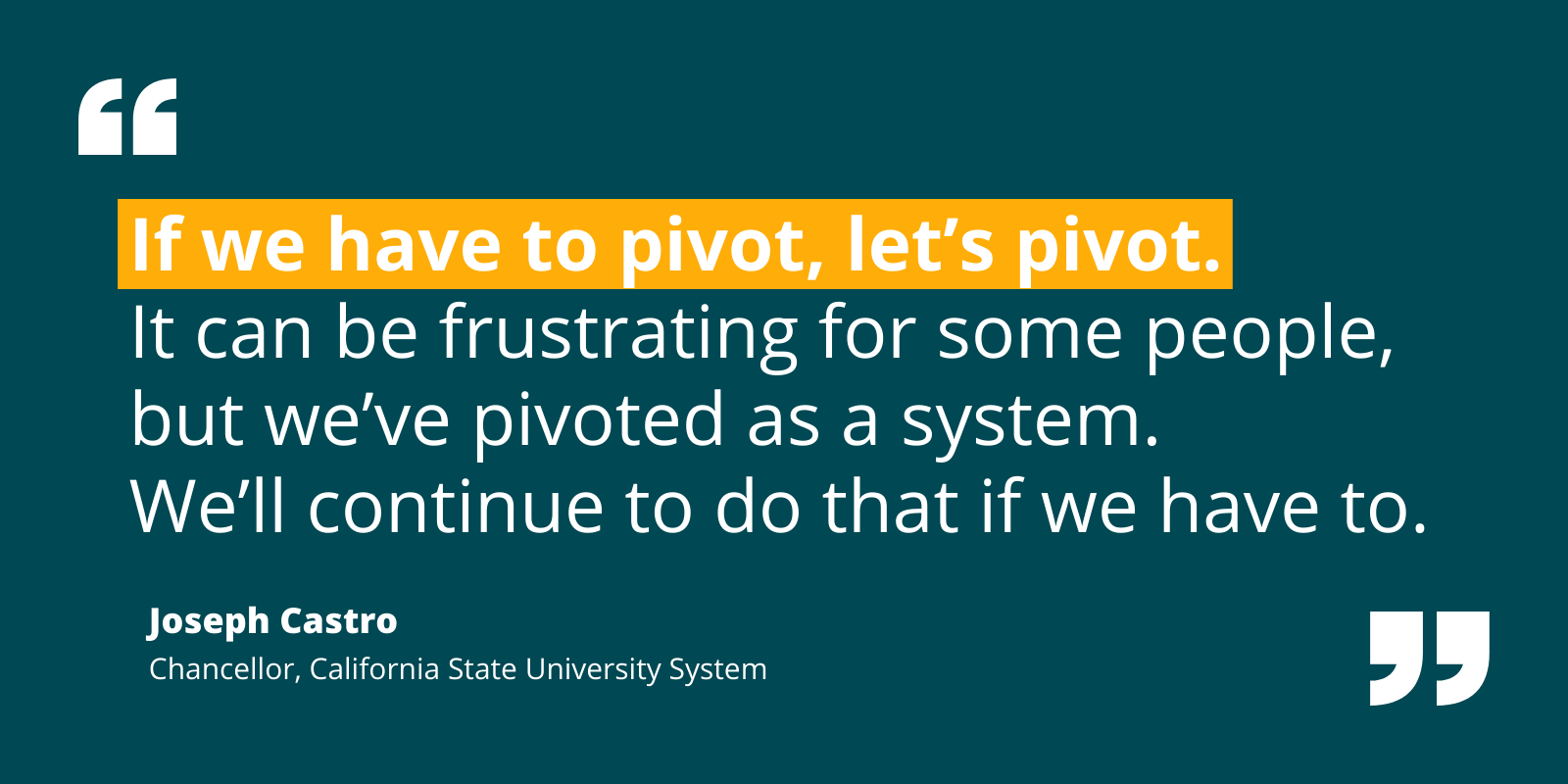 Eliminating Equity Gaps
It's critical to keep educating our students, and while the pandemic has dominated our focus for much of the past two years, Chancellor Castro hopes to keep other conversations alive as well.

"We've really got to focus even more attention on the equity gaps that have been so stubborn between our underrepresented students and other students," he stated, "and our Pell Grant students and other students. I would say that's number one for me and the presidents and our board of trustees. We've been pushing very hard in those directions, sharing data in new ways, coming up with some new strategies based on what we're learning across the country and what we've learned within our system, aligning our resources to those needs. For me, that would be job number one for the C.S.U., to eliminate those equity gaps as we lift up our graduation rates. We serve among the most D.A.C.A. students in the country, and the push we're making at the federal level, the double the Pell Grant movement, will help. Thankfully, our governor and legislature have invested more in that area, and we're going to need to ask for greater investment in coming years. That will really help California, because that will mean that we'll have tens of thousands, and eventually hundreds of thousands more graduates each year who are able to be leaders here in our state."

Sound Advice and Self-Care
We asked Chancellor Castro two of our audience's favorite questions: the best career advice he ever received and the advice he most frequently shares with up-and-coming leaders.

He credited the received wisdom to Jim March, his doctoral advisor at Stanford: "'It's so important for a leader to do the right thing, even if they get knocked over. And if you do get knocked over, then you stand back up and get back on the horse, so to speak.' He really helped me, at an earlier part of my career, to think about, in the end, what is the right thing to do connected to mission and values? I've found you can't go wrong if you know that you've done the right thing."

For aspiring presidents and chancellors, he says, "I try my best to be as authentic and transparent about what this kind of job is, the wonderful part of it, the deep meaning, and then the challenges of it as well, because I want them to understand what they might be getting themselves into. Other mentors did that for me earlier. I wouldn't want someone to be confused about that."

We also asked Chancellor Castro about the routines that prepare him for another day of leading America's largest and most ethnically and economically diverse four-year university.

"Given that I've been doing this for a while now, I know it's absolutely critical that I get a great night's sleep. Seven or eight hours, that's the bedrock for me before a huge day. Then I have some routines in the morning, my favorite coffee and music and reading material. Most of my exercise is in the evenings after dinner with my son. We take long walks, and that helps me clear my head for bed. I'm finding that there's a lot of huge days in this position, so it's kind of a marathon."

Note: This interview in the Weekly Wisdom Series originally aired on September 20, 2021 as part of the University Innovation Alliance's Innovating Together Podcast, appearing live on Facebook, Twitter, and LinkedIn.

Links Mentioned in This Episode
• The California State University System
• Chancellor Emeritus White (Dr. Timothy P. White, C.S.U. Chancellor 2012-2021)
• President Junn (Dr. Ellen Junn, President, C.S.U. Stanislaus)
• Dr. Carrie Byington (Executive Vice President, University of California Health)
• D.A.C.A. (Deferred Action for Childhood Arrivals, as described by U.S. Citizenship and Immigration Services)
• The double-the-Pell-Grant movement (initiative to increase federal aid to low-income students)
• Jim March (James G. March, Professor of Business, Education, and Humanities)
 
Bios of Guest and Co-Hosts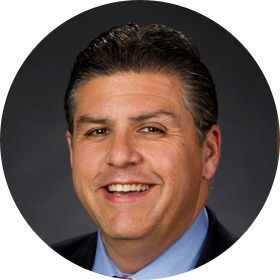 Guest: Joseph Castro, Chancellor, California State University System
Dr. Joseph I. Castro became the eighth chancellor of California State University (C.S.U.) in January 2021, the first Californian and first person of color to lead America's largest and most ethnically and economically diverse four-year university, with its 23 campuses, over 485,000 students, and 53,000 faculty and staff. Prior to his appointment as chancellor, Dr. Castro served as president of C.S.U. Fresno since 2013. He also worked in the University of California (U.C.) system for 23 years, serving as vice chancellor of Student Academic Affairs and professor of Family and Community Medicine at U.C. San Francisco 2006-2013. He previously held faculty or administrative leadership positions at U.C. campuses in Berkeley, Davis, Merced, and Santa Barbara. Dr. Castro has been recognized with awards including: the American Association of State Colleges and Universities' 2019 Excellence and Innovation Award; the California State Student Association's 2018 C.S.U. President of the Year Award; and the 2016 Ohtli Award, the highest honor granted by the Government of Mexico to leaders in the United States. The grandson of immigrants from Mexico and the son of a single mother, Dr. Castro was the first university graduate in his family, earning a bachelor's degree in political science and a master's in public policy from U.C. Berkeley, and a Ph.D. in higher education policy and leadership from Stanford University. He is a renowned scholar of leadership and public policy, and has mentored hundreds, including many university presidents and senior officers.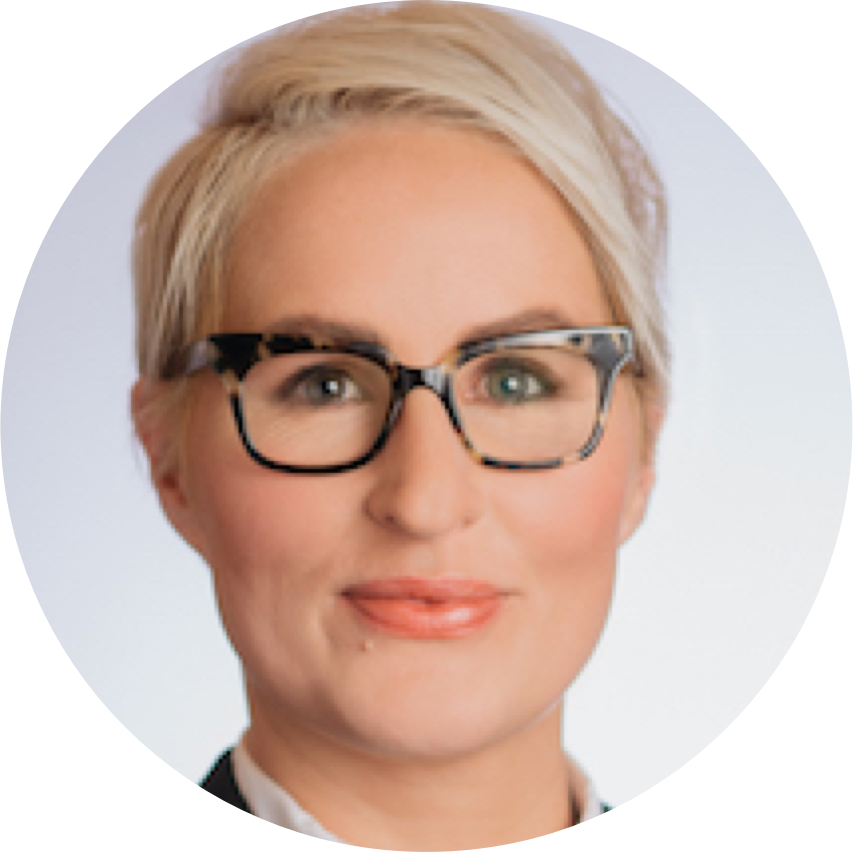 Co-Host: Bridget Burns, Executive Director, University Innovation Alliance
Dr. Bridget Burns is the founding Executive Director of the University Innovation Alliance (UIA). For the past decade, she has advised university presidents, system chancellors, and state and federal policy leaders on strategies to expand access to higher education, address costs, and promote completion for students of all backgrounds. The UIA was developed during Bridget's tenure as an American Council on Education (A.C.E.) Fellowship at Arizona State University. She held multiple roles within the Oregon University System, including serving as Chief of Staff and Senior Policy Advisor, where she won the national award for innovation in higher education government relations. She was a National Associate for the National Center for Public Policy and Higher Education, and has served on several statewide governing boards including ones governing higher education institutions, financial aid policy, and policy areas impacting children and families.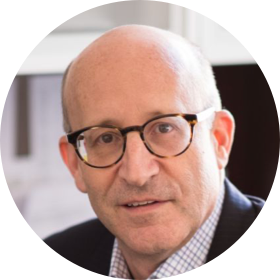 Co-Host: Doug Lederman, Editor and Co-Founder, Inside Higher Ed
Doug Lederman is editor and co-founder of Inside Higher Ed. With Scott Jaschik, he leads the site's editorial operations, overseeing news content, opinion pieces, career advice, blogs and other features. Doug speaks widely about higher education, including on C-Span and National Public Radio and at meetings and on campuses around the country. His work has appeared in The New York Times and USA Today, among other publications. Doug was managing editor of The Chronicle of Higher Education from 1999 to 2003, after working at The Chronicle since 1986 in a variety of roles. He has won three National Awards for Education Reporting from the Education Writers Association, including one for a 2009 series of Inside Higher Ed articles on college rankings. He began his career as a news clerk at The New York Times. He grew up in Shaker Heights, Ohio, and graduated in 1984 from Princeton University. Doug and his wife, Kate Scharff, live in Bethesda, MD.
About Weekly Wisdom
Weekly Wisdom is an event series that happens live on Facebook, Twitter, and LinkedIn. It also becomes a podcast episode. Every week, we join forces with Inside Higher Ed and talk with a sitting college president or chancellor about how they're specifically navigating the challenges of this moment. These conversations will be filled with practicable things you can do right now by unpacking how and why college leaders are making decisions within higher education. Hopefully, these episodes will also leave you with a sense of optimism and a bit of inspiration.
Rate, Review & Subscribe
Learn why hundreds of people have rated this new podcast 5 stars! Please join others and rate and review this podcast. This helps us reach and inform more people -- like you -- to help increase the number and diversity of college graduates in the United States.
Click here, scroll to the bottom, tap to rate with five stars, and select "Write a Review." Then be sure to let us know what you loved most about the episode! Also, if you haven't done so already, subscribe to the podcast. We'll be adding a bunch of bonus episodes to the feed and, if you're not subscribed, there's a good chance you'll miss out.