This year has already brought tremendous learning and change to our organization. In January, for the first time in the UIA's history, we were able to curate an experience for our presidents/chancellors and their provosts to spend time together working on accelerating innovation.
Our board is composed of 15 talented UIA presidents and chancellors. Their leadership is crucial to the continued success of our work, but many of the people we work with to  implement student success innovation actually report up to the provost.
It was important for the evolution of our work and theory of change that we find a way to involve the provosts meaningfully. We also saw an opportunity to address another, related need: Presidents and provosts are frequently in the same meetings, but there are limited opportunities for them to spend time without an agenda, reflecting and being strategic about how to work together and where the institution might benefit from creative thinking or intentional conversations. We aimed to give presidents and provosts unencumbered time to sync and prioritize their goals.
Two of our partners were critical in helping us move this initiative forward. Kristen Fox from Tyton Partners (a strategy consulting firm that works with many of our funders and other organizations) was eager to share ideas about how to build a meaningful experience that could increase alignment between presidents and provosts on student success innovation. Tyton agreed to work pro bono on the project, and our hope was that they could facilitate similar types of retreats for other leaders after the experience. Peter Taylor, the (now former) president of the ECMC Foundation, agreed to provide a small grant to help us prototype and test the concept. While I value all our philanthropic partners, Peter and ECMC represent the kind of support that is so critical to driving innovation - a partner who listens and is willing to support your idea with a boost to give you momentum. Their involvement was a perfect example of nimbleness, curiosity, and fast support.
The results of this experience have been truly fantastic. Presidents and provosts report that they significantly increased their alignment on the key issues impacting innovation on their campus, and already we are hearing from people on the ground that they are getting far greater engagement from leadership. Moreover, we used this opportunity to refine our theory of change around the key drivers for innovation from a leadership lens, and we learned about the different vantage points presidents and provosts bring to their work. This can only grow and evolve from here, and below are two slides from our first prototype experience.  What topics would you add to this pyramid?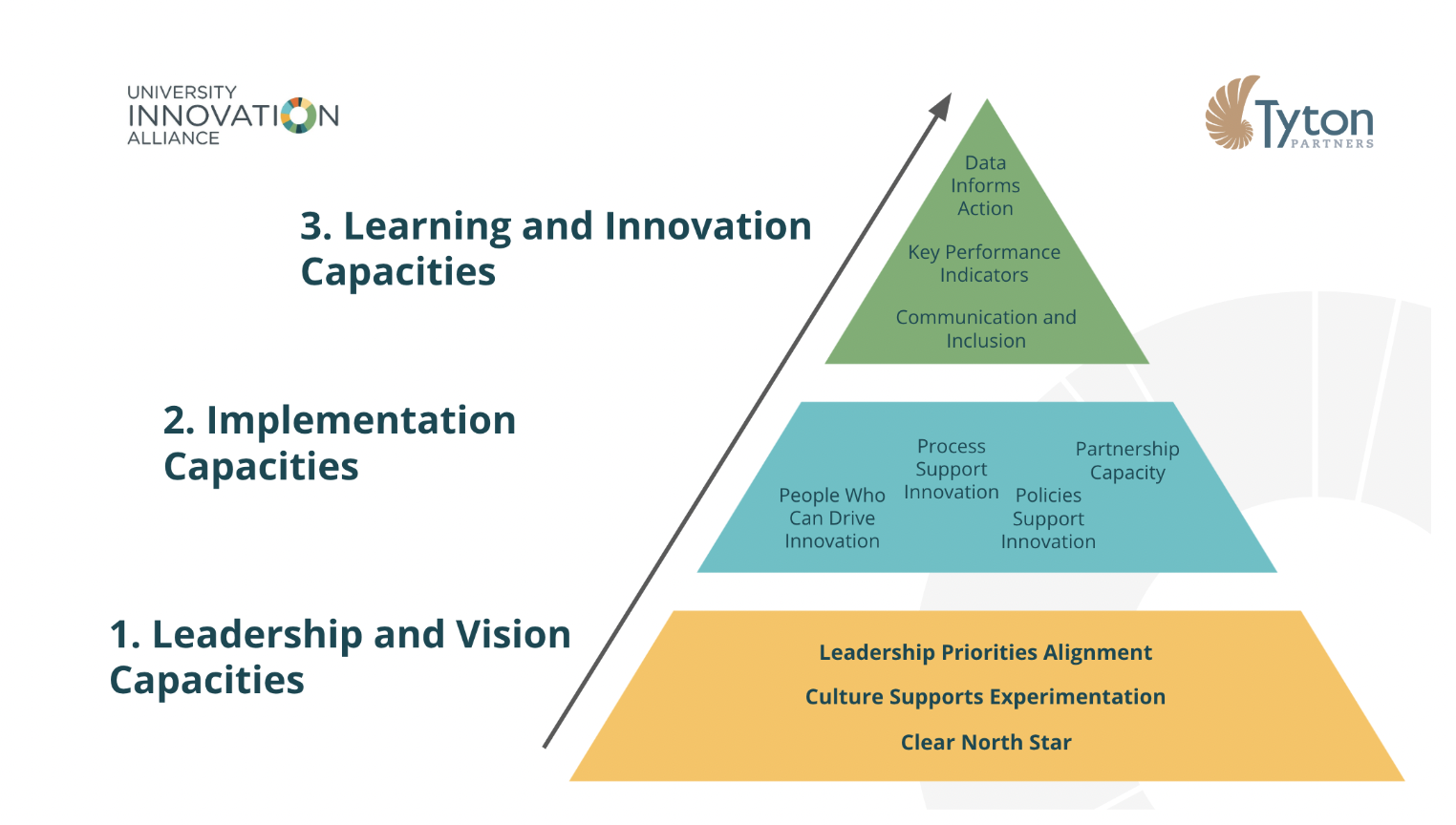 "Say yes. I mean, say yes to opportunities. Say yes to the invitation. Say yes. In my career, in my life."