Just a year after he joined the University of Illinois Chicago (UIC) as Provost and Vice Chancellor for Academic Affairs, Dr. Javier Reyes found himself elevated to the position of Interim Chancellor. He spoke with us on the Weekly Wisdom Podcast about his leadership style, expectations he's faced, lessons he's learning from the experience, and how future administrators might best prepare for this kind of leadership.

Assuming the Mantle of Interim University Leadership
When Chancellor Reyes first considered filling the top leadership vacancy, his expectations were somewhat different from what actually happened:

"My idea at that moment was, we're going to be a strong team and we're going to be leading the university as a 'we,' not necessarily as an 'I.' And although we definitely have the discussions as a 'we,' eventually, a decision has to be made, and that decision has to be carried on the shoulders of the chancellor. I quickly realized that I can have a lot of conversations, but the decision will be mine, and the responsibility of it will be on my shoulders."

We've observed many leadership styles across our University Innovation Alliance (UIA) member institutions, and we asked Chancellor Reyes to explain his approach:

"The most important thing was to never close the door to hearing everybody else's opinion, knowing that not everybody will agree. How do you manage situations in a temporary structure? How do you keep them all at the table? I always set the ground rules with my teams that what happens in the meeting stays in the meeting. We lead as a group, one decision is made, and we all get behind that. Because in a temporary team, if you lose that, then people can disconnect and just wait you out, and that would really hurt the institution."

Building institution-wide trust is essential, especially on the accelerated timeline of an interim leadership position, so Chancellor Reyes described his shortcut:

"I immediately asked the president to allow me to get a provost colleague, Karen Colley, to become the interim provost. She had the trust, the knowledge base, the understanding, and I needed a provost that I could work with, but that the campus could work with as well. And that's how I started to solidify my position to keep us moving forward."

Higher Ed Leadership Training and Readiness
Within higher ed institutions, provosts are often among those considered for vacancies in the chancellor or president's office, and Chancellor Reyes shared his ideas on how to best equip a provost for this possibility:

"I would give team members a chance to shadow in some meetings. These trips that I have done as interim chancellor to visit the congressional delegations, I think would be beneficial to hear as provosts. I believe that if you come from other institutions, it's easier to understand that institutions are different from each other. I think it's very valuable.

"Another suggestion is understanding the whole dynamics of the institution. Academic Affairs is this incredible infrastructure for research, for teaching. But then there's maintenance of the cost, not only our classrooms and labs, but also our dining facilities, our residence halls. If you have a hospital and college of medicine, it adds an important dimension to the job that's hard to visualize. And so, shadow the budget officer of the university. Sit down with the lawyers. Getting outside of Academic Affairs, I think, would be very, very helpful for provosts, for vice chancellors as well."

Chancellor Reyes stressed the importance of understanding just how much work a top leadership position can be:

"The more we provide people access to what this lifestyle is, what this job entails, the more you will be having people that can come in completely knowing this is and wanting to immerse themselves and give themselves to it. Sometimes you'll be able to take time off. But there are times in which the tables change and crisis emerges, something happens on your campus, something happens to a faculty member, something happens to a student, the world keeps spinning, and you can't stop. You have to spin with it."

A Mandate for Leadership
In higher ed, there's often assumption that an interim appointment is a caretaking position, someone who just keeps the lights on until a permanent replacement can be found. Chancellor Reyes told us that his mandate was much different:

"The president, as well as other mentors that knew that I was considering being the interim, they said, 'If you're going to do this, don't be the interim. Be the chancellor. Your institutions need you to be a chancellor that will continue to make decisions.' So the mandate was: Don't stop. Continue forward. There are important issues that you have to support. You cannot just wait until the next chancellor comes along to keep them moving."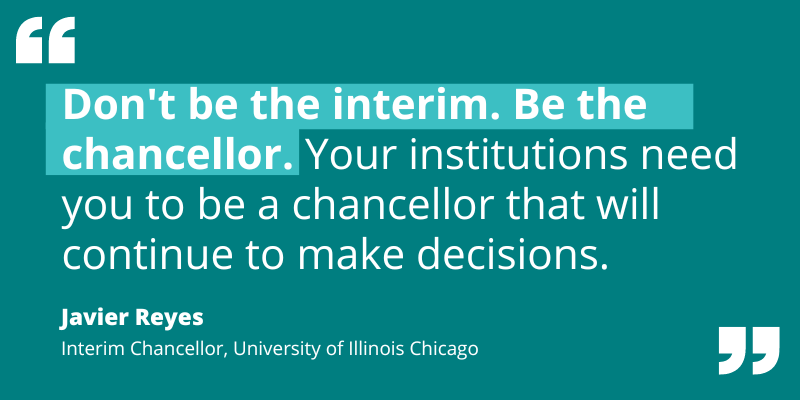 He shared some examples of those projects:

"We are doing a budget reassign, a complete reorganization and reimagination of our student enrollment services, retention services, student success units. We wanted to reimagine how we work with our Office of Access and Diversity, and Academic Affairs, and all the different components surrounding higher ed. Twelve months will be an eternity, so keep moving."

After Interim Chancellorship, What's Next?
Once his interim university leadership position concludes, Chancellor Reyes intends to resume his role as provost. He explained how he's likely to benefit from his current experience:

"I didn't realize how much of these academic and student affairs, the learning and research environments, are actually on the vice chancellors' and vice presidents' plates. As I go back to being the provost, I want to take one good practice with me: I want to meet with the vice chancellors more often. I want to understand, from their perspective, how can I be helpful? I want to keep that momentum of conversation going because we are all here for the students, our research, our community of services. I think I can be a much better partner with the next chancellor, because I know the demands that come under time, I know the requests that come from the outside, and I can help them channel it, and help my deans and vice provosts, be more responsive to what they see coming. I want to make sure they understand the sense of urgency that comes with the chancellor's office that, in many cases, is at a different speed than when it comes from the academic affairs side."

Higher Ed Leadership Wisdom
The UIA is all about sharing resources, and in that spirit, Weekly Wisdom seeks to elevate the best advice from higher ed leaders. When we asked Chancellor Reyes about the best career advice he ever received, he told us:

"It was given to me by Dan Worrell, the dean at the Walton College at the University of Arkansas. When I became an associate dean, he said, 'Make sure that you ask everyone in your teams if you're doing something wrong.' Because if you can have constructive criticism given to you, then when you give it back, it will be understood that it is not a one-way street. It starts creating a culture that, when something's wrong, it's okay to say it. I use that advice every day."

Chancellor Reyes' own advice for rising leaders draws from that same well of open communication:

"I always tell them, when they're in meetings, not only to listen to the person that is talking, but also try to look at the person that's throwing that feedback. And I always tell my team to talk to each other about what they saw in that meeting. 'Hey, I heard that I should be working on this,' or, 'I heard that this is where we're going. What did you hear?' We all have our own filters and tend to change the message. So, I always invite people to say, 'Hey, write it down to see if we're all on the same page.'"

Note: This interview in the Weekly Wisdom Series originally aired on December 12, 2022 as part of the University Innovation Alliance's Innovating Together Podcast, appearing live on Facebook, Twitter, and LinkedIn.

Links Mentioned in This Episode
• University of Illinois Chicago
• UIA member institutions
• Karen Colley (Acting Provost, Vice Chancellor for Academic Affairs, and Dean of the Graduate College at the University of Illinois Chicago)
• hospital and college of medicine (University of Illinois College of Medicine at Chicago)
• Dan Worrell (Dean Emeritus of the Sam M. Walton College of Business at University of Arkansas)
• Walton College at the University of Arkansas (business school where Dr. Reyes served as vice provost and associate professor)
 
Bios of Guest and Co-Hosts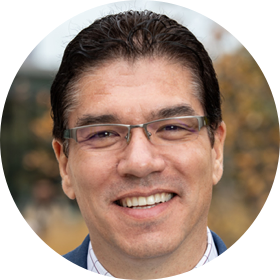 Guest: Javier Reyes, Interim Chancellor, University of Illinois Chicago
Dr. Javier Reyes assumed the role of Interim Chancellor at the University of Illinois Chicago (UIC) on July 1, 2022, following the departure of Chancellor Michael Amiridis for the presidency of the University of South Carolina. Dr. Reyes joined UIC in 2021 as Provost and Vice Chancellor for Academic Affairs, the university's chief academic officer to advise on matters of academic policy, strategic direction, enrollment management and academic resource planning. Dr. Reyes previously served as West Virginia University's Milan Puskar Dean of the John Chambers College of Business and Economics from 2016-2021, and vice president for StartUp West Virginia from 2018-2021. He earned his bachelor's degree in economics from the Instituto Tecnológico y de Estudios Superiores de Monterrey, Campus Estado de Mexico, in 1998, and his doctorate in economics from Texas A&M University in 2003. As UIC's interim chancellor, Dr. Reyes heads Chicago's largest university with 16 academic colleges and one of the nation's largest medical schools. He reports directly to the president and the Board of Trustees, and oversees the provost and vice chancellor for academic affairs, the chief academic and budget office; the vice chancellor for health affairs, the main office for oversight and coordination of education, research and health care delivery among UIC's seven health science colleges; as well as other vice chancellors and staff.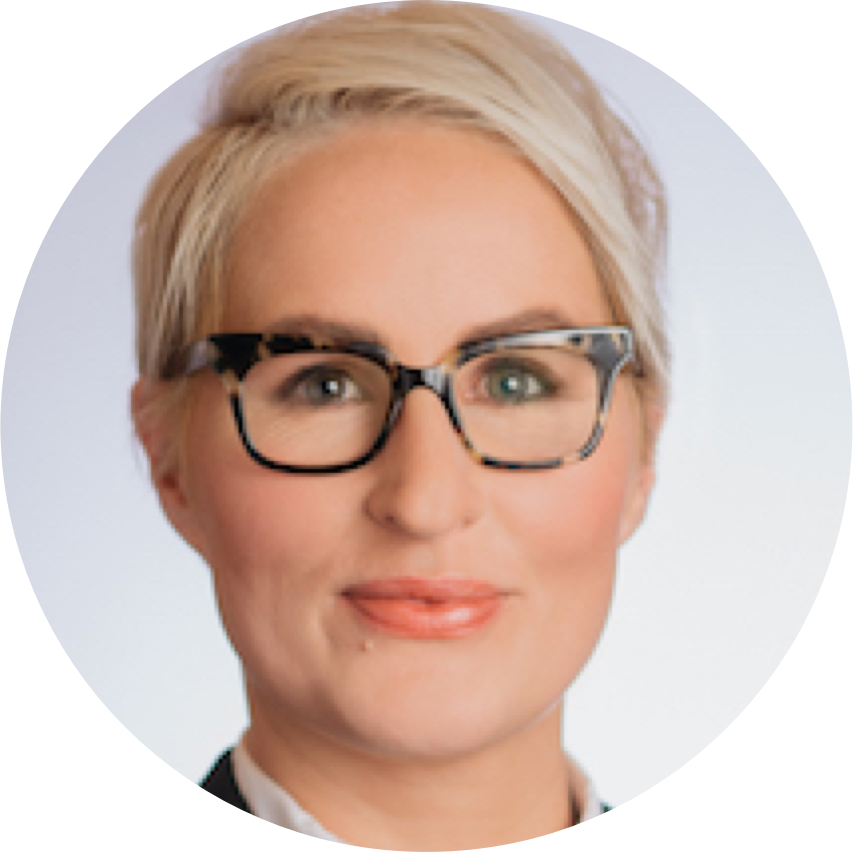 Co-Host: Bridget Burns, CEO, University Innovation Alliance
Dr. Bridget Burns is the founder and CEO of the University Innovation Alliance (UIA). For the past decade, she has advised university presidents, system chancellors, and state and federal policy leaders on strategies to expand access to higher education, address costs, and promote completion for students of all backgrounds. The UIA was developed during Bridget's tenure as an American Council on Education (A.C.E.) Fellowship at Arizona State University. She held multiple roles within the Oregon University System, including serving as Chief of Staff and Senior Policy Advisor, where she won the national award for innovation in higher education government relations. She was a National Associate for the National Center for Public Policy and Higher Education, and has served on several statewide governing boards including ones governing higher education institutions, financial aid policy, and policy areas impacting children and families.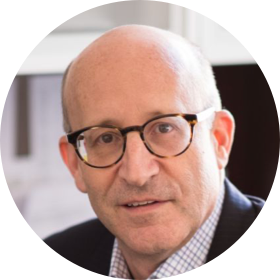 Co-Host: Doug Lederman, Editor and Co-Founder, Inside Higher Ed
Doug Lederman is editor and co-founder of Inside Higher Ed. With Scott Jaschik, he leads the site's editorial operations, overseeing news content, opinion pieces, career advice, blogs and other features. Doug speaks widely about higher education, including on C-Span and National Public Radio and at meetings and on campuses around the country. His work has appeared in The New York Times and USA Today, among other publications. Doug was managing editor of The Chronicle of Higher Education from 1999 to 2003, after working at The Chronicle since 1986 in a variety of roles. He has won three National Awards for Education Reporting from the Education Writers Association, including one for a 2009 series of Inside Higher Ed articles on college rankings. He began his career as a news clerk at The New York Times. He grew up in Shaker Heights, Ohio, and graduated in 1984 from Princeton University. Doug and his wife, Kate Scharff, live in Bethesda, MD.
About Weekly Wisdom
Weekly Wisdom is an event series that happens live on Facebook, Twitter, and LinkedIn. It also becomes a podcast episode. Every week, we join forces with Inside Higher Ed and talk with a sitting college president or chancellor about how they're specifically navigating the challenges of this moment. These conversations will be filled with practicable things you can do right now by unpacking how and why college leaders are making decisions within higher education. Hopefully, these episodes will also leave you with a sense of optimism and a bit of inspiration.
Rate, Review & Subscribe
Learn why hundreds of people have rated this new podcast 5 stars! Please join others and rate and review this podcast. This helps us reach and inform more people -- like you -- to help increase the number and diversity of college graduates in the United States.
Click here, scroll to the bottom, tap to rate with five stars, and select "Write a Review." Then be sure to let us know what you loved most about the episode! Also, if you haven't done so already, subscribe to the podcast. We'll be adding a bunch of bonus episodes to the feed and, if you're not subscribed, there's a good chance you'll miss out.