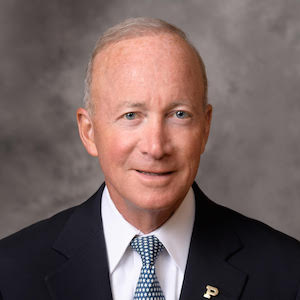 Mitchell E. Daniels, Jr. became the 12th president of Purdue University in January 2013, at the conclusion of his second term as Governor of the State of Indiana. At Purdue, President Daniels launched a series of initiatives called Purdue Moves that provide bold answers to some of the greatest challenges facing higher education today. The four pillars of Purdue Moves — affordability and accessibility, transformative education, world-changing research, and STEM leadership — leverage Purdue's historic strengths and promote investment in new ideas, guiding the university in its mission to deliver higher education at the highest proven value. Daniels has made student affordability and student success top priorities, pledging to keep a Purdue education within reach for students and families. Breaking with a 36-year string of increases, Purdue commenced a series of tuition freezes in 2013 that will last through at least the 2016-17 academic year. During that same time, room and board costs were cut by 5 percent and have remained steady since 2013, resulting in an overall decrease in the cost of attending Purdue since President Daniels took office that year. A first-of-its-kind partnership with online retailer Amazon.com is also saving Purdue students an average of 30 percent on their textbooks each year. Thanks to these and other efforts to reduce student costs where feasible, Purdue student borrowing has dropped 23 percent — leaving graduates and their families with some $50 million to invest in other dreams.
Daniels has also called for greater accountability in higher education, launching the Gallup-Purdue Index, a new method for measuring the value of a college degree. Other top priorities include accelerating growth in three areas that are key to the national economy and which support Purdue's strengths (engineering, technology and computer science); infusing resources in selected areas of research, particularly plant sciences to feed the world; and facilitating commercialization of research. Often called a "man of the students," President Daniels can often be found eating dinner in a dining court, exercising alongside students at the campus recreational center, or chatting with students outside on a nice day. He also teaches a course each semester for students in the Honors College on one of his favorite topics, "The Great War and Its Continuing Aftermath."
Daniels came to Purdue University at the conclusion of his term as the 49th Governor of Indiana. He was elected Governor in 2004, in his first bid for any elected office. He was re-elected in 2008, receiving more votes than any candidate for any public office in the state's history. President Daniels also comes from a successful career in business, holding numerous top management positions. From 1987-1990, Daniels served as the CEO of the Hudson Institute. In 1990, he accepted a position at Eli Lilly and Company, the largest corporation headquartered in Indiana at that time, and eventually held the role of president of the company's North American Pharmaceutical Operations. Daniels also serves on the corporate boards of Cerner Corporation and Interactive Intelligence.