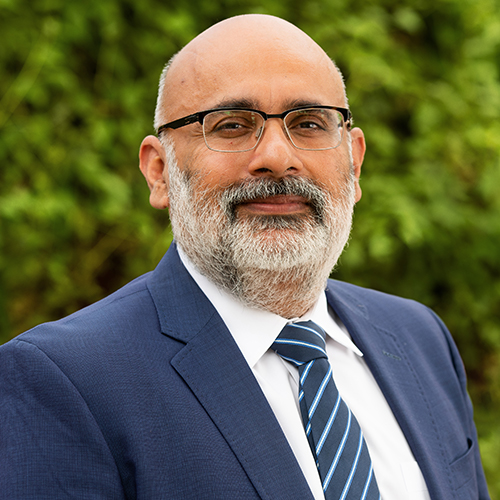 Sukhwant Jhaj
Vice Provost for Academic Innovation and Student Achievement.
Trained as a designer, Sukhwant Jhaj uses design thinking to discover new solutions for incremental and disruptive challenges facing higher education. In his role as vice provost at Arizona State University, Jhaj pursues ways to create greater levels of student success for all learners across all degree types. He works to identify new ways the university can improve learning outcomes, and helps ASU set a new standard of quality and accessibility that can be shared with institutions of higher education around the country and the world. In addition to his role in the Office of the University Provost, Jhaj is the dean of University College, an instrumental and significant part of ASU's efforts to enhance retention, graduation, and overall student achievement. Jhaj is also a professor of practice in The Design School within the Herberger Institute for Design and the Arts.
Over the last 16 years, Jhaj held various faculty and administrative positions at Portland State University (PSU), advancing student success at different levels. Most recently, he served as the vice president for academic innovation, planning and partnerships. Jhaj helped co-create and implemented reTHINK PSU, overseeing the crowd-sourced Provost's Challenge initiative, which engaged more than 1,000 faculty and staff participants and produced 160 proposals, 24 funded and completed projects and $3.25M in funding. He also established the Office of Academic Innovation at PSU to support faculty support and development of online and flexible programs offering and initiatives for teaching and learning with technology, launched a portfolio of student success initiatives to improve student success, led advising and service redesign, led a team to develop online strategy for the institution, and deployed project management practices for successful implementation of university-wide initiatives.
Jhaj is an active researcher with funding from Bill and Melinda Gates Foundation, Association for Public and Land Grants Universities and government agencies. He is an expert in design thinking, design of student services, managing change, open innovation and user centered design. He speaks extensively on these topics and has served on several national advisory groups focused on improving student success and institutional transformation.
In his book, "Delivering on the Promise of Democracy: Visual Case Studies in Educational Equity and Transformation," Jhaj has crafted a new look at how imaginative leadership and a shift in perspective can guide institutions as they work to improve access and success for all students.
Jhaj received a master's degree in architecture from Cranbrook Academy of Art and a Master of Business Administration from Portland State University. He also completed executive education coursework at Harvard Business School and Stanford University Graduate School of Business.